'Better Call Saul' Has More in Common With 'Breaking Bad' Than Even Showrunner Peter Gould Expected
The cast and crew of Better Call Saul are gearing up for production on season 6 in Albuquerque, New Mexico. Soon, fans will get answers to all of their questions about Jimmy/Saul (Bob Odenkirk), Kim Wexler (Rhea Seahorn), and all of the other characters and storylines that lead into its parent series, Breaking Bad.
Amid the pandemic, showrunner Peter Gould and the series' writers have been working via Zoom on the scripts for the final season. During this process, Gould says he discovered something about the series that he never expected.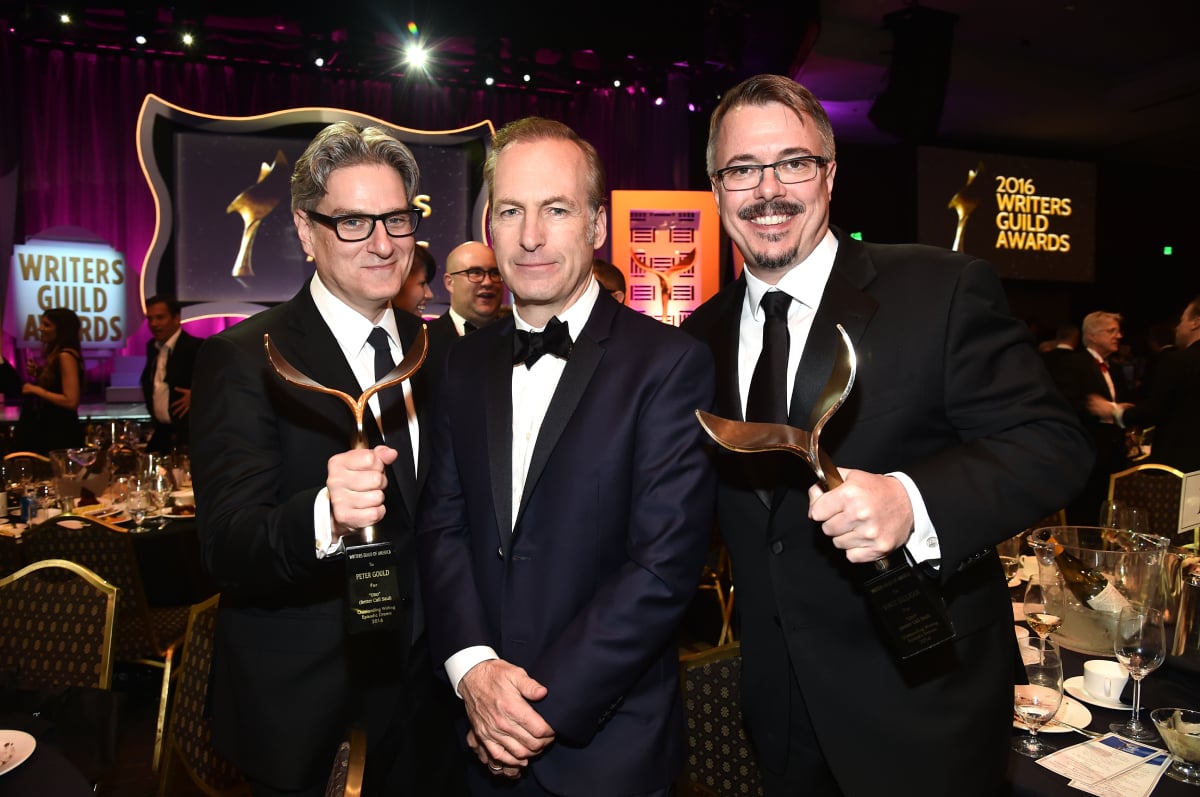 'Better Call Saul' fans want to know what happens to Kim Wexler
One of the biggest questions heading into the sixth and final season of Better Call Saul is the fate of Kim Wexler. As fans know, her name is never mentioned in Breaking Bad. But she's become a major player in the prequel.
Her plan to take down Howard Hamlin (Patrick Fabian) along with her "finger guns" in the season 5 finale have fans wondering if she will make it out of Better Call Saul alive. Some think she may end up in prison. While others believe she will eventually meet up with Gene in Omaha.
During an interview with The AV Club last fall, Gould admitted that he never expected Kim to be such an important part of Better Call Saul.
"We thought we were making the story of Jimmy McGill and Mike Ehrmantraut. Turns out yes, it's their story, but it's also Gustavo Fring's story. And maybe most surprising of all, Kim Wexler's story. So those things all surprised us," Gould said.
Peter Gould wanted the spinoff to be independent of 'Breaking Bad'
Gould explained that he never expected Better Call Saul to be nearly as dramatic as it has turned out to be. Going into the series, he says it was always in the back of their minds that Saul Goodman is a "funny, lighthearted character who's kind of at peace with himself."
However, the show turned out to be much more emotional, passionate, and complex than he ever expected.
The Better Call Saul showrunner has always known that the narrative of his series would lead into Breaking Bad. But it was "very important" to him that the prequel was "all its own thing" and independent of the original series.
"I think we were trying to keep the two as separate as we could, or at least I was. And what I'm finding is, as we go through the work that we're doing on this show, I think it's going to change the way people look at Breaking Bad. I know it's changed the way I look at the story of Breaking Bad."
Going into the final season, Gould says the characters he is most invested in are Jimmy and Kim. The showrunner admitted that he is "so worried about both of them, about their fates." Both physically and emotionally.
"And I'm worried about this relationship that they have, which has been getting deeper and deeper. I think that's where the heart of it is," Gould said.
'Better Call Saul' surprised Peter Gould with how much it had in common with 'Breaking Bad'
The sixth season of Better Call Saul will officially see the prequel surpass the original in terms of length of the entire series. Breaking Bad lasted just five seasons.
Despite the different number of total episodes – and the fact that Better Call Saul has its own unique identity separate from the original series – the two shows have a lot more in common that many might expect – even Gould.
According to Screen Rant, the final season is expected to ramp up its pacing and become more like Breaking Bad. And Odenkirk has promised plenty of "fireworks." But according to Gould, the two series have more in common than he ever realized.
"And as we're working on season six — I don't wanna say too much — but the show has more of a relationship with Breaking Bad than I would have expected when we started," Gould revealed.
Season 6 of Better Call Saul will feature 13 episodes instead of the usual 10. Both Odenkirk and Giancarlo Esposito (Gus Fring) have confirmed that they will begin filming in March.
AMC has not announced a premiere date yet. But, the expectation is that season 6 of Better Call Saul will premiere in late 2021 or early 2022.