'Better Call Saul' Initially Had Another Idea for Howard Hamlin's Downfall
In the latest episode of 'Better Call Saul', the fate of Howard Hamlin was finally revealed. Find out an early idea for what would happen to him.
Many Better Call Saul fans are still reeling from the death of Howard Hamlin. The HHM lawyer died tragically in the show's latest episode after getting caught up in a horrible situation with Saul Goodman and Kim Wexler. But initially, there was another plan for what would happen to Howard.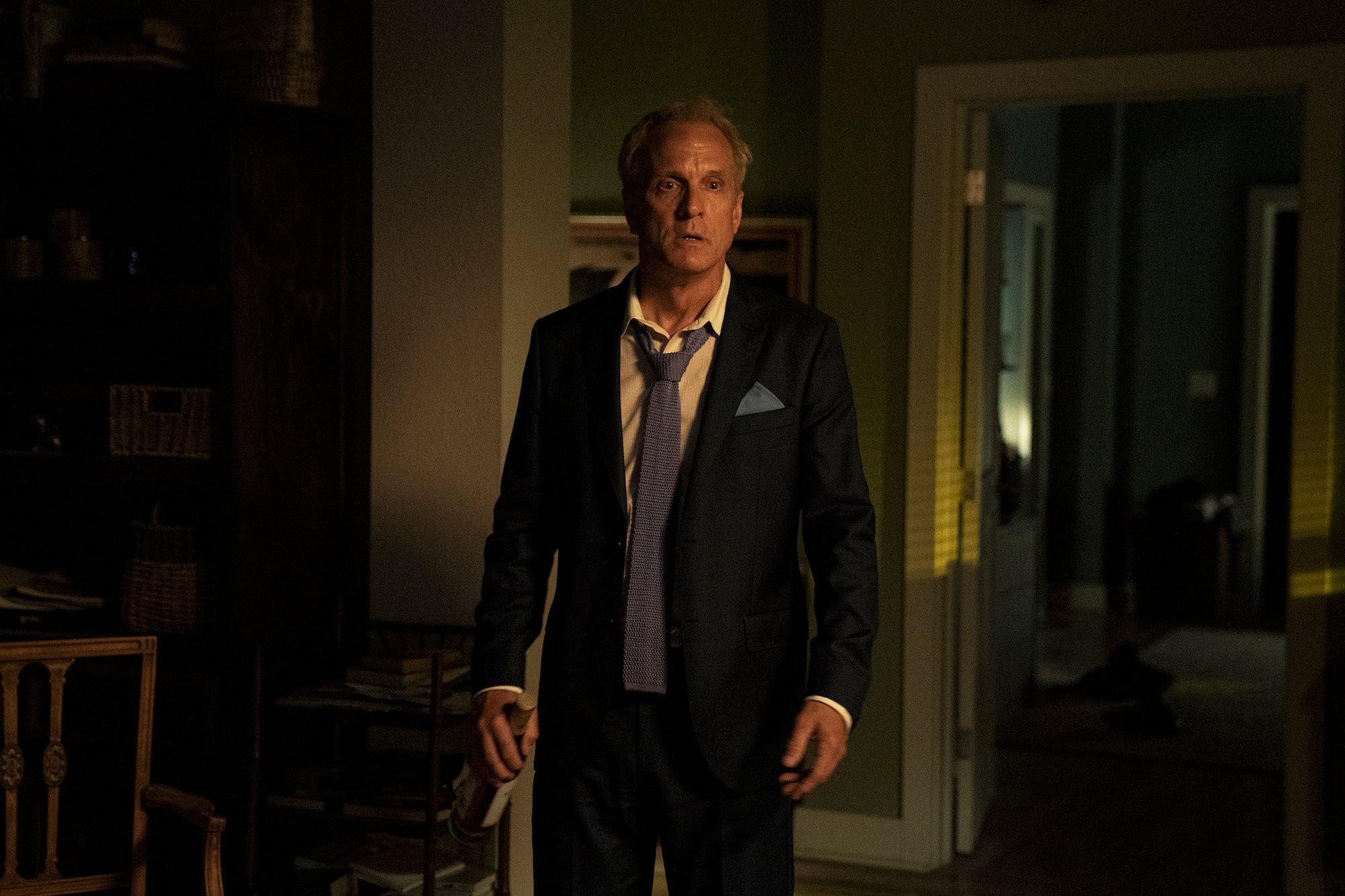 The Howard Hamlin con in 'Better Call Saul' could have looked a lot different
Thomas Schnauz, an executive producer and writer on Better Call Saul, spoke to Variety about coming up with the idea for Saul and Kim's con on Howard. A scrapped idea involved the two bringing back the famous skateboarder twins to assist them in the scam.
"We had probably a dozen different directions with this plot," said Schnauz. "The one that sticks in my mind the most involved the skateboarder twins from Season 1 Episode 1. We were going to trick Howard that he accidentally ran into one of them with his car, sent him over a railing and killed him. But it was gonna be a switch where one twin goes over the side of a rail, but the other twin was already laying down at the bottom, all bloody and twisted."
"We had all these other crazy plots," he continued, "but we ultimately needed to figure out how Howard could embarrass himself during mediation and do enough damage that it made more sense to settle the Sandpiper suit than to renegotiate."
With that, it was decided to have Saul and Kim trick Howard into thinking that Saul had committed a conspiracy with the mediator, Rand Casimiro. Howard called them out on that at the mediation, insisting he had photo evidence of Casimiro accepting money from Saul. But when he retrieved the photos, Howard was shocked to find they had been switched. He looked completely unhinged to everyone, leaving Cliff Main with no choice but to agree to settle the case.
Howard's death in 'Better Call Saul' followed
Realizing what had happened, Howard stopped at the Goodman home to confront them. Despite what they'd done to his reputation, he was confident that he would "land on [his] feet" as he always did. Unfortunately, he never got the chance. Mere moments later, Howard was shot down by Lalo Salamanca, who had been waiting in a back room to talk to Saul and Kim.
Patrick Fabian, who played the lawyer, spoke about Howard's death in an interview with Vanity Fair. He seemed to have a mild reaction to finding out what would happen to Howard, but knew it would elicit strong reactions from viewers.
"Just like everything else in Better Call Saul, it's unfolded one script at a time," Fabian told Vanity Fair. "So I didn't know until I read seven. Rhea [Seehorn] texted me and said, 'Seven's dropped. Have you read it yet?' And I was like, 'Oh.' I have to say, as much as it plays out on the screen, on the page it also is very abrupt. There's that weird finality where you go, 'Did I just read what I read?' It's supposed to linger and have that impact. I bet there'll be a lot of people screaming at the television."
His death will also shape the remaining episodes of the show
Fans will see the aftermath and effects of Howard's death when the show returns from its midseason break.
"That's the story of the rest of the series: What do they take away from this horrible incident that happened right in their living room?" series co-creator Peter Gould told Vanity Fair. "That really propels everything that happens next — and I could not be prouder of what happens next. I think it's very human and real, but I think, to me anyway, it's very unpredictable."
The show will return with the first of its final episodes on July 11. Past episodes are streaming now on AMC+ and Netflix.