'Better Call Saul' Lalo Salamanca Actor Tony Dalton Plans to Keep His Mustache for 20 More Years
Even though 'Better Call Saul' has wrapped and he's not playing Lalo Salamanca anymore, Tony Dalton plans to keep his mustache, for a long, long time.
Better Call Saul villain Lalo Salamanca has a very distinct look. Tony Dalton grew a mustache to play him, and Dalton's subsequent character on Marvel's Hawkeye inherited the mustache. Now, Dalton said he's going to keep it for the next two decades of his career.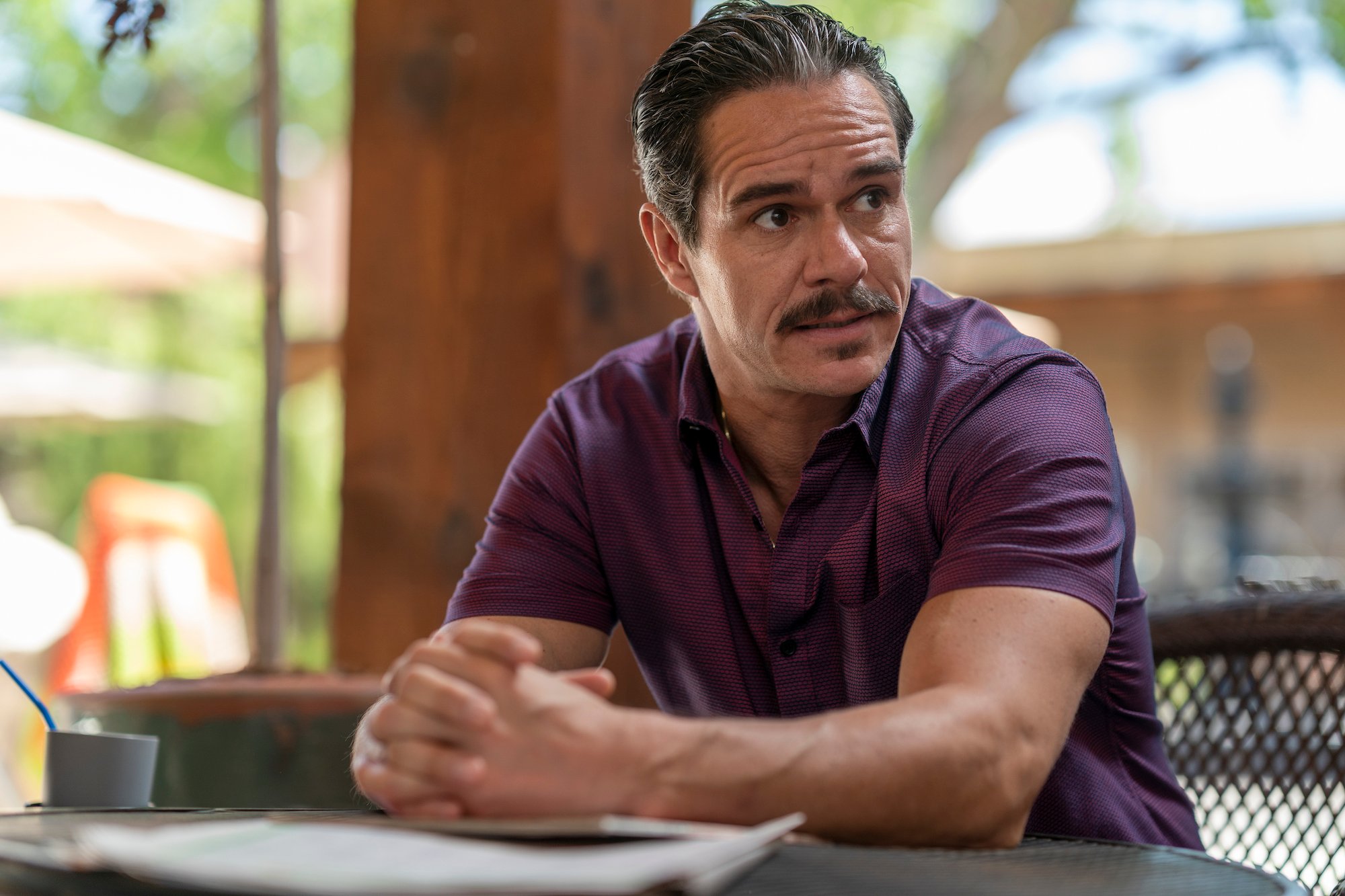 Dalton was a guest on Variety's Awards Circuit podcast on April 29. After discussing his roles on Better Call Saul, Hawkeye, and previous shows, Dalton committed to keeping the mustache. Better Call Saul Season 6 airs Mondays at 9 p.m. on AMC.
'Better Call Saul' gave Tony Dalton more than just the role of Lalo Salamanca
Prior to Better Call Saul, Dalton was clean-shaven. He played Roberto Avila for four seasons in Sr. Avila and appeared in other Mexican television series beforehand. When Better Call Saul ends, the mustache is staying. 
"It is now," Dalton said on Awards Circuit. "It's going to be there for a while. It worked. If it's not broke, don't fix it."
'Better Call Saul' was a turning point for Tony Dalton 
Dalton still lives in Mexico. He's always navigated international productions like Sense8. Dalton plans to continue to do so but intends to retain his now-signature look.
"Let me tell you something, I didn't have a mustache for 20 years in this business," Dalton said. "I think maybe I can have for the next 20 years a mustache."
What's next for Tony Dalton after 'Better Call Saul'?
Of course, Dalton wouldn't spoil what happens to Lalo at the end of Better Call Saul Season 6. He knows there won't be a season 7, though, so Dalton is looking for work.
"I'm just looking for something that's good, a good idea, good script, a good team of collaborators to work with, a good character to play that might be different to something that I've already done before," Dalton said. "So you're kind of just on the lookout for something you can maybe sink your teeth into, and it'll be worth it. Personally, that's how it works for me because if you start going for whatever's in front of you all the time, then you're just going to kind of go a different way that maybe you don't want to end up going. You can get typecast in a second, only being the big narco bad guy with guns and shoot people and then that's it, instead of saying wait, let me change it up."
Dalton brought his own stamp to Better Call Saul and Hawkeye too. The characters were originally more traditional, but Dalton added his own ideas. 
"The thing I did before Lalo was this character Sr. Avila for HBO," Dalton said. "It was six years of a very dark, serious, big, decaying man. That's also what Lalo presented himself to be with the casting and everything. I said, 'We can really make this completely different, a guy who's all smiles, all charm, bigger than life.' A lot of people think that's the character I would play, but if you see Sr. Avila, it's completely different. I'm trying to do that as much as I can. Even in Hawkeye, he kind of has a transatlantic pseudo-British accent but he's not Mexican. You're just spreading your wings as much as you can."