'Better Call Saul' Star Michael Mando Said Nacho's Storyline Was 'Very Difficult' in Season 5 for This Heartbreaking Reason
Breaking Bad fans swerved right into the Better Call Saul spinoff but the series isn't only about how Jimmy McGill morphed into Saul Goodman. The series also follows the Salamanca circle under Gus Fring in which associate Ignacio "Nacho" Varga also morphs from a central figure trying keep his father alive to wanting out completely. The role, played by Michael Mando, proved more difficult in season 5, and for good reason.
Michael Mando thinks Nacho Varga on 'Better Call Saul' parallels 'Breaking Bad's Jesse Pinkman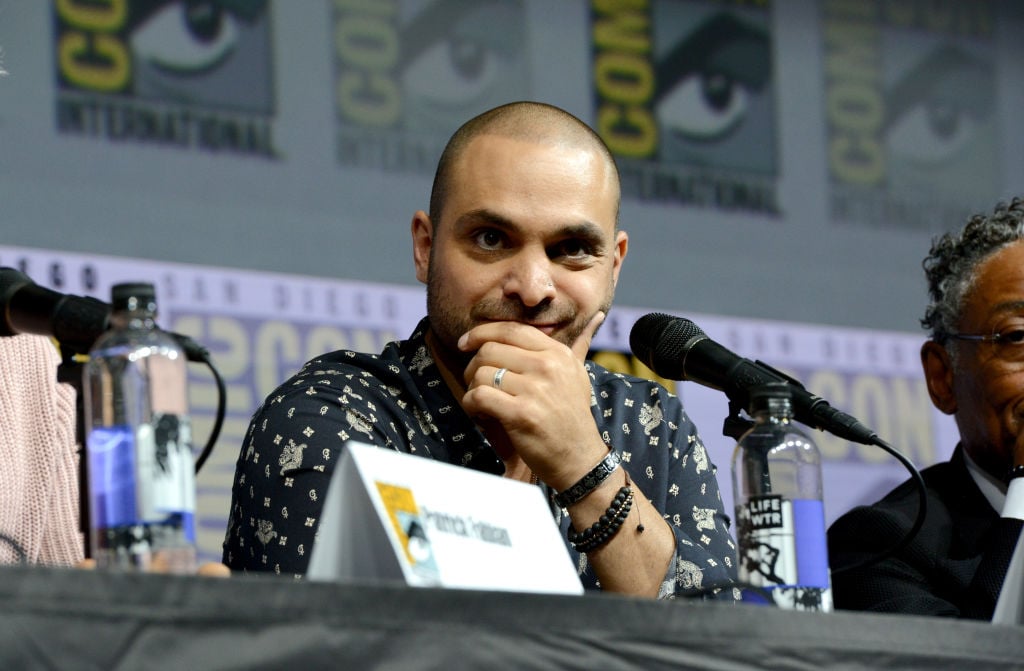 RELATED: 'Breaking Bad' Star Aaron Paul Once Asked His Grandma to Close Her Eyes During This 'Intense' Scene
When Breaking Bad first premiered, no one knew the level of success it'd continue to have over a decade later. Without that series, there'd be no Better Call Saul. Mando revealed to Screen Rant in 2020 Nacho's story began as one thing and ended up another.
"At first, I really thought it was a story of ambition. I thought it was a story of a man wanting to climb up the ladder of power," he said. And then somewhere in season 2 or season 3, I realized that there was an inclination and heart always in relationship to this father. Those emotions were so much closer to the heart than his ambition for anything else."
He continued: "He's one of the very, very few characters that I've ever seen in television history that changes completely. He starts off and you're like, 'Bad guy, cartel, wants to make money, wants to be a big boss.'"
In terms of the Breaking Bad world, Nacho and Jesse Pinkman (Aaron Paul) are more similar than different.
"There are a low of parallels between the two. I think they're very different, and it'd be really interesting — I'm really curious to know what it would be like to have those two guys in a room," he said.
"It's something that I think about sometimes because they're so different in terms of personalities. Their presence is so different, their auras are so different, and their colors are so different. Yet in a strange way, everyone compares them. I hear so many comparisons to one another, and I find that so fascinating."
Varga explained why filming season 5 of 'Better Call Saul' felt so difficult
RELATED: How to Watch 'Better Call Saul' Season 5
Mando's role was originally written to be Jimmy McGill's antagonist, but as Mando explained, they went a different direction.
"I think they quickly realized that Jimmy's relationship with Chuck McGill (Michael McKean) had more tension and animosity and that he would be the better antagonist for the early seasons. Ultimately, that pushed Nacho to the periphery of the show and allowed the writers to create a longer, almost curveball arc to the character," he told Awards Focus in 2020.
He continued: "Without that choice to focus on Chuck, we would never have found the humanity and complexity of Nacho. He's a character that's driven by the love of his father and is trying to do the right thing, which is far from is original arc of a gangster arc of trying to reach the top of the food chain. Now, he's desperately trying to get out."
The relationship shown on-screen between Nacho and his father became that much more important as his own father died during season 5 filming.
"My father passed away four days ago from cancer, which is one of the reasons I came back to Canada. I found out he had stage four cancer while filming season five, and that made playing Nacho's storyline very difficult," he said.
He added that his father and Jonathan Banks (who plays Mike Ehrmantraut) were close friends.
"Jonthan has been a big brother to me, both through the example he sets and his encouragement," he said. "Two days ago, he called me to share his condolences and gave me some of the best advice I've ever gotten. He said, 'Everybody knows you're really talented, but I don't think you believe that. Until you believe it, down deep in your core, you won't be able to sleep. You can get all the praise and win all the awards, but you'll never ever enjoy. Don't wait until you're seventy to accept that and start enjoying the experience now.'"
Mando posted a tribute to his father on Instagram
On June 19, 2020, Mando took to social media to share his father's passing.
"June 29, 1948 – June 19, 2020. My father passed into the afterlife this Friday at 2:30 pm in my arms while I was meditating — it happened at my older brother's house, overlooking a gorgeous lake. One day before the solstice, two days before Father's Day, and 10 days before his 72nd birthday," he wrote.
"When I opened my eyes, I realized he was gone…Never could I have imagined that death would be so beautiful & transformative for those who are left behind. It broke me so deeply and in so many places – strangely, I felt it also aligned me back into place for the first time since childhood," he continued.
"Dad, you are my hero, my King, my teacher — I look forward to breathing your inspiration in all my art; I feel your spirit with me now, stronger than ever; clearer than ever. Papa, I love u in the way that u once wrote me in a birthday card: "More than yesterday and less than tomorrow; always and forever." Your son, Michael 'Mando' Mroué #happyfathersday [black heart emoji]."
Mando said season 6 will be 'a redemption story'
RELATED: 5 Antihero Shows to Watch If You Love 'Breaking Bad' or 'Better Call Saul'
Fans eagerly await the premiere of season 6 in 2022 which co-creator Peter Gould said via Deadline, "a lot of sadness to where this is going." Mando thinks Nacho will redeem himself in the coming season.
"This is a story of a person who finds the light. At the end of season 5, he goes to the heart of the Death Star. He meets Darth Vader, and he runs out," he said. "He's out; he's running back home. Home is sort of like this metaphysical world — it's not so much a place, but it's a place where he can be fully himself and be his father's son."
The star hopes Nacho comes to some kind of harmony, whatever that may mean.
"I don't know how it will end, but the only thing I'm hoping is that he dies finding that peace," he said. "If he dies, he at least finds that peace. I think he deserves to have that peace; I think he's done everything he could. Like Mike said, he's done everything and exceeded expectations."