'Better Call Saul': Patrick Fabian Says His Mother Is 'Going to Be So Mad' About the Mid-Season Finale
Better Call Saul Season 6 Episode 7 delivered a shocking blow during its final moments, eliciting strong reactions from fans. And they aren't the only ones likely to get emotional over the mid-season finale. Discussing Better Call Saul's latest twist, Howard Hamlin actor Patrick Fabian said his mother is "going to be so mad" about his character's fate — and his father probably won't be thrilled about it either.
[Warning: This article contains major spoilers for Better Call Saul Season 6 Episode 7, "Plan and Execution."]
Howard Hamlin meets a grim fate in 'Better Call Saul' Season 6 Episode 7
RELATED: 'Better Call Saul' Creators Had 1 Concern About Season 6's Boxing Scene
Better Call Saul has six episodes left before it ends, but Patrick Fabian took his final bow as Howard Hamlin during season 6's mid-season finale. His character got caught in the crosshairs of Jimmy (Bob Odenkirk) and Kim's (Rhea Seehorn) dealings with the cartel. Lalo Salamanca (Tony Dalton) viewed him as an obstacle, and he dealt with that accordingly.
Naturally, viewers were shocked to see Howard face such a brutal end — especially since he spent most of the prequel trying to do the right thing. On Twitter, many have called his death the most devastating in the Breaking Bad universe. To be fair, their reactions are warranted. And Fabian thinks his parents will have a similar response after watching "Plan and Execution."
Patrick Fabian says his mom will 'be so mad' over 'Better Call Saul's mid-season finale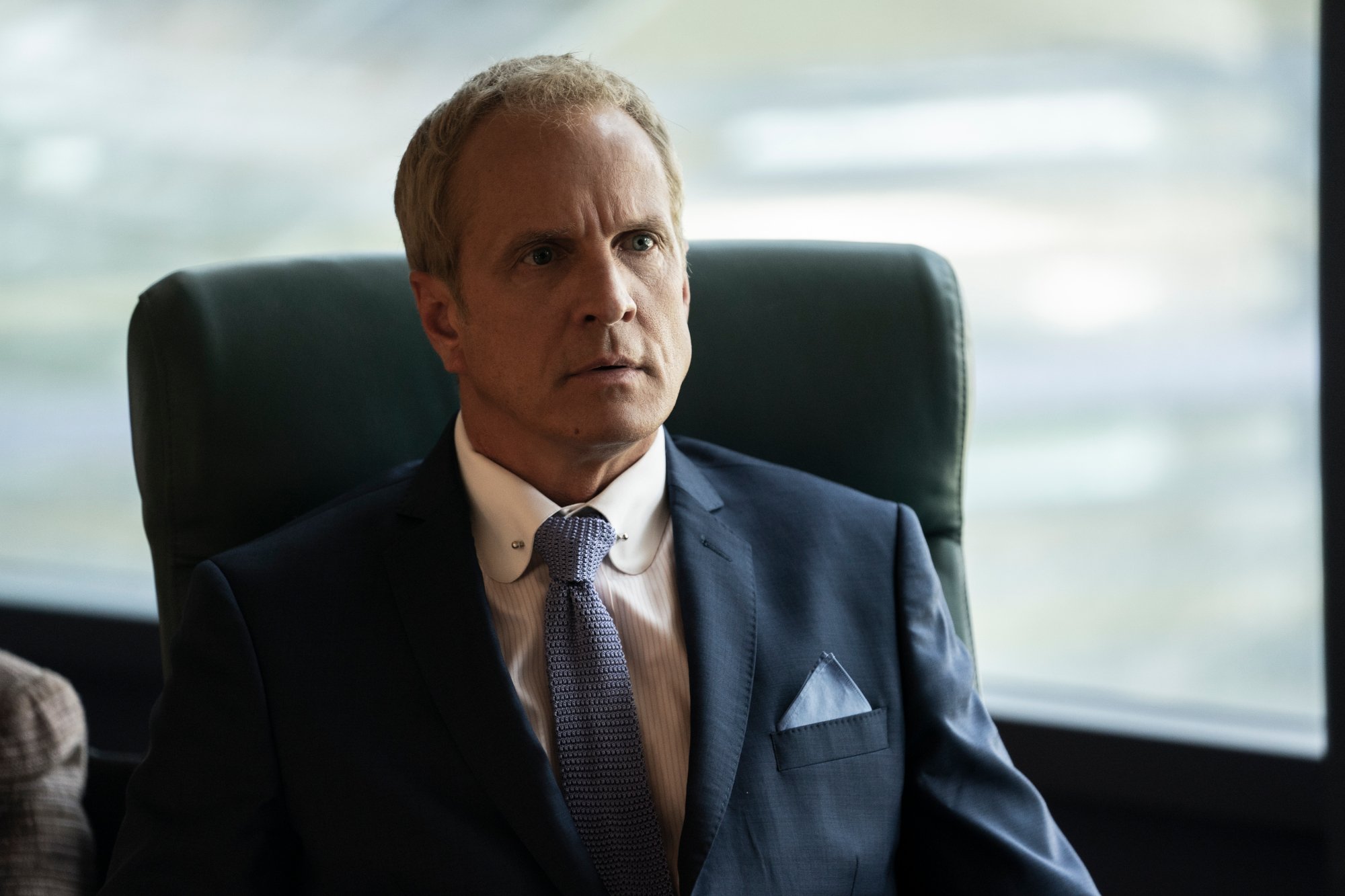 RELATED: 'Better Call Saul': Rhea Seehorn Reveals a 'Reckoning' Is Coming for Kim Wexler
That's right, Patrick Fabian's parents watch Better Call Saul, and they're likely to be upset over Howard's tragic fate. Speaking with Vanity Fair about his character's death, Fabian admitted he had a powerful reaction of his own. He also noted that his mother will likely get angry over the big twist:
"Honestly, after it happened, I physically put my hands on my knees and bent over. The wind was sort of taken out of me. I think I've been shot before, or I've been killed before onscreen. But there's a finality to it, character-wise and job-wise and life-wise. I know my mother's going to be so mad at these guys."
It doesn't help that Fabian's parents already dislike how violent Better Call Saul can get.
"Tom and Mary Lou Fabian in Mechanicsburg, Pennsylvania, first of all, are not completely on board with all the violence anyway, but they are certainly not going to be happy about this," Fabian said.
Of course, they aren't the only ones sad to see their son's character go. Patrick Fabian will surely be missed when Better Call Saul Season 6 returns for its final chapters.
Patrick Fabian thinks 'it would be very interesting' to see where Howard's story could have gone
Although Patrick Fabian won't be around for the remaining chapters of Better Call Saul, he believes Howard's story could have gone somewhere "interesting" if Lalo hadn't killed him.
Speaking with Variety, the actor admitted that his character would likely have struck back against Jimmy and Kim:
"He's not gonna play dirty, but at the end, Howard doesn't care what happens to him. He's going to be okay because he has enough behind him to rebound. But in terms of Kim and Jimmy, he's just come over to announce, 'Good one, but I'm in it for the long haul. And I will do everything I can and marshal my resources to make sure you pay.' That's a new Howard. That's a vengeful Howard. If things weren't cut short, it would be very interesting to see how this would all play out."
Sadly, fans will never get to see how a Howard hellbent on revenge would have impacted Jimmy and Kim's stories. Instead, his death will likely serve as a very different kind of turning point — both for their relationship and Jimmy's transition into Saul Goodman.
Better Call Saul Season 6 Part 2 premieres on AMC on July 11, 2022.
RELATED: 'Better Call Saul': Patrick Fabian Describes 'Existential Dread' of the Show Ending