'Better Call Saul': Rhea Seehorn Explains How She Knew Kim Had an Alcoholic Parent From the First Episode
In 'Better Call Saul' Season 5, viewers find out that Kim Wexler has an alcoholic mother. Rhea Seehorn explained how she knew this from the first episode.
Brilliant and seemingly straight-laced lawyer Kim Wexler has remained notoriously quiet about her past. However, viewers saw a flashback in Better Call Saul Season 5 of a teenage Kim refusing to get into the car with her drunk mother. Rhea Seehorn, who portrays Kim, explained she knew an alcoholic raised her character based on her first scene with Jimmy.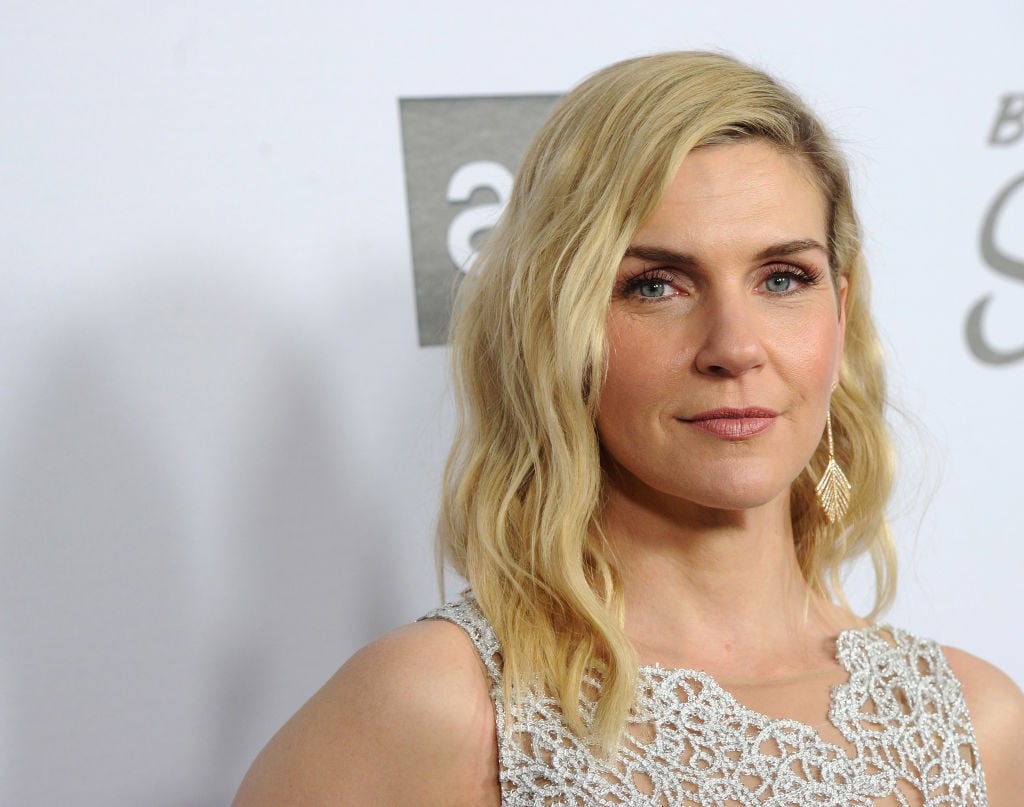 Kim and Jimmy in 'Better Call Saul' first episode
In Season 1 Episode 1, viewers are introduced to solo attorney Jimmy McGill (Bob Odenkirk) who has had several run-ins with Hamlin, Hamlin, and McGill, a top law firm where his older brother, Chuck (Michael McKlean), works as a lead partner.
Jimmy eventually met with the other lead partner, Howard Hamlin (Patrick Fabian), who led the firm while Chuck stayed home because he believes he has electromagnetic hypersensitivity.
After the meeting ended, Jimmy saw the Kettleman's (Julie Ann Emery and Jeremy Shamos), a client he desperately tried to obtain, meeting with Howard, seemingly interested in hiring the firm as their legal counsel.
Once Jimmy stepped off the elevator, he angrily kicked the nearest trash can, several times. Then, he walked outside, took the cigarette from Kim's mouth, took a drag, and put it back in her mouth.
Jimmy asked if Kim would quit HHM to join him, but before he completed the full sentence, she cut him off, answering, "you know I can't," implying they've had the conversation several times.
She then walked back inside and immediately cleaned up the trash can Jimmy kicked.
Kim Wexler has an alcoholic mother
It's unclear who Kim's father is and is widely believed she only grew up with her mother (Beth Hoyt) and no contact with her dad. In "The Guy For This," the lawyer claimed her family didn't have much money and never owned a house.
She also revealed her mother frequently woke her up in the middle of the night and moved to avoid landlords seeking back rent. While it wasn't clear if Kim only told Mr. Acker (Barry Corbin) that story to make him feel better, a flashback showed she appeared to have a neglectful mother.
In "Wexler v. Goodman," a teenage Kim waited for her mother to pick her up from middle school with a large cello on her back. When she finally showed, the teenager refused to get into the car because her mother had been drinking.
Her mother unsuccessfully tried to convince her she was sober and able to drive, but the self-reliant teenager insisted on walking home. Her mother then told her she "never listens" and drove away.
By the end of Season 5, Kim hadn't mentioned her mother or spoken to her, so viewers aren't sure if her mom is still living or if the two speak to each other.
Rhea Seehorn explains how she knew Kim had an alcoholic mother
One of the biggest questions going into Season 6 surrounds Kim's destiny and her desire to "end" Howard Hamlin's career so they can settle the Sandpiper case. Many fans aren't sure if that vicious side of Kim had always been there or if Jimmy helped bring it out during their many con adventures.
During Deadline's virtual Contenders Television event, Rhea Seehorn admitted it's "sometimes indecipherable" if Kim has been "suppressing that side of her with her control." However, she noted it was always clear to her that an alcoholic raised her character from the first episode.
Seehorn explained she took "the jigsaw pieces" of what the script said and noted how "extremely controlled" her role is with what she says and thinks. She also recognized Kim has "boundaries" when it comes to work, but still cares about Jimmy.
Additionally, the two shared a cigarette, which suggested they shared an intimate relationship, even if not romantic. Then, she cleaned up the trash can Jimmy kicked "without looking," telling her Kim has a "tense connection" with someone who causes a lot of "chaos."
Because Kim's response is to "control" it and clean up after him, she figured out her character must have been raised by an alcoholic. While Seehorn didn't speak of her findings then, she ended up being correct when viewers saw her mother in the short flashback last season.
In Season 6, the writers will likely flesh Kim's backstory out more, revealing other details about her past, including her father's absence.