'Better Call Saul': Rhea Seehorn Reveals a 'Reckoning' Is Coming for Kim Wexler
'Better Call Saul' Season 6 will reveal Kim Wexler's fate, and Rhea Seehorn says her character will face a 'reckoning' before the prequel series is through.
TL;DR:
Kim Wexler adopts two vastly different personas in Better Call Saul.
Rhea Seehorn teased a "reckoning" for her character in season 6.
It's unclear whether Kim will face herself or outside consequences.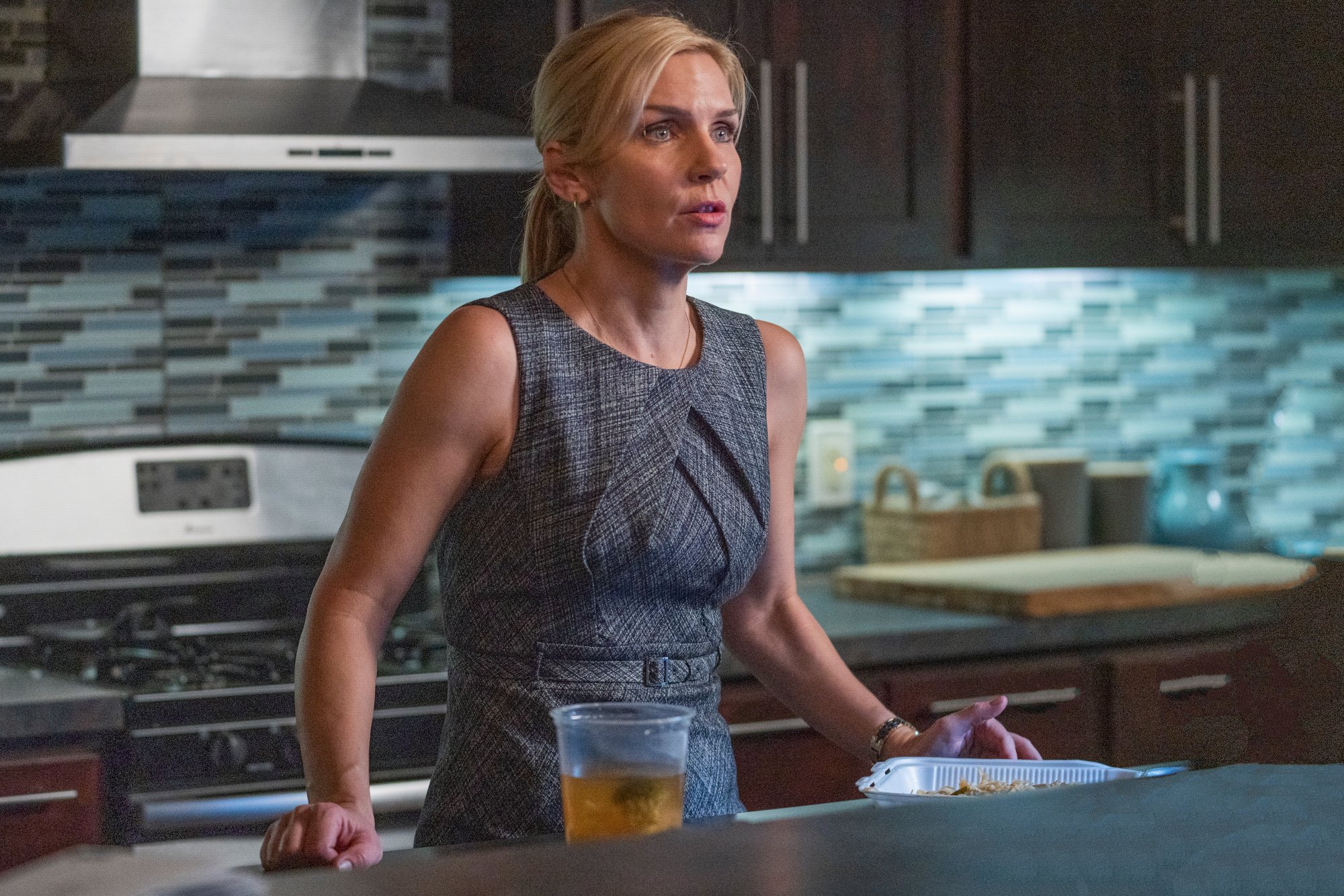 Better Call Saul Season 6 is bringing the Breaking Bad prequel to a close, and Rhea Seehorn suggested Kim Wexler could face a "reckoning" before the finale is through. The coming episodes will finally reveal why her character doesn't appear in Breaking Bad. Fans are anticipating a tragic ending for Kim, but it's unclear if she and Jimmy (Bob Odenkirk) part ways of their own volition or due to a much darker turn of events.
There are 2 sides to 'Better Call Saul's Kim Wexler
Better Call Saul fans already know there are two vastly different sides to Kim Wexler: the competent lawyer who's gotten far in life by following the rules and the woman who's privy to all of Jimmy McGill's crimes (and complicit in a few of them).
Throughout the AMC show's first five seasons, Kim keeps her two personas mostly separate. And thus far, that's worked out for her. However, Rhea Seehorn suggested that approach could come crashing down on her character in Better Call Saul Season 6. It looks like Kim may take a long, hard look in the mirror during the final episodes — assuming some worse judgment doesn't come for her first.
Rhea Seehorn teased a 'reckoning' in 'Better Call Saul' Season 6
During an interview with Entertainment Weekly, Rhea Seehorn delved into Kim Wexler's arc in Better Call Saul Season 6. She admitted that her character "cannot keep the internal and external separate any longer."
"Kim's compartmentalizing was always going to have a reckoning day — and it comes," she explained.
That's an ominous sentiment heading into the final episodes, albeit not surprising. Tensions have been building as Kim falls deeper and deeper into the unethical, often illegal territory Jimmy operates in.
And Seehorn told EW that the last season will look more deeply at how they influence one another — though she added that Kim's behavior is "not just in reaction to Jimmy — and never has been."
So, will Kim herself realize that before the end? Or will some other chain of events force that revelation on her?
Will Kim Wexler face herself or outside consequences?
With some sort of judgment coming for Kim Wexler in Better Call Saul Season 6, fans have to wonder: will she face her own revelation, or will external consequences arrive first?
If the new episodes intend to explore her relationship with Jimmy, it's possible Kim will come to her own conclusions about how she's changed. Of course, that seems a tad too optimistic for a show like this one.
The season 5 finale also revealed Kim's desire to go after Howard Hamlin (Patrick Fabian), and it's possible that could kickstart her downfall. Although she and Jimmy downplay Howard's influence and intelligence, crossing him could have serious implications — especially for Kim, whose peers run in the same circles.
Additionally, the cartel presents a threat to Kim and Jimmy, especially with Lalo Salamanca (Tony Dalton) still alive. Kim could find herself reeling from the very real dangers of being associated with the organization. Hopefully, that revelation doesn't come too late.
There's no shortage of ways Kim's actions could haunt her in Better Call Saul, and all of them would explain her disappearing act before Breaking Bad. Fans will have to tune in to find out how it all goes down.
Better Call Saul Season 6 debuts on April 18, 2022.