'Better Call Saul': Rhea Seehorn Reveals Her Favorite Fan Theories About What Happens to Kim
It's pretty incredible to think about how completely the Breaking Bad fan base has embraced Kim Wexler, who wasn't part of the original series. She's one of several new characters on the prequel spinoff, Better Call Saul, who has become just as popular as the original cast. Fans are begging for Rhea Seehorn, the actress who plays Kim, to get the Emmy recognition she deserves.
Seehorn is not immune to these compliments. Recently, she sat down with fellow AMC actor Jeffrey Dean Morgan and his wife, Hilarie Burton, and discussed some of the wildest fan theories she's seen.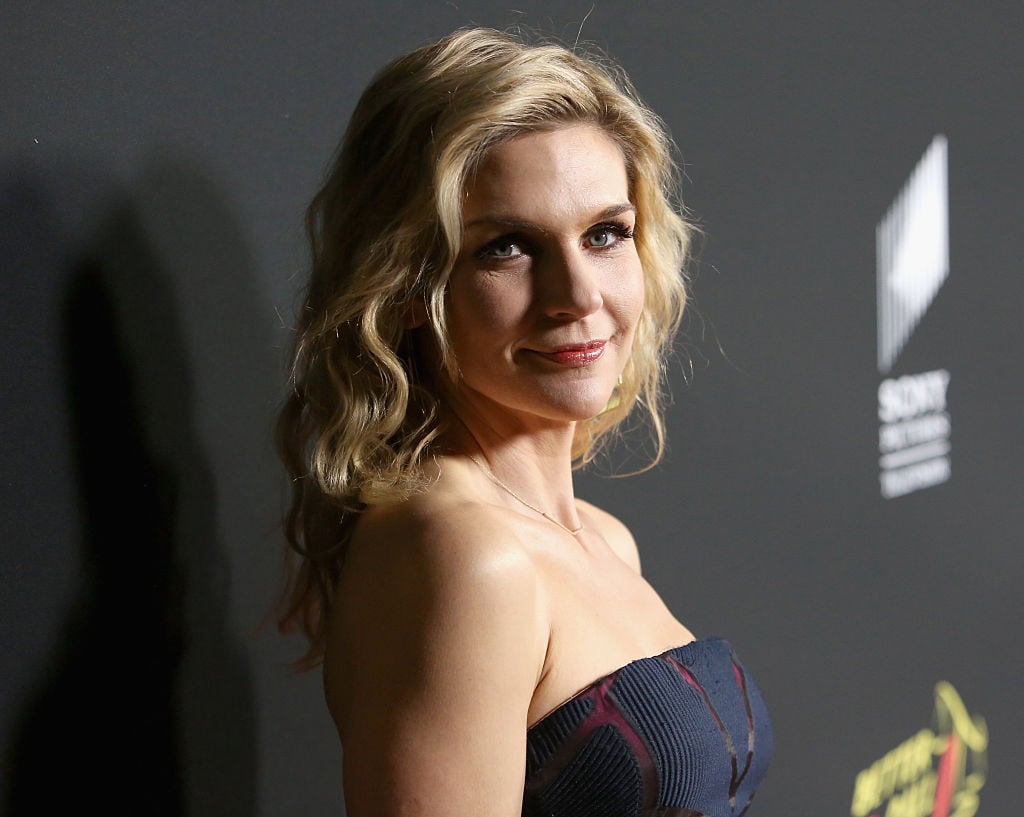 'Better Call Saul' fans know something awful will happen to Kim
There's no way around it. Unless Kim was sitting around waiting for Jimmy to get home every night, turning a blind eye to his criminal dealings and aggressive sexual comments toward his secretary, there is no way Kim survives into the Breaking Bad timeline. By the end of Better Call Saul season 6, she'll either be dead or far, far away from Jimmy.
But it's the "how" of what happens that's causing the most conversation. In the season 5 finale, Kim shocked everyone by announcing her intention to pull the ultimate scam on Howard, which would ruin his reputation forever. This will make all her previous small cons look tame by comparison.
Rhea Seehorn keeps up with fan theories
Though she said she never reads Reddit forums because she's too "chickensh*t" to see if fans are speaking badly about her, Seehorn has kept up with a few of the wild fan theories about what happens to Kim. She told Morgan and Burton that one of her favorites involves Kim working at the mall with future Jimmy.
"There are people who are sure she works at Clarie's accessories next to the Cinnabon," Seehorn said, Den of Geek reported. "I always say I need my own combover and mustache."
The 48-year-old actress is referring to the flash-forward scenes of Jimmy after he's been given a new identity by Ed the Vacuum Repairman. In his new life, Jimmy lives as Gene Takovic and is the manager of a Cinnabon in Omaha.
Seehorn knows Kim is on the verge of something terrible
The mall employee angle might be the funniest, but unfortunately, Kim seems to be heading down a treacherous path of her own making. And while it still doesn't seem likely that Kim will die, there is a chance that she'll wind up ruining the most important relationships in her life.
"They used to be all fan theories about how she dies. Now they're fan theories about how she mentally loses her sh*t," Seehorn said during the interview.
Series showrunners remain tight-lipped about what will happen to Kim — and to the rest of the characters who aren't in Breaking Bad, such as Lalo and Nacho. But no matter what their fates, it's been a pleasure getting to know them on Better Call Saul.
Better Call Saul is scheduled to return for the final season in 2021.