'Better Call Saul': Scenes of Future Jimmy McGill Managing a Cinnabon in Omaha Reflect 1 'Breaking Bad' Conversation
There's 1 key line in 'Breaking Bad' that led to future Jimmy McGill working as a Cinnabon manager in Omaha.
Better Call Saul writers were faced with a more difficult task than you might expect. Because the series is a prequel spinoff of the fan-favorite Breaking Bad, the character Jimmy McGill, who would later become Saul Goodman, already had his future laid out. Showrunner Peter Gould had to be mindful of several important details about Saul that were unchangeable because of it.
Some of those throwaway lines from Breaking Bad — like the one about Ignacio and Lalo — became the catalyst for some of the most memorable characters in Better Call Saul. Others, like Jimmy's two previous marriages, caused trouble.
But perhaps one of the most significant lines from Jimmy/Saul eventually becomes the inspiration for his flash-forward scenes.
'Better Call Saul' explores what happens to Jimmy McGill after 'Breaking Bad'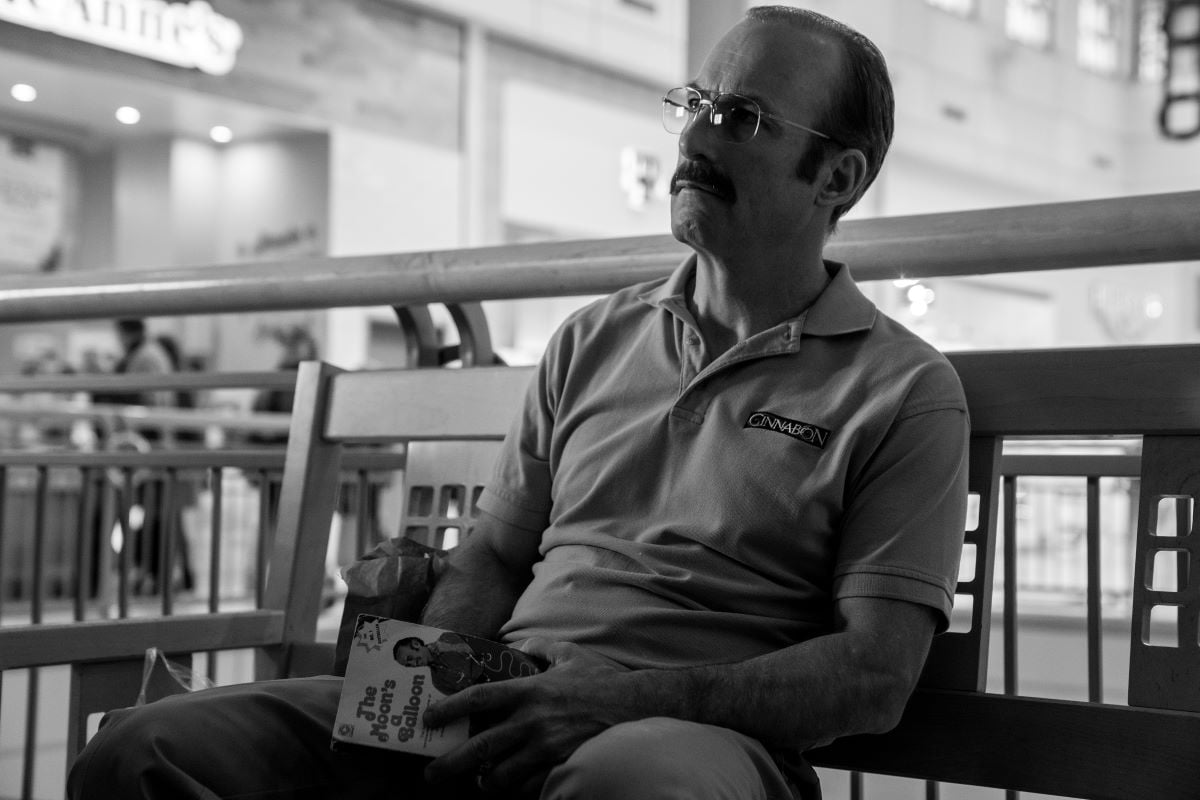 Better Call Saul is mostly a prequel, but there are several significant flash-forward scenes depicting Saul living out a post-Breaking Bad existence living under the alias Gene Takovic. These story additions, though brief, are exciting for fans who wonder what happens to Jimmy after all the drama in Albuquerque.
The fact that Gene (a.k.a. Saul, a.k.a. Jimmy) has this specific career after enlisting the help of Ed the Vacuum Repairman is a nod to the original series. It's based on a line he says to Walter White while the two men are hiding out in a bunker waiting to be assigned new identities and escaping the mess they made.
Jimmy McGill mentions Cinnabon to Walter White in 'Breaking Bad'
While discussing the future in season 5, episode 15, "Granite State," Saul says, "From here on out, I'm Mr. Low Profile, just another d**chebag with a job and three pairs of Dockers. If I'm lucky, a month from now, best case scenario, I'm managing a Cinnabon in Omaha."
That's exactly what happens to Saul in the future. The black and white scenes show the formerly flamboyant and loud lawyer living in a nondescript apartment, looking depressed, and going to work every day wearing his Dockers.
The series will explore what happens to Gene Takovic
Even though the latter half of Better Call Saul Season 5 didn't have any new Gene Takovic content, fans can expect to see the conclusion of the storyline in season 6. When we last caught up with Gene in Omaha, he'd just been recognized by a mysterious taxi driver. This interaction freaked him out enough to call up Ed and request a new identity before abruptly deciding to handle the matter himself.
Viewers aren't sure what's going to happen to Gene. Will he reunite with Kim Wexler? Or perhaps catch up with Jesse in Alaska? Can he ever return to Albuquerque and practicing law? It's all so unclear. Bob Odenkirk spoke with The Wrap to confirm that at the very least, Gene's story will have a conclusion.
"I think they intend to take that character [Gene] somewhere and land it," the actor confirmed in 2019.
Better Call Saul's final season is currently in the writing stage. It's scheduled to air in late 2021 or early 2022.