'Better Call Saul' Screenwriter Reveals How Jimmy McGill Feels Involving Kim Wexler in Saul Goodman's Problems; 'He's Stuck'
Does Jimmy McGill regret getting Kim Wexler involved in his Saul Goodman ways? Screenwriter Gordon Smith tells all.
Better Call Saul introduces Jimmy McGill (Bob Odenkirk) before he becomes the criminal lawyer persona Saul Goodman. For the most part, "Slippin' Jimmy" tries to put his con-man past behind him. But when Kim Wexler (Rhea Seehorn) embraces that side of his personality, Jimmy starts to bring her into the fold. 
Knowing Kim isn't in Breaking Bad, the sequel to Better Call Saul, many fans want to know if Jimmy regrets involving Kim in his life. Screenwriter Gordon Smith revealed how Jimmy truly feels about involving Kim in his Saul Goodman cons.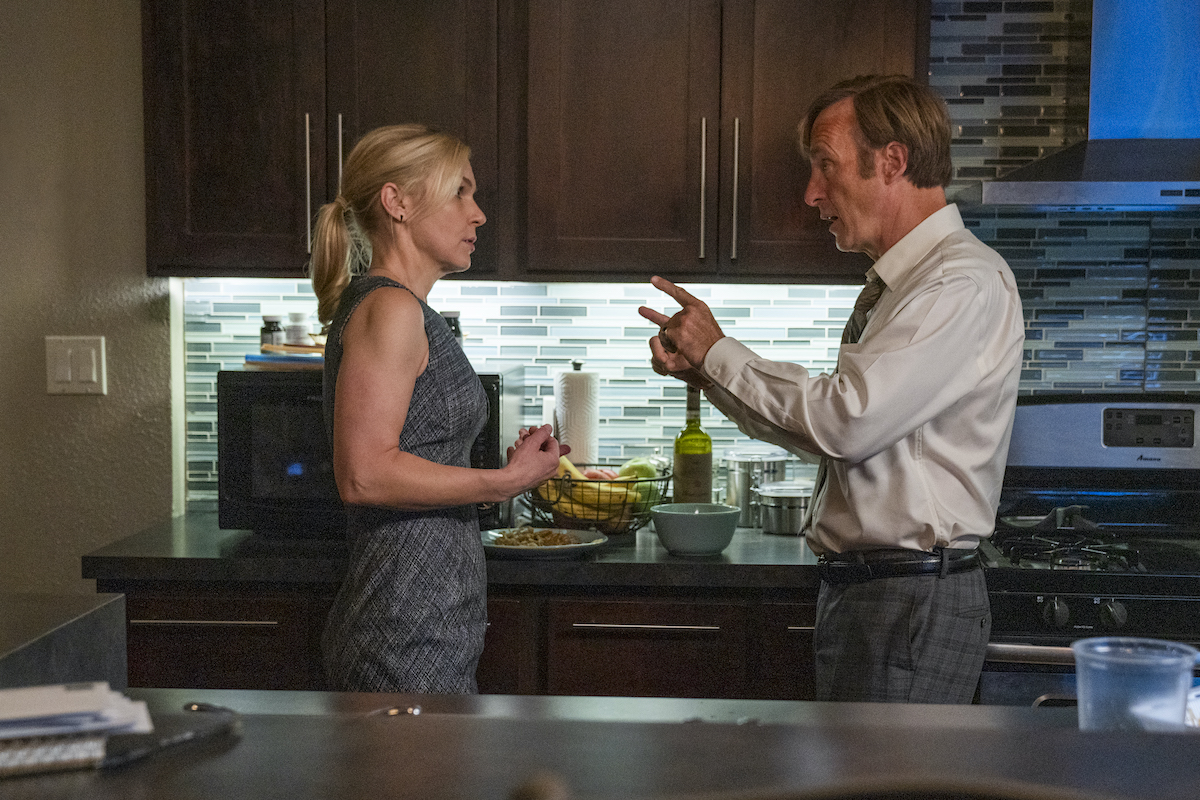 How many seasons of 'Better Call Saul' are left?
Better Call Saul Season 6 will be the show's final season. The coronavirus (COVID-19) pandemic put filming the final season at a stand-still, but now things seem to be in full swing. Peter Gould shared a photo to Twitter on Mar. 10, 2021 confirming filming for Better Call Saul Season 6 has started. 
Gould's photo also confirms the season 6 premiere is directed by Michael Morris. He also directed Better Call Saul episodes like "Wexler v. Goodman," wherein Kim suggests she and Jimmy get married. Cinematographer Marshall Adams is also working on the season 6 premiere. He previously served as the cinematographer for the Breaking Bad movie El Camino.
'Better Call Saul' Season 5 reveals Kim Wexler's dark side 
When we first meet Kim, it's evident she is Jimmy's moral compass — the person that keeps him tethered before he decides to fully embrace Saul Goodman. But by the end of season 5, fans see a darker side of Kim Wexler. Is her involvement in Jimmy/Saul's ploys corrupting her, or has Kim been this way all along? 
During a Q&A on Twitter, one fan wanted to know if showrunners intended for Kim to "be in the game" from the get-go. "We've been feeling for awhile that Kim has a dark streak that Jimmy brings out in her when they are together," Smith replied.
"When we knew [Jimmy] was going to be out in the desert, we started to wonder what Kim's natural/best response to that would be." That natural response was to confront Lalo (Tony Dalton) directly. 
"We felt like she was headed somewhere dark during the season but didn't figure out her interactions with Lalo until we were working on episodes 508 and 509," Smith added. 
Jimmy McGill regrets getting Kim Wexler involved in Saul Goodman's business 
Jimmy and Kim's romantic connection is clear. And by season 5 of Better Call Saul, their relationship was in a healthy place. Sure, Kim's marriage proposal may have been to protect Jimmy, but getting married brought them closer in the end.  
"[The marriage is] a legal thing primarily, but at the same time, you can't discount there's a closeness between the characters that grows because of it," Odenkirk told Variety.
Sadly for many fans, Kim isn't part of Saul Goodman's life by the time we meet him in Breaking Bad. This has many wondering — does Jimmy have any regrets regarding Kim?
"Do you think Saul has a sincere regret for having involved Kim in his problems?" a fan asked Smith on Twitter. The short answer is "Absolutely." 
"I think he's stuck because he knows he loves her desperately, and he knows he's bad for her," Smith continued. "In his mind, I think he's stuck between losing her and ruining her — neither one seems like a good choice." Better Call Saul fans are excited to see how her fate plays out in the series's sixth and final season.