'Better Call Saul' Season 6 Episode 1 Recap: Off to an Ominous Start
'Better Call Saul' Season 6 Episode 1 kicks off the final season with a strong chapter that will leave viewers worried about every single character.
Better Call Saul kicked off its final season with a two-part premiere, and the first chapter set an ominous tone for the coming episodes. Better Call Saul Season 6 Episode 1, titled "Wine and Roses," shows the aftermath of season 5's bloody finale. And it doesn't bode well for any of the characters — except maybe Lalo (Tony Dalton), and that leaves us even more worried about what's coming.
[Warning: This article contains spoilers for Better Call Saul Season 6 Episode 1, "Wine and Roses."]
'Better Call Saul' Season 6 opens with a sad farewell to Saul Goodman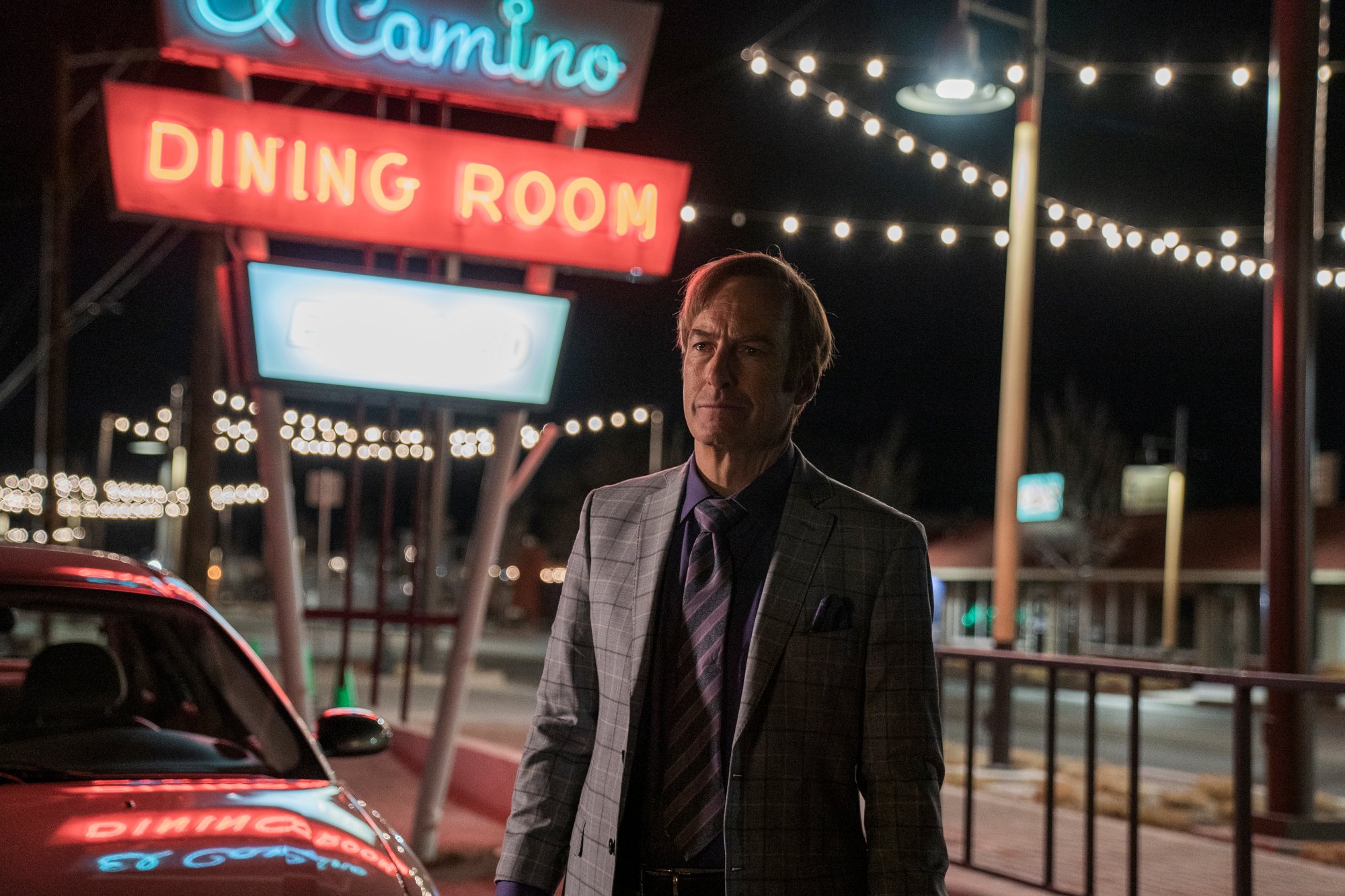 Better Call Saul Season 6 Episode 1 holds an ominous tone all the way through, and that starts with its very first scene. The premiere opens with a farewell to Saul Goodman (Bob Odenkirk), briefly bringing fans into the post-Breaking Bad timeline.
Saul's home is being cleaned out after his disappearing act at the end of Breaking Bad. And watching as his flashy clothes and promotional cut-outs are thrown in the trash will leave viewers feeling unnerved. It's a fitting way to kick off the beginning of the end, but it reminds us that Saul's story will ultimately end in tragedy.
He may not be the only one, either. Right before returning to the past, the opening zooms in on one of Saul's many discarded items. It's the top from the Zafiro Añejo Jimmy and Kim (Rhea Seehorn) once shared, a reminder of their scams. The fact that he kept it suggests he still cared for Kim during Breaking Bad. That doesn't bode well for her fate in the prequel.
Nacho goes on the run in enemy territory
After Saul's home gets raided, Better Call Saul throws fans back into the prequel timeline — and things aren't looking good for Nacho Varga (Michael Mando). Season 5 left Nacho fleeing from the scene of Lalo's botched assassination. And Better Call Saul Season 6 Episode 1 sees him navigating enemy territory as he runs for his life.
Mike (Jonathan Banks) offers some guidance over the phone, but he can't get Nacho out of Mexico just yet. He pushes for Gus (Giancarlo Esposito) to give him the go-ahead, but his boss has other things on his mind. That's probably fair since Lalo survived the attempt on his life, something Gus suspects but doesn't get confirmation of.
Nacho's predicament looks like it will create a rift between Mike and Gus during season 6, but fans know the two of them will patch things up. More worrisome is Nacho's fate. Although he's still hiding at the end of the "Wine and Roses," things are looking grim for the character.
Jimmy and Kim strike out at Howard in episode 1
Nacho's storyline isn't the only one to build on the season 5 finale this week, as Jimmy and Kim set their revenge against Howard (Patrick Fabian) into motion. Fans knew Kim wasn't really joking about taking down her former boss, and Jimmy doesn't protest when she raises the subject a second time.
They devise a plan over dinner, and viewers witness the beginnings of it toward the end of "Wine and Roses." The duo plans to destroy Howard's reputation by making his peers think he's doing drugs. Jimmy even plants a bag full of baby powder in his locker at the country club, and the move has the desired effect.
But knowing Kim may face some sort of judgment this season, it's hard to feel good about their success. All this scheming against Howard could create serious problems for Kim. Her actions may even explain why she isn't in Breaking Bad.
Lalo ends 'Better Call Saul' Season 6 Episode 1 with a plan
Perhaps the most worrisome aspect of Better Call Saul Season 6 Episode 1 is Lalo Salamanca's (Tony Dalton) storyline. After surviving Gus Fring's assassination attempt at the end of season 5, Lalo is only slightly shaken up. By the end of the premiere, there's a spring back in his step.
Just as Lalo's about to cross back over the border, he calls Hector Salamanca (Mark Margolis) and hatches a plan to prove Gus was behind the whole thing. That will likely involve finding Nacho, whose journey back to Albuquerque just got more complicated.
The episode ends there, with Lalo feeling murderous and motivated. We can't think of a scarier place to leave things. It's safe to say Better Call Saul is going to be one hell of a ride.