'Better Call Saul' Season 6 Episode 4 Explains a Leaked Set Image
'Better Call Saul' released a new episode on Monday, May 2, but some fans already knew what to expect after a leak in 2021.
In the Better Call Saul episode "Hit and Run," Saul Goodman and Kim Wexler take steps to advance their plot against Howard Hamlin. The idea is that by causing a scandal with Howard, Cliff Main would decide to settle the long-running Sandpiper Crossing case, awarding them a share of the money. But there's a scene in the episode that some fans had already seen.
[Warning: This article contains spoilers from Better Call Saul Season 6 Episode 4.]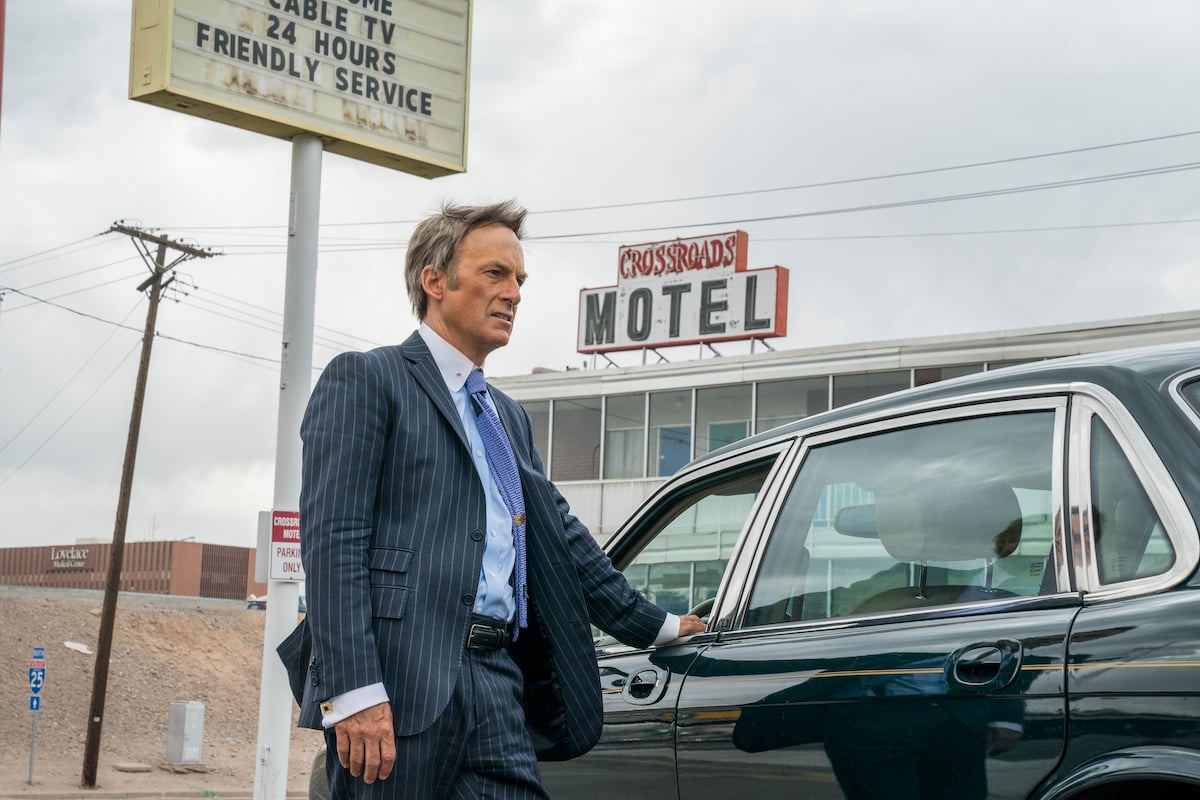 Saul and Kim continue their scheming in 'Better Call Saul' Season 6 Episode 4
In an opening scene, Howard sits down to talk to his therapist. While they're speaking, a heavily spray-tanned and disguised Saul breaks into Howard's car using the device from Huell and drives to pick up a prostitute named Wendy. As Kim is dining outdoors with Cliff, Saul drives past and violently shoves Wendy out of the car. Cliff assumes he's Howard and finally confronts Howard about his reckless behavior in Better Call Saul Season 6 Episode 5.
Saul's actions had many viewers shocked, but some fans had already predicted them.
There was a leak during production on 'Better Call Saul' Season 6
While the show was filming in May of 2021, a video from the set leaked showing Saul disguised as Howard and standing near his car at the motel. Viewers figured the scene would be part of the scheme against Howard. They just weren't sure of the context.
"It's Jimmy dressed as Howard?" one person wrote online at the time. "So him and Kim are really going to screw him. Maybe take some pictures of Jimmy with some hookers (maybe Wendy) [the sex worker from Breaking Bad] in this motel and pretend that it's Howard?"
"Yup, probably this," said one response. "It's the same type of car Howard has too. Hire the UNM camera crew to take some photos from afar and boom, Howard Hamlin 'caught' at a motel with prostitutes. And there's a 'precedent' for it since last season prostitutes accosted him in the restaurant and there were a lot of witnesses (Cliff Main included)."
It's unfortunate how everything has progressed when it comes to Saul and Howard. Of course, Howard has had his moments, but many viewers will agree that he doesn't deserve this. It'll be interesting to see what happens if Saul and Kim's scheme is ever revealed.
Fan predictions for what'll happen next on the show
After the latest episode, fans took to Reddit to share their thoughts.
"Honestly feel so bad for my man howard," read one comment.
"Can't believe how dirty they did Howard," another person wrote, "and this isn't even the end of it—it's one thing to make Cliff think he had a prostitute but that made him look like a COMPLETE monster."
"I honestly can't stand the Howard scam, it's really making me turn against Saul and Kim," said a third person. "Hopefully he doesn't pull a Ted and actually proves to become a worthy opponent (though that seems unlikely at the moment)."
But some thought Howard would be able to talk himself out of trouble, especially because he had an alibi with his therapist.
We guess we'll see. Check out Better Call Saul Season 6 now on AMC.