'Better Call Saul' Showrunner Peter Gould Warns Fans of 'Sadness' in Season 6 Finale
There are still many months to go before the premiere of the sixth and final season of Better Call Saul. With production calendars in flux, AMC hasn't announced an official release date for the final installment of the Breaking Bad spinoff prequel. But that doesn't make fans any less excited to find out what happens to Jimmy, Kim, and all the rest.
A popular theory suggests that the final season may be split into two parts just like the last part of Breaking Bad was. So far, none of that is confirmed. Showrunner Peter Gould did reveal, however, that fans can expect plenty of "sadness" when the show finally comes back.
What happened at the end of 'Better Call Saul' Season 5?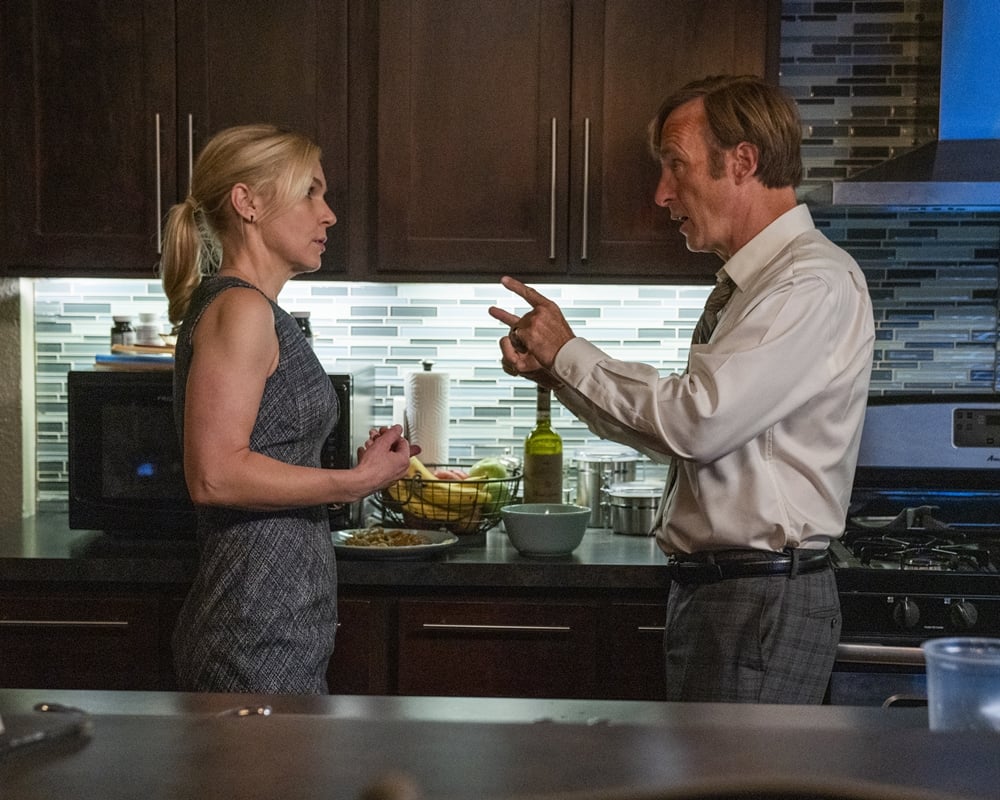 When we last left Jimmy McGill, he was a broken man. After being stranded in the harsh desert with no water overnight, forced to trek home dragging heavy bags of cash, and contending with almost being killed in a shootout, Jimmy was experiencing severe PTSD. He wasn't anything like his normal, over-confident self.
That left girlfriend Kim Wexler in charge of defending the pair against Lalo Salamanca when he arrived uninvited to their home. Kim's quick thinking and passionate speech ultimately saved their lives — at least for now.
Then Kim shocked fans by announcing her intention to pull a huge con on their former boss, Howard Hamlin. Jimmy warned Kim that ruining Howard would be a point of no return. But she insisted on going through with her plan.
Season 6 will need to answer a lot of questions about what happens to all the main characters before the beginning of Breaking Bad. And as Gould said, it's not going to be pretty.
Everyone is worried about Kim's fate
Fans have been freaking out over what happens to Kim — especially considering how she's not part of Breaking Bad and therefore must go away somehow. Does Kim die? Does she start a new life somewhere else? Everyone wants to know.
Gould addressed these real fears in an interview, Observer reported. "We have a lot of ideas about where Jimmy and Kim are going," Gould said. "There's some ideas which I am so excited about, but there is also a lot of sadness to where this is going."
For now, writers are hard at work writing the final season via video conferencing. They're hoping to resume production in late 2020 for a potential 2021 release date, but it will all depend on the state of the world.
Vince Gillian claimed 'Better Call Saul's finale will outperform 'Breaking Bad'
Breaking Bad creator Vince Gilligan doesn't know what will happen to Jimmy and Kim any better than the rest of the fans. But he is confident in Gould to provide a fitting conclusion for the series that's getting tons of attention right now.
"Let me make a prediction right now, I'm going to say this because Peter is too much of a gentleman and way too modest," Gilligan told The Hollywood Reporter.
"I think [Better Call Saul] is absolutely, under Peter's leadership, going to stick the landing. It's going to be awesome and the Hollywood Reporter and other wonderful journalistic outlets are going to be having articles about which one had the better ending, Breaking Bad and Better Call Saul, and I bet you folks are going to say Better Call Saul."
We'll find out soon enough if that's true. Either way, we're in for a crazy ride when the final season drops.