'Better Call Saul' Star Rhea Seehorn Reveals What She Added to Kim Wexler's Character in Season 1
When Saul Goodman (Bob Odenkirk) got his own Breaking Bad spinoff, Better Call Saul, it introduced a host of other intriguing characters in Saul's world. His number one relationship in the prequel is Kim Wexler (Rhea Seehorn), his girlfriend and another lawyer at his old lawfirm, and later her own practice.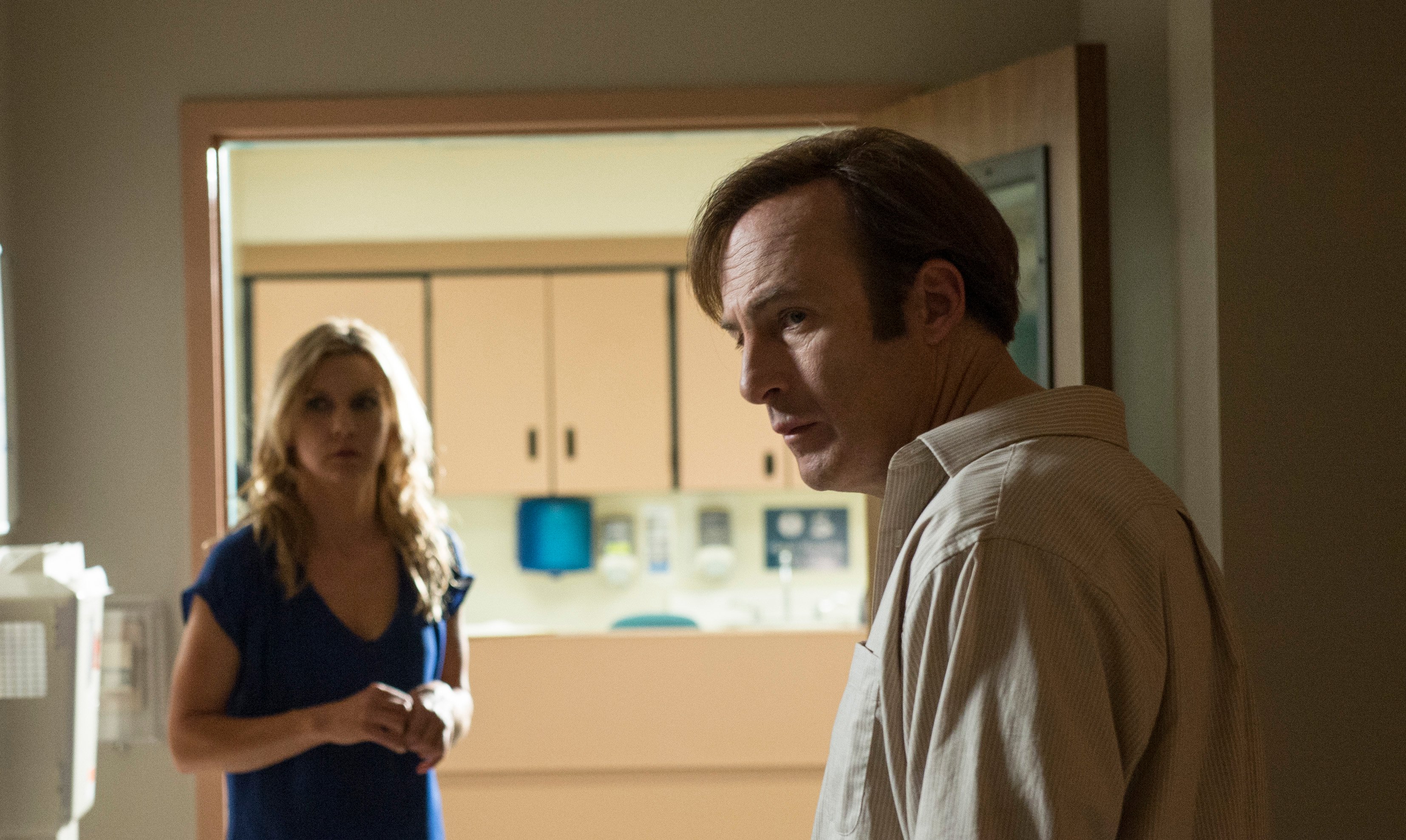 Seehorn was a guest on the WTF With Mark Maron podcast on Nov. 12. She told Maron about all the things she added to Kim's character in the first season of the series. Better Call Saul will return for a sixth and final season in 2021.
Rhea Seehorn made the most of her first 'Better Call Saul' scenes 
Kim didn't say much in the first episode of Better Call Saul. Seehorn was able to read a lot into her limited screen time. 
"The pilot had me having two lines," Seehorn said. "I think I say, 'We got it, Brenda,' or something to the receptionist when he breaks in doing the Ned Beatty 'You will atone' speech and then there's the garage smoking scene. We share one sentence. He says, 'Couldn't you just?' I say, 'You know I can't.'"
It was a scene direction in the latter scene that clued Seehorn into Kim Wexler.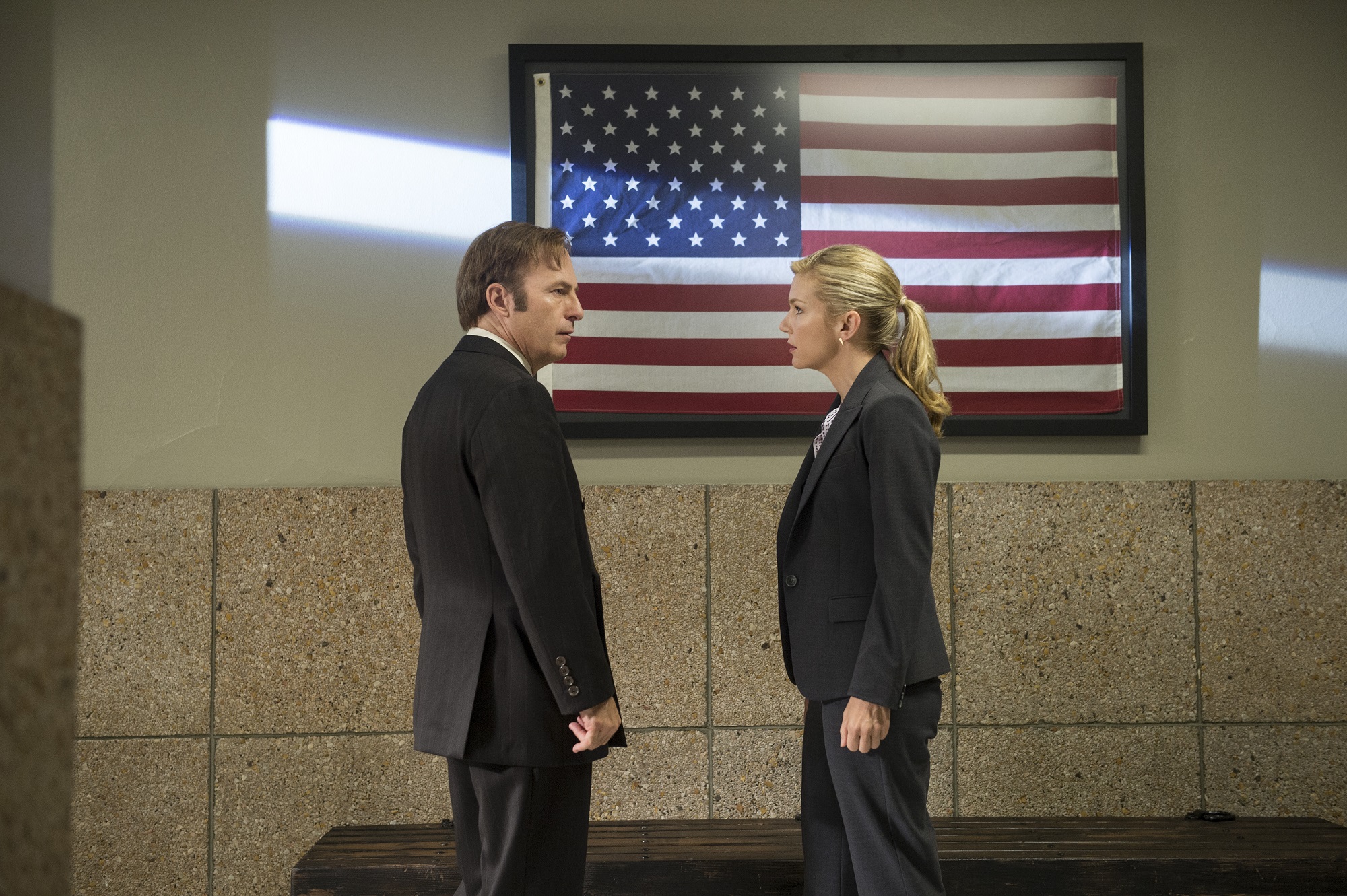 "Then it says she fixes the trash can that he kicked without looking which I thought was very important," Seehorn said. "I was like oh, he does this a lot and she always cleans up after him."
Rhea Seehorn figured out how to play Kim Wexler on 'Better Call Saul'
Seehorn says the words Vince Gilligan, Peter Gould and the Better Call Saul writers write for her. When it comes to Kim Wexler's actions, that's all Seehorn.
"From the very beginning I put together a whole backstory," Seehorn said. "I didn't want to hem myself in too tightly because I wanted to be able to take in information. But there had to be a reason, all of her physicality for me came from wow, she's very specific about when she speaks and what she says. I don't think it's a position of weakness. I think it's a position of power."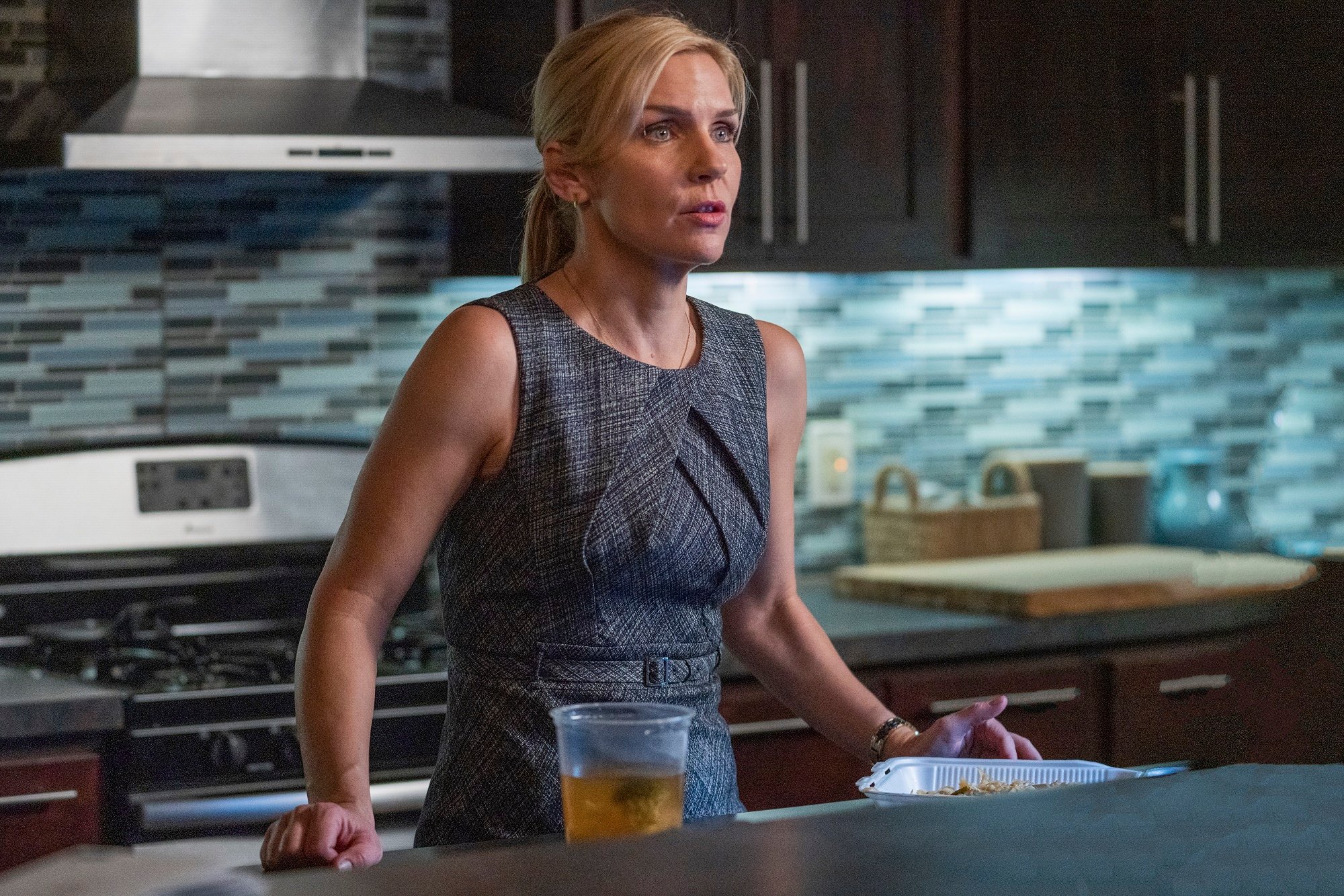 Seehorn also drew on the formality of Kim's dialogue to inform her performance. 
I didn't have contractions in the first eight episodes. There was a part of me that wanted to ask them like 'You don't mind if I say wanna instead of want to or gonna?' I was like, 'No. Maybe this will unlock something,' and it did. This person is so controlled about what she wants you to see and what she doesn't want you to see, that maybe she also doesn't really let people see what she's thinking on her face Maybe she's also extremely still in her body which is 180 degrees opposite of me. I would never win at Poker and I'm an utter spaz.

Rhea Seehorn, WTF With Marc Maron, 11/12/2020
By season 5, Better Call Saul fans count on Kim to persevere and nail her adversaries. Seehorn figured out how to go about that early on.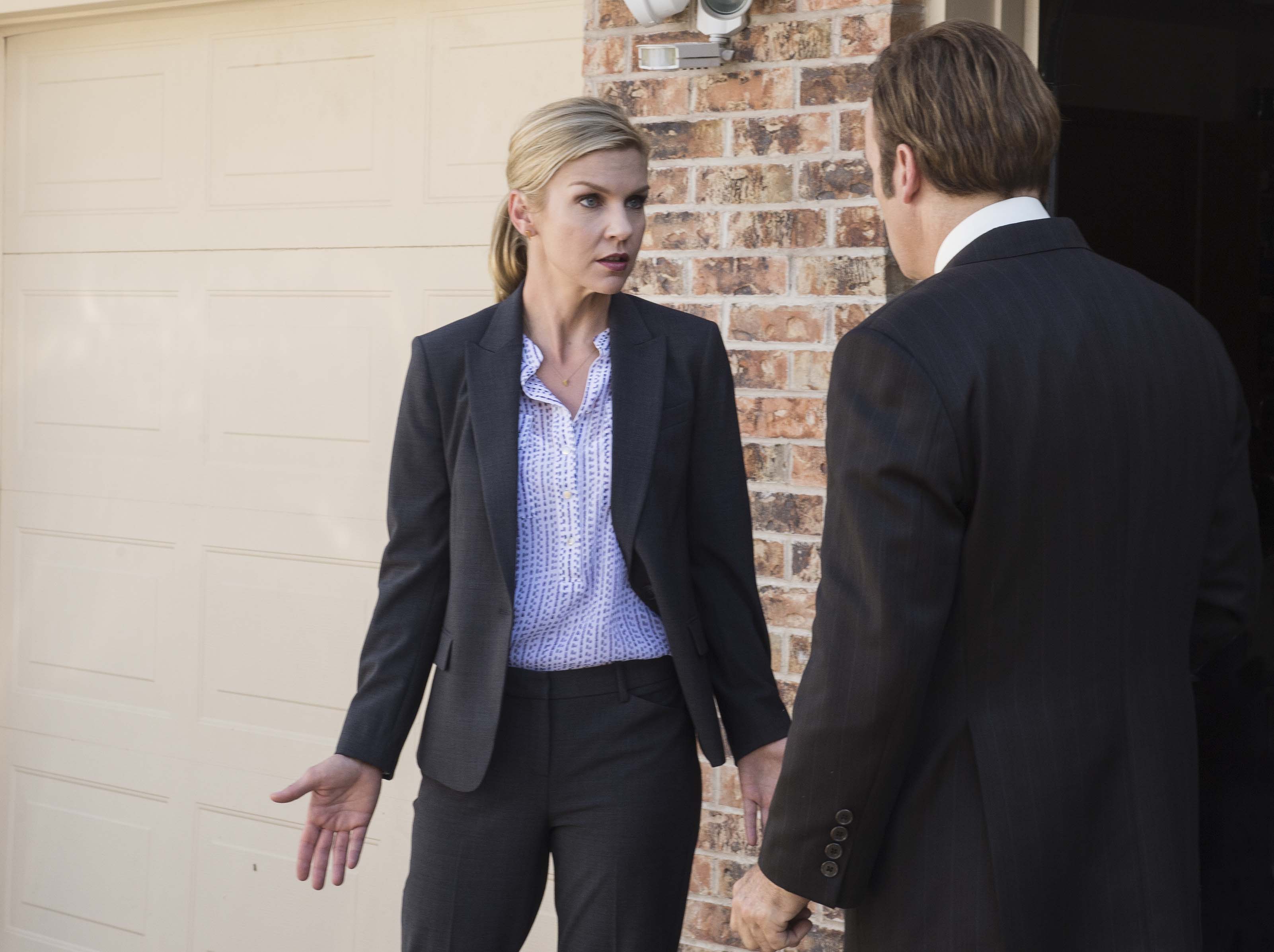 "That was cool to try to figure out how tight I could get it and fill those thoughts, constantly have a reason she's not speaking," Seehorn said. "A lot of times it's because she's waiting for people in the room to hang themselves with their own words."
Kim Wexler and Jimmy McGill
Figuring out Kim's body language also helped Seehorn understand her relationship with Saul. Kim knew him as Jimmy McGill first, and Jimmy came up with the Saul persona midway through the series.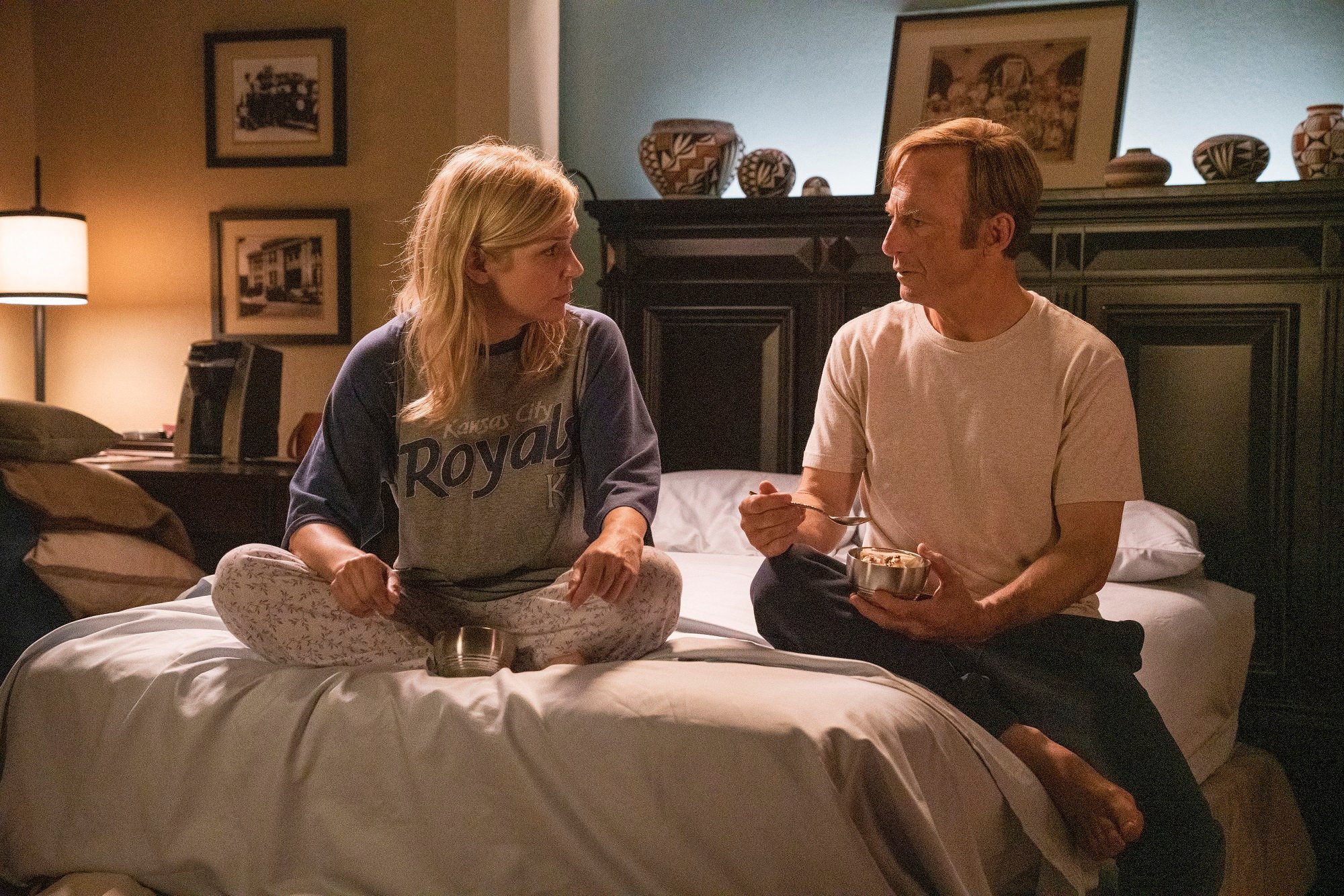 "I kept going down that road and the relationship with Jimmy made sense to me," Seehorn said. "They are both outsiders. They are both misanthropes in a way and socially very awkward, and they both put on masks. His is a very flamboyant clownish mask and hers is this armor, this suit and curled pony tail. They have no friends. They're only honest with each other."