'Better Call Saul': These Two Scenes Made 'Bagman' the 'Single Hardest Thing' Vince Gilligan Has Ever Directed
Since its release in 2015, Better Call Saul has been nominated for several Emmys. Aside from the acting, the show is regarded for its directing and writing. Co-showrunners Vince Gilligan and Peter Gould, along with screenwriters like Gordon Smith, have created one of the most compelling shows on television. But season 5 presented some unique challenges, particularly for Gilligan and Smith. They agree about two scenes from the season 5 episode "Bagman," saying they were the most difficult to shoot.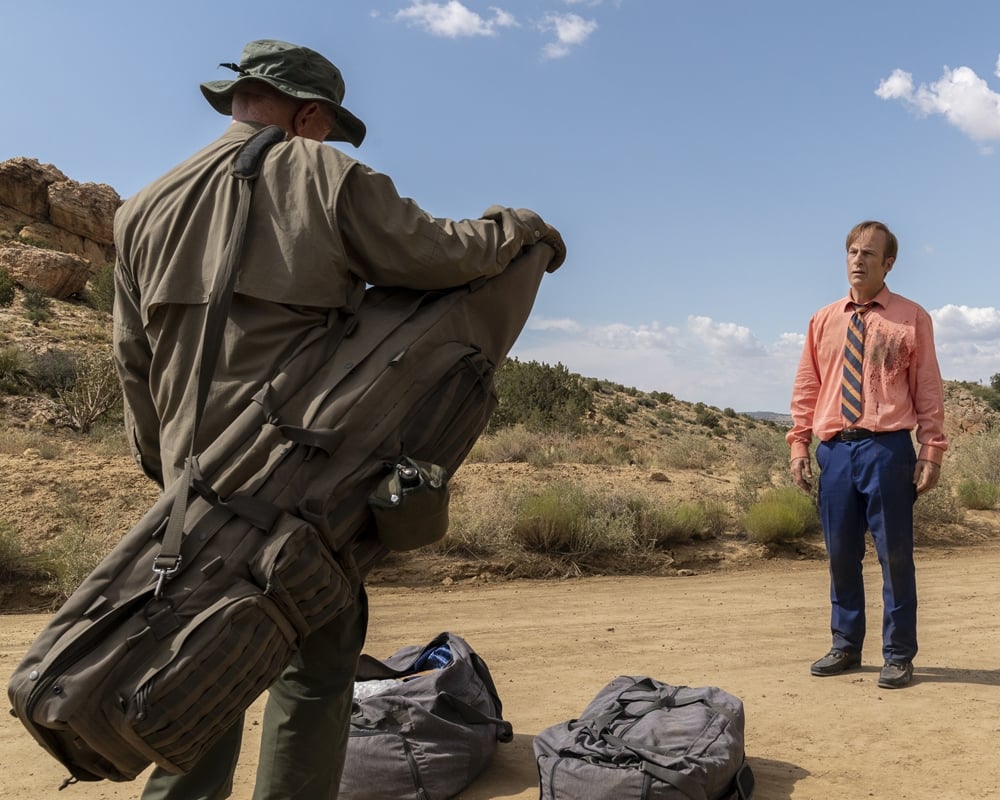 Vince Gilligan said 'Bagman' was more difficult than 'El Camino'
Many fans regard Gilligan as one of the geniuses behind Breaking Bad. Together with Gould, the two have created what might be the perfect spinoff. Ironically, Gilligan gets all of the credit for Better Call Saul, but Gould runs the show.
Gilligan returned to the series to direct "Bagman." As one of the most compelling episodes of the season, there were two scenes Gilligan wanted to get just right.
"['Bagman'] was the single hardest thing I've ever directed in my life — and this was coming off of my first movie, El Camino," Gilligan told AMC. "I thought that would be the hardest thing ever, and that was certainly the longest thing because it was a movie, but this Episode 508 was as tough a job as I've ever had." There are two scenes in particular that challenged Gilligan.
There's a lot going on in 'Bagman' 
In the episode, Jimmy McGill/Saul Goodman (Bob Odenkirk) met up with the Salamanca Cousins in the desert regarding Lalo's (Tony Dalton) bail. Things seemed to be going well until Jimmy was caught in the crosshairs of a shootout. Fortunately, the unknown assailants were handled by Mike Ehrmantraut (Jonathan Banks). Then, there was only one problem.
They were stranded in the desert with no access to a vehicle, food, or water. More importantly, they had no reception and unable to call for help.
With no way to contact Kim (Rhea Seehorn) and let her know he was OK, Jimmy and Mike trekked through the desert to avoid running into their attackers again. When Mike spotted one of the shooters, it was time to stop running and start fighting.
Screenwriter Gordon Smith agreed with Vince Gilligan — the shootout and car crash in 'Bagman' and
During his interview with AMC, Gilligan talked about what made "Bagman" such a challenging episode to direct. He talked about the dangers shooting in the desert presented, as well as the dangers posed when filming a big stunt like a shootout or a car crash.
Smith, a screenwriter on Breaking Bad and Better Call Saul, couldn't have agreed more. During a Q&A on Twitter, a fan asked Smith which scene was the toughest to make a reality in the episode.
The screenwriter agreed with Gilligan wholeheartedly, calling the shootout sequence in "Bagman" "the most grueling" to film, followed by "the final scene with the car flip."
Though these scenes were "difficult and scary" to make a reality, the work put in by the screenwriters, directors, and the rest of the Better Call Saul cast and crew does not go unnoticed.