'Better Call Saul's Kim Wexler Has Officially Become the Most Beloved Character in the 'Breaking Bad' Universe
Sorry, Jesse Pinkman. It's time to step aside for the real MVP of the Breaking Bad universe: Ms. Kim Wexler, Esquire.
Not even Better Call Saul co-creators Vince Gilligan and Peter Gould could have predicted that Jimmy McGill's love interest would inspire such a devoted following. But Kim is the epitome of coolness, unlike some of the other reviled female characters from Breaking Bad (ahem, we're looking at you, Skyler and Marie). She's smart, she's cunning, and she's principled. In short, Kim is a total badass.
It appears Kim only has one weakness: she's head over heels in love with Jimmy and keeps making stupid decisions where he's concerned. But instead of being turned off by her devotion, fans love her even more for it.
[Spoiler Alert: Spoilers ahead for Better Call Saul Season 5]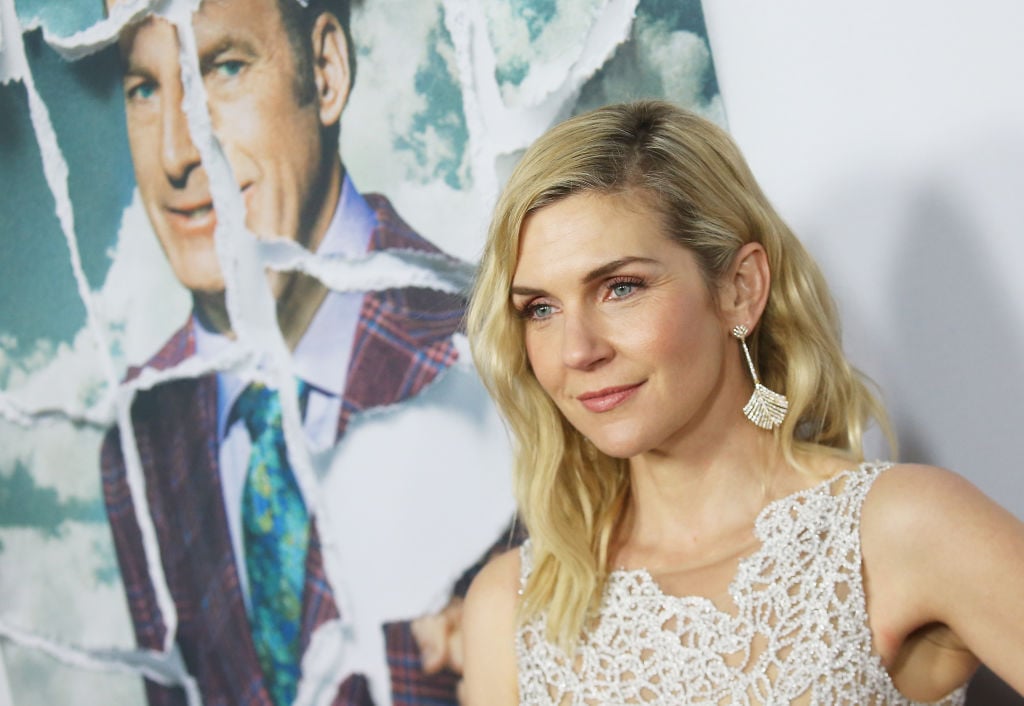 Kim Wexler was supposed to fly under the radar on 'Better Call Saul'
Shockingly, showrunner Gilligan originally expected Kim's character to "fall out of importance" as the show progressed, Vulture reported. "We had a vague inkling that we wanted a female character who was perhaps a love interest past tense, or potential love interest future tense," he said during the interview.
"It's embarrassing to say how little we understood about the character of Kim Wexler or how important she would become."
Rhea Seehorn is a huge part of Kim Wexler's appeal
The character of Kim could have fallen flat without Rhea Seehorn breathing life into her. But the former under-the-radar actress, who got her start in theater, brought a powerful presence to the role that was impossible to ignore.
Seehorn immediately saw Kim as a strong character and it shows. Seehorn explained that after reading the script, she understood Kim's motivations. "I thought, she seems extremely specific about what she says and when she says it and, very often, prefers not speaking," she said. "I decided that's really a position of power. That's not a weak person."
And the directors understood how much fans were falling for her and luckily for us, went along with it. "It was very much going to be the Saul Goodman show, the Jimmy McGill show, and then we hired Rhea Seehorn, who allow[ed] us to do things we never saw coming," Gilligan told Vulture. "She continued to wow us week in and week out until suddenly you say, 'God, what would this show be without her character?'"
Kim keeps putting herself in danger for Jimmy
Throughout the last five seasons, Kim keeps putting herself into compromising positions which are either directly or indirectly because of Jimmy's influence. Conning rich guys out of expensive cocktails gives way to bogus mail-writing campaigns and conning clients that could have cost Kim her career. But "Bad Choice Road" showed us the most dangerous con of all yet when Kim took on Lalo Salamanca.
Jimmy was still experiencing PTSD from the shootout in the desert, and yes, from drinking his own pee. So when Lalo showed up in their apartment, Kim took the lead and gave the menacing cartel leader an epic verbal lashing even though she was terrified.
"What kind of operation are you running, anyway?" Kim says with authority, questioning why Lalo would trust his lawyer with $7 million cash. "No offense, but you need to get your house in order," she continues.
Kim lies for Jimmy — yet again
After assuring Lalo that Jimmy doesn't lie to her or his clients, she advises the cartel member to, "Get your sh*t together and stop torturing the one man who went through hell to save your ass."
Lalo leaves and only then does Kim allow herself to shudder in fear. She knows her life is in peril but still doesn't grasp just how bad it is. Fans are terrified she'll meet her end soon. Especially considering how important she's become to the show over the seasons.
After the journey we've been on with Kim, losing her could be the greatest tragedy of all.
Catch the season finale of Better Call Saul on Monday, April 20 at 9 p.m. on AMC.