Betty White Was Hesitant to Adopt a Former Guide Dog With a Unique Name
Actor Betty White loved animals so much. She adopted many of them. But she wasn't sure about taking on a former guide dog at first.
Betty White died 17 days before her 100th birthday. But she will be missed by all who knew her and the world over. The famed actor was popularly known for The Golden Girls, playing the sweet but clueless Rose Nylund. While her career took center stage, her love for animals almost overshadowed that. Interestingly, Betty White almost didn't adopt a former guide dog with a unique name. Find out why.
Betty White's history with animals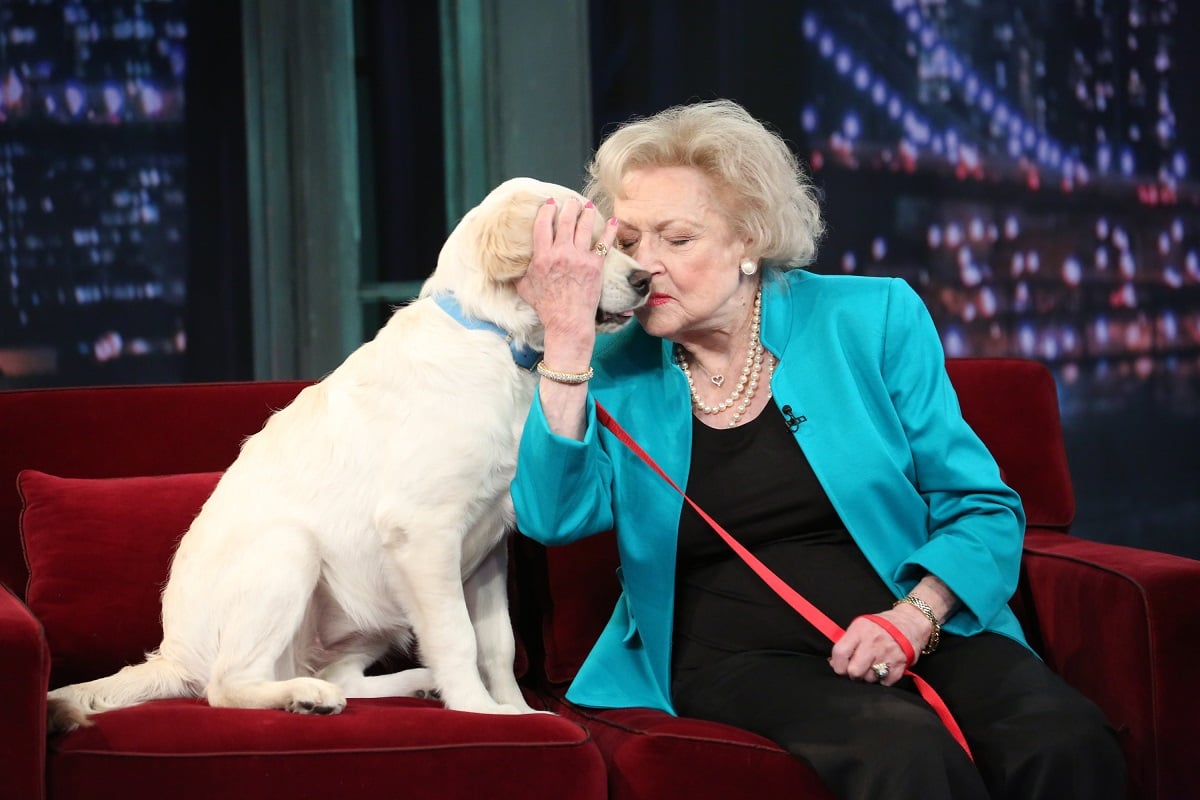 White loved animals so much. She even became an animal welfare advocate working with organizations like the Los Angeles Zoo Commission, African Wildlife Foundation, and the Morris Animal Foundation.
White said she always loved animals as her parents were big animal lovers. She grew up with pets since her parents would always have them around. "In our house, they were more than pets- they were members of the family," wrote White in her book If You Ask Me (And of Course You Won't).
The actor's father made and sold radios. If the people he would visit couldn't afford to buy the radios, he would accept their pets as payment. She also said her family loved taking in pets from families who couldn't care for them anymore, especially during The Great Depression.
With time, the family accumulated 15 dogs, and the family members would have to adopt shifts to ensure the pups were all cared for. 
White's interest in animal welfare began when she produced and hosted the Pet Set in the early '70s. The syndicated series spotlighted various celebrities and their pets, further sparking the star's interest. In April 2008, the Los Angeles Zoo & Botanical Garden reported that White had donated almost $100,000 to the zoo in one month.
The actor said she had always felt so connected to animals believing she could speak their language and understand what they're feeling or thinking. "I speak better animal language than human language. I can read them like a book," White wrote.
Why White was hesitant to adopt a former guide dog
White adopted several dogs throughout her life but was reluctant to adopt one former guide dog named Pontiac in 2008.
"I said no initially because I needed closure," White told TV Guide in 2009 of her hesitance to adopt again after losing three pets in two months. "But I agreed to meet him and go home to think it over." The actor quickly realized she "was had" and took Pontiac in.
White also cracked a joke about the dog's unusual name. "When the Pontiac car business went out of business, I sat him down and I explained, 'Pontiac, it wasn't your fault, honey. You didn't do anything wrong. They just went out of business,'" she told the publication.
Pontiac wasn't White's only guide dog pal. She adopted Dinah, who belonged to her friend, Tom Sullivan. After Dinah could no longer fulfill her duties as a guide dog, White adopted her. Together, the two humans wrote a book, The Leading Lady, about their experience. 
White once thought her cat was 'broken'
In her biography, White recounted a funny story about her childhood cat. The legendary star admitted that while she didn't remember the children she used to play with, she remembered having a White Angora cat named Patsy.
White recalled an instance where she went into a closet only to find that Patsy had given birth. Clueless about the situation, White concluded that her cat was "broken." She wrote, "One day I went into the closet and came out screaming for my mother. 'Patsy broke!! Patsy broke!!' She'd had a litter of kittens and I thought she fell apart."