Betty White Panicked About This 'Saturday Night Live' Practice
Betty White has been acting for decades. Although she has extensive acting experience, there was one part of appearing on Saturday Night Live that made her panic. Here's what White said about her time on the show.
Betty White says 2010 was a good year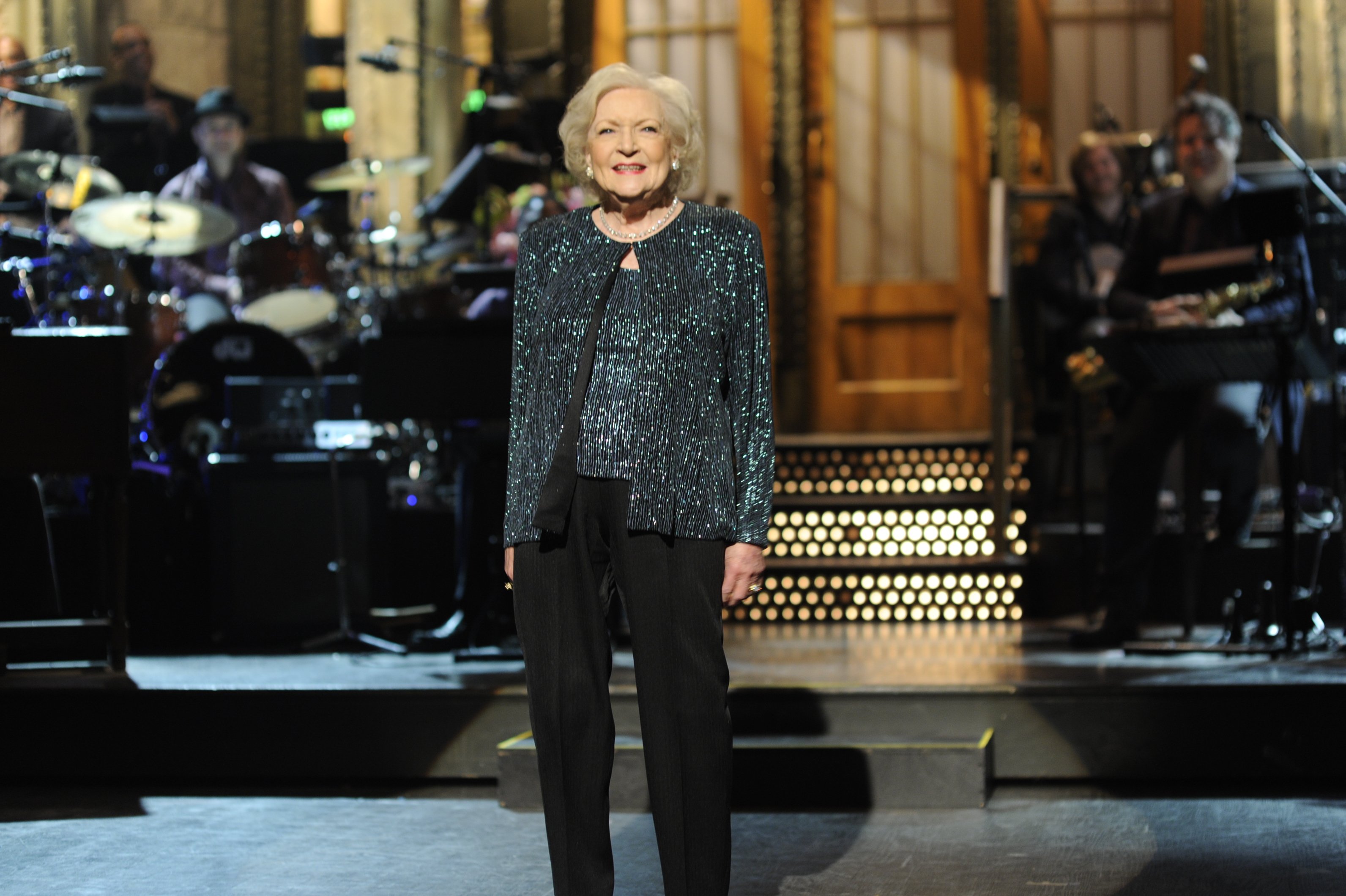 Betty White seemed to be everywhere in 2010. She was in commercials, a popular TV show, and she hosted Saturday Night Live. White says that was a good year for her. "Between doing a Snickers commercial to be run during the Super Bowl, hosting Saturday Night Live, and starting a new series, Hot in Cleveland, 2010 turned out to be, as they say, a very good year," said White in her book If You Ask Me. Here's what White said about her Snickers commercial:
It was a huge and wonderful surprise when the Snickers commercial turned up as the first spot on the Super Bowl. We didn't expect that when we filmed it one early, cold California morning. The idea was, I was playing football with a group of nice young men. (Tough duty!)

It wound up with me being tackled into a pool of icy, muddy water. A great stuntwoman took the actual tackle, and I just lay down in the puddle in the same position where she had landed. She took the dive, but I got the laugh. Sure doesn't seem fair, does it?
A fan started a Facebook campaign to get Betty White on 'Saturday Night Live'
The fans can't seem to get enough of White. She says in January 2010 a fan started a petition to get her to host Saturday Night Live. By March of that year, almost half a million votes later, White received an invitation to host the show. Although she turned them down before, she finally changed her mind after some convincing.
In January 2010 there was a campaign on Facebook called "Betty White to Host SNL (Please)," started by a young man named David Matthews. By March, apparently almost half a million people had voted! And that's when Jeff Witjas came to me with the hosting offer from SNL producer Lorne Michaels.

My reservations hadn't changed a whit, but Jeff, who is not only a dear friend but has judgment far better than my own, would not take no for an answer. He insisted I had to do it. Over my strong (and desperate) objections, off we went to New York.

Betty White in 'If You Ask Me'
This caused Betty White to panic about hosting 'Saturday Night Live'
White says she usually memorizes her lines. However, this wasn't possible on Saturday Night Live because of the number of sketches she had to perform. White learned she would have to use cue cards. She said she hates cue cards and the thought of having to use them caused her to panic.
[Cue cards] only added to the panic. In fact, I think that scared me more about SNL than anything else, because I don't use cue cards and I don't use teleprompters. (Maybe for a commercial, which is a whole two pages long. Then the teleprompter is wonderful, because you look right into the lens.) But cue cards I hate, because it usually means your eye switches as you look from the camera lens to the card, lens to the card.

And as chance would have it, Saturday Night Live brought me my seventh Emmy Award. The day it was announced, Jeff called, wanting to know, didn't I think he deserved the Emmy?

Betty White in 'If You Ask Me'
Follow Sheiresa Ngo on Twitter.