Beyoncé and Jay-Z Reportedly Spent $200,000 on Blue Ivy's First Birthday Party
Beyoncé and Jay-Z are undeniably two of the wealthiest musicians in the world, so it shouldn't come as a surprise that their three kids were born into the life of luxury.
As one might expect from a couple with a combined net worth of $1.4 billion, Bey and Jay often splurge on their little ones and spare no expense when it comes to celebrating special milestones — especially their kids' first birthdays.
While the power couple kept things pretty low-key for twins Sir and Rumi's first birthday, they went all out when their oldest, Blue Ivy, turned 1 in 2013 — dishing out a whopping $200,000 for the little girls' special day.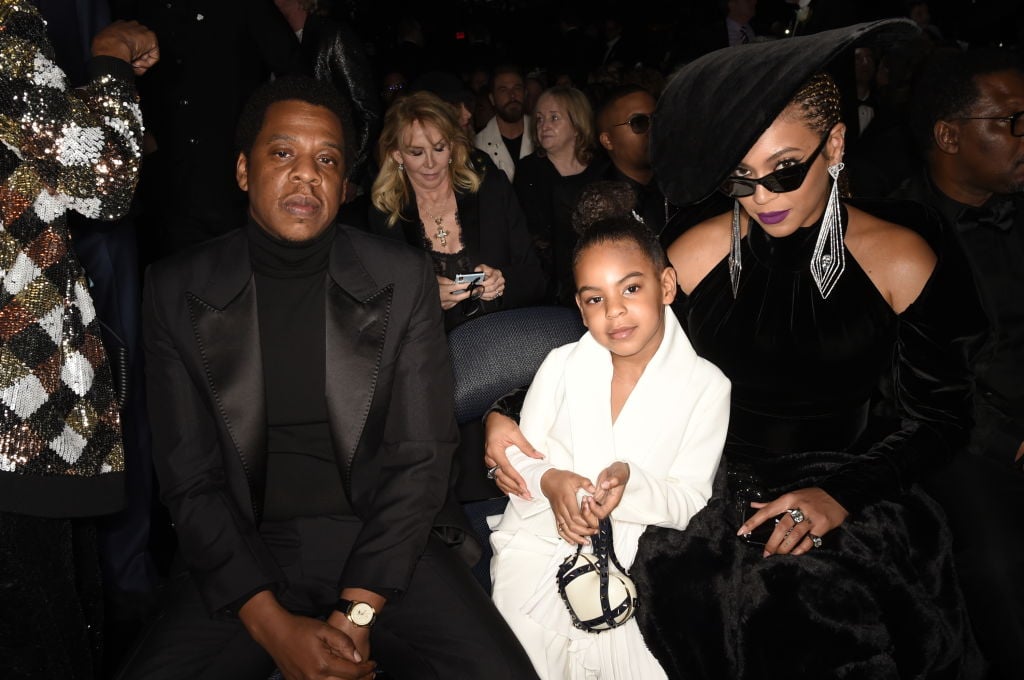 How many kids do Beyoncé and Jay-Z have?
Beyoncé and Jay-Z didn't wait long after marriage to start having a family. In 2010, Beyoncé fell pregnant but, unfortunately, suffered a miscarriage, describing it as "the saddest thing" she had ever endured.
After spending a few months recovering from that heartbreak and building herself back up emotionally, the "Halo" singer became pregnant again.
In August 2011, Beyoncé announced her pregnancy while performing on stage at that year's MTV Video Music Awards. A few months later, Bey and Jay welcomed their daughter Blue Ivy Carter on January 7, 2012.
While many fans assumed Beyoncé wouldn't want to have more children with the rapper — especially after speculations arose about his alleged infidelity in 2016 — the singer surprised the world when she revealed on her Instagram account that she was expecting twins.
In June 2017, Sir and Rumi Carter were born, completing Bey and Jay's family of five.
Though the couple keeps their kids out of the spotlight as much as possible, it safe to assume that the little ones are enjoying the same luxurious lifestyle as that of their famous parents.
While we hardly ever see Sir and Rumi in the public eye, Blue Ivy often accompanies her parents to exclusive A-list events, makes appearances at their sold-out stadium concerts, and has even been featured on Beyoncé's song "Brown Skin Girl" off of her 2019 album The Lion King: The Gift.
Beyoncé and Jay-Z expensive birthday party for Blue Ivy
Being the first child of the highest-paid celebrity couple in the world, Blue Ivy has been basking in the superstar lifestyle ever since the day she was born.
Since welcoming Blue into the world, Bey and Jay have been determined to give her the best life they possibly can and have definitely risen to the occasion throughout the years.
Aside from the $1 million a year nursery the power couple has for their girl at the Barclays Center and Blue's closet full of designer clothes and shoes, the pair reportedly spent $200,000 on her first birthday party.
According to The Sun (via HuffPost), the Grammy winners went all out when Blue Ivy turned 1. Not only did they dish out $95,000 on pink and white roses and $2,400 on a birthday cake, the couple also spent $30,000 on costumes, jewelry, and toys for baby Blue Ivy's friends.
Blue Ivy also received a custom-made $80,000 diamond-encrusted Barbie doll, making her the luckiest — and probably the only — little girl to own such an opulent and rare toy.
"Nothing's been too big or expensive for their little princess," a source told The Sun. "They wanted her first birthday to set the tone for the rest of her life. They work hard for their money and the first thing they want to spend it on is their baby girl."
Sir and Rumi Carter had a lavish first birthday as well
As for Sir and Rumi's first birthday, Beyoncé and Jay-Z didn't go as over the top as they did for Blue Ivy's special day. Instead, the couple celebrated the twins turning one with a low-key family get-together in Europe.
"They had a small celebration in Europe. It's crazy that Rumi and Sir are already 1," a source told People in 2018. "Beyoncé's mom [Tina Knowles Lawson] is traveling with the family and was, of course, there for the celebration. Everyone says they can't believe how quickly the past year has gone."
If Blue Ivy and the twins are already getting pampered with lavish gifts and exotic vacations, we wonder what presents are in store for them once they grow up?