Beyoncé and Megan Thee Stallion Pose Together on New Year's Eve, Fans Now Want to Know This One Thing
2020 is already off to an amazing start and it's all thanks to Beyoncé and Megan Thee Stallion.
The two icons practically shattered the internet on New Years Day when the "Hot Girl Summer" rapper shared photos of herself posing alongside the Queen Bey and the singer's 7-year-old daughter, Blue Ivy.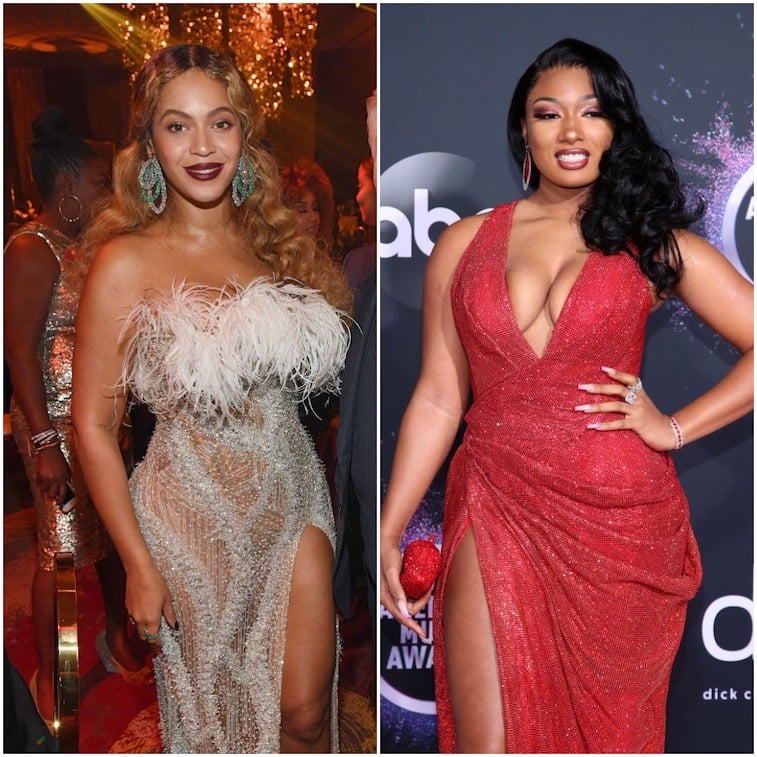 Though the post was everything we never knew we needed, some fans feel as though this was definitely a sign of what's to come in the New Year.
Fans agree that this post was the perfect end to Meg's amazing year
2019 might not have been the best year for a lot of people, but it was definitely full of many highs and lows for Megan Thee Stallion.
Although she tragically lost both her mother and grandmother earlier this year, the major success of the rapper's hit song "Hot Girl Summer" as well as being unapologetically herself made Meg's 2019 worthwhile.
With all of the major accomplishments the rapper achieved this past year, she deserved to have 2019 go out with a bang. And what better way to do that than by celebrating the New Year with the one and only Beyoncé?
On January 1, Meg took to Instagram to share two black-and-white photos of herself posing alongside Bey and the singer's firstborn, Blue Ivy.
"Happy 2020," the rapper captioned the post, which currently has more than 2 million likes.
While fans still can't get over how iconic it was seeing these three goddesses pose together, others could tell that this was a huge deal for the rapper—seeing as though she's always considered Bey an inspiration—and couldn't be happier for her.
"Everybody knows I super love Beyoncé," she told previously told Billboard. "I'm from Houston, she's from Houston. I've been listening to her all my life and she is just somebody that, when I'm feeling like, am I doing the wrong things or am I feeling the wrong way? I just go back and watch her old interviews. I watch her talk about going through the same struggles that I feel like I'm going through right now."
With this being an huge moment for Meg, fans didn't waste any time showing their support.
"Literally so happy for you!!" one fan commented.
"I'm so proud and jealous at the same damn time," another follower expressed.
Many are now hoping for a Meg and Bey collaboration
While many fans are over the moon that Meg was able to be in the company of her idol, others now want to know if these two Houston Hotties have plans to collaborate on a song in 2020.
"Babe , can we expect a collab between the 2 Htown hotties???," one Twitter user commented.
"This mean y'all blessing us with a Collab or Wh- ?," another fan questioned.
"Houston anthem ON THE WAY," someone else brought up on Instagram.
As fans continue to push for a collaboration, others think that it's only a matter of time before a new song from these two icons hits the airwaves. Especially since Meg now has what fans are calling the "Bey seal of approval."
"Woowww she finally on the in. Got the Bey approval," another Instagram user commented.
"You know you made it when you met Beyoncé!! I'm so happy for you sis can't wait for that collab," another fan shared.
While it's still too early to tell if a Bey and Meg collaboration is actually in the works, we have a good feeling that these two chart-toppers have something big planned for 2020.