Beyoncé Blesses Fans With Two Cameos in One Week — Disney's Singalong and Global Citizen's 'One World: Together at Home'
If Queen Bey says everything will be OK, then everything will be OK. Thankfully, fans got two surprise appearances from the Grammy award-winning artist this week. Our look into Beyoncé's heartwarming performance during the Disney Singalong and her message of hope during the Global Citizen One World: Together at Home event.
Beyoncé sang 'When You Wish Upon a Star' on Disney's 'Singalong'
She first appeared as Nala in Disney's live-action adaptation of The Lion King. Recently, Beyoncé Knowles-Carter worked with the company for a second time, this project in conjunction with Disney's Singalong event.
The "Singalong" was meant to raise spirits during the coronavirus (COVID-19) pandemic. Celebrities sang some of their favorite Disney hits, with lyrics appearing on the bottom of the screen so viewers could join in.
Although she was not initially announced as a guest, Beyoncé made a cameo, sharing her love for the Disney family and singing "When You Wish Upon a Star." She totally stole the show.
"Please hold on to your families tight, please be safe, don't give up hope. We're going to get through this, I promise. God bless you," Beyoncé said, following her performance.
Beyoncé made a surprise appearance at Lady Gaga's Global Citizen 'One World: Together at Home' event
An event coordinated by Lady Gaga, Global Citizen hosted a concert for people to enjoy from their homes. Titled One World: Together at Home, this event featured artists from Sir Paul McCartney to Elton John to Billie Eilish to Keith Urban.
As a surprise guest, Beyoncé appeared in the middle of the event, complete with a picturesque sunset behind her. She shared well-wishes and chose to highlight one underrepresented community.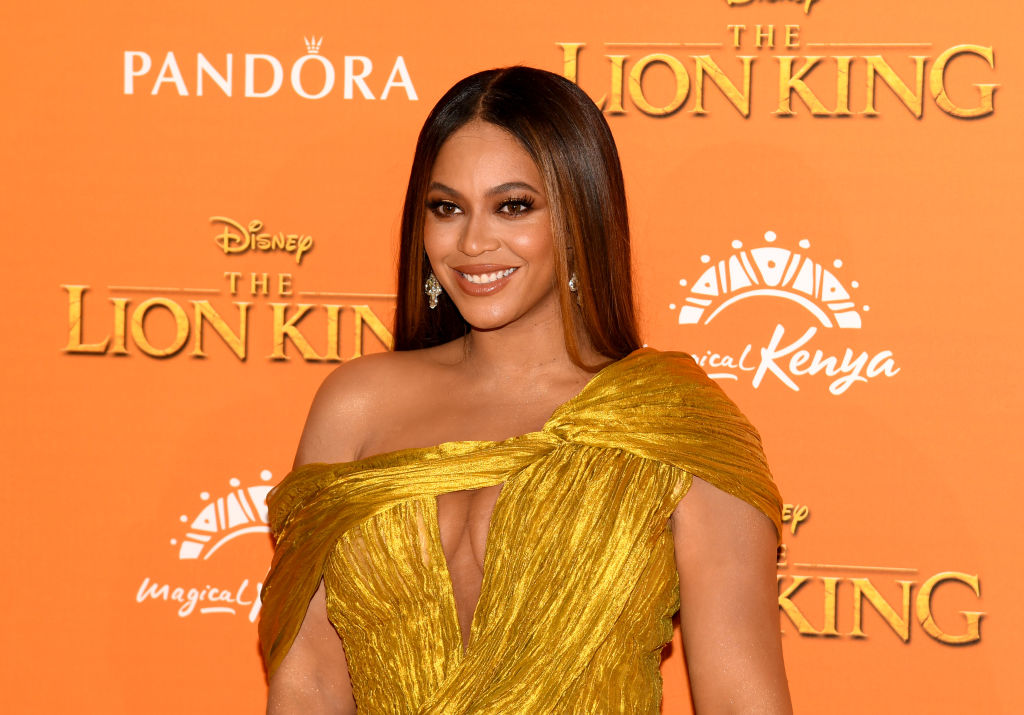 Beyoncé highlighted African American communities in her address
When she appeared at One World: Together at Home, Beyoncé offered words of wisdom to viewers, which still keeping the pandemic in perspective. She shared that African Americans are disproportionately impacted by the coronavirus.
"Black Americans disproportionately belong to these essential parts of the workforce that do not have the luxury of working from home," Beyoncé said. "And African American communities at large have been severely affected in this crisis. Those with pre-existing conditions are at an even higher risk. This virus is killing black people at an alarmingly high rate here in America."
"A recent report from my home city of Houston, Texas, shows that of COVID-19 deaths within Houston city limits, 57 percent of fatal cases are African Americans," she pointed out. "Please protect yourselves. We are one family, and we need you. We need your voices, your abilities, and your strength all over this world. I know it's very hard. Please be patient, stay encouraged, keep the faith, stay positive, and continue to pray for our heroes."
This wouldn't be the first time Beyoncé advocated for the African American community in the United States. In 2018, the artist turned Coachella into a "Homecoming" event, celebrating HBCUs. Her song "Brown Skin Girl" off of The Lion King: The Gift, earned Blue Ivy Carter the NAACP Image Award.
Music by Beyoncé, including the Grammy-nominated album The Lion King: The Gift, is available for streaming on Spotify, Apple Music, and Tidal.