Beyoncé Once Made Solange Declare Her Favorite Selena Quintanilla Song in an Interview
Before she became a global music icon, Beyoncé lived everyday life in Houston, Texas. During that time, the "Irreplaceable" singer connected with late Tejano musician Selena Quintanilla. The exchange happened years before Selena died in 1995. In 2017, while celebrating her sister Solange's album, Beyoncé asked the "Cranes in the Sky" performer to share her favorite Selena song. Through the years, both talented family members have expressed their love for the "Bidi Bidi Bom Bom" singer.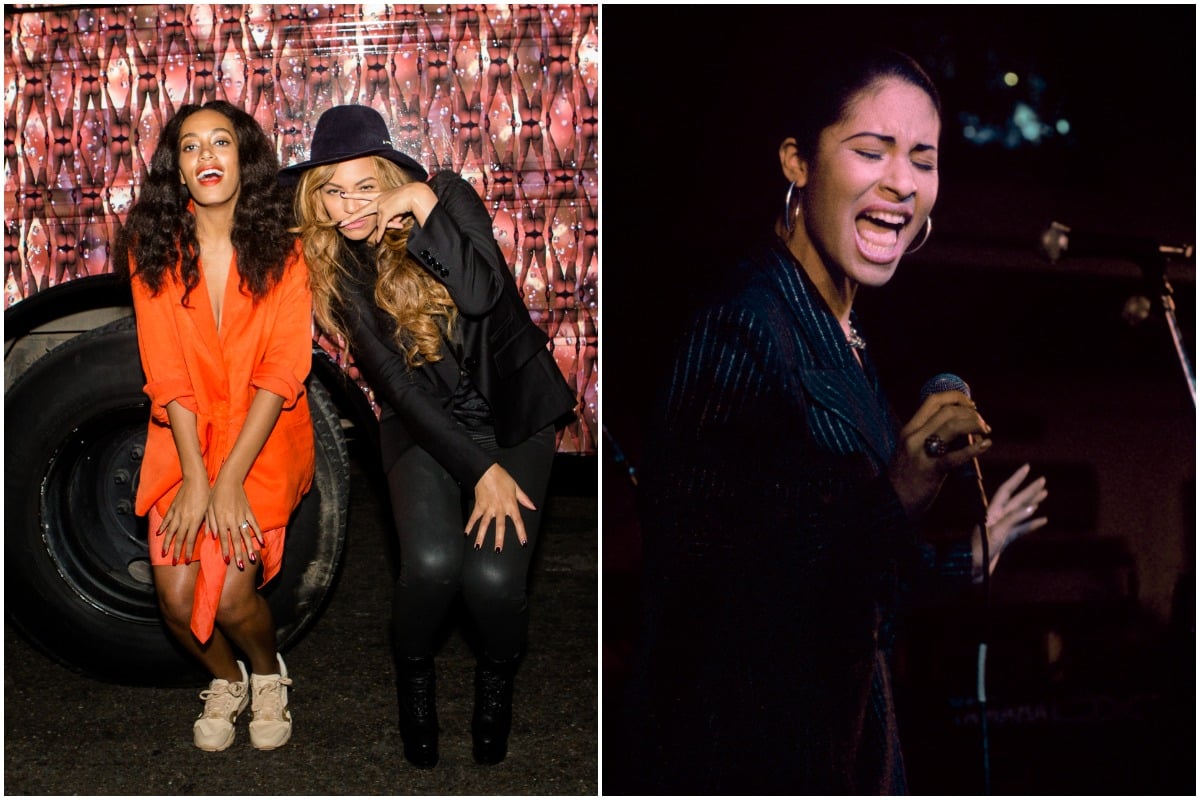 Beyoncé and Solange once saw Selena Quintanilla at a Houston mall
Beyoncé and Solange were born and raised in Houston, Texas. When they were children, their mother, Tina Knowles, owned a hair salon and worked in fashion. The sisters' father, Mathew Knowles, was a medical equipment salesman with a passion for the music industry. As Beyoncé grew up, Mathew saw her natural musical talent. Eventually, Beyoncé and Kelly Rowland formed Girls' Tyme in the late '80s and early '90s.
RELATED: Why Beyoncé Never Wanted to Get Married Before She Turned 25
While Girls' Tyme was beginning to take off, Beyoncé, Solange, and their mother attended the Houston Galleria mall. In an interview with MTV Tres, the "All Night" singer said she noticed Selena was shopping there simultaneously. Although she wasn't famous then, Beyoncé said she mustered up the courage to say hello to the "Dreaming Of You" songstress.
"I just saw her and said hello and kept it moving," Beyoncé said of the brief encounter with Selena. "Definitely growing up in Texas, I heard her on the radio. I think she is a legend. I admire her. She was so talented."
Beyoncé asked Solange to choose between 2 of her favorite songs by Selena Quintanilla in a rare interview
Beyoncé and Selena were only in the same room together during their time at the mall. On March 31, 1995, the "Amor Prohibido" singer died after being shot by her former fan club president, Yolanda Saldivar. Two years later, Beyoncé became famous as the lead singer of Destiny's Child. Since then, she's built a fan base through her record-breaking albums and multiple accolades.
RELATED: Beyoncé Once Shared the Biggest Lesson She Learned From Her Marriage to Jay-Z
Solange also achieved success in her music career. However, her biggest album came in 2016 with A Seat at the Table. The project had critical acclaim and earned Solange her first Grammy for "Cranes In the Sky." While discussing the album with Beyoncé in a rare interview, Queen Bey asked Solange to choose between two of her favorite songs from Selena. Although the singer covered "I Could Fall In Love" by Selena, Solange shared which song she admires most from the Corpus Christi native.
"No Me Queda Mas" or "I Could Fall in Love?" Beyoncé asked Solange for Interview Magazine.
"This is so unfair!" Solange replied. "No Me Queda Mas."
Is Beyoncé in 'Selena: The Series'?
Netflix released part two of Selena: The Series in May 2021. The show follows Selena's journey from her humble beginnings in Texas to becoming an icon in the Tejano music scene. Actor Christian Serratos stars as the singer. 
RELATED: Selena Quintanilla's Husband, Chris Perez Shared His Thoughts on 'Selena: The Series'
Beyoncé's short interaction with Selena is part of the show's second installment. During episode six of the series, a young Bey is starstruck as she sees Selena walking through the mall with her mother, Marcella Quintanilla (Seidy Lopez), and sister, Suzette Quintanilla (Noemi Gonzalez).
Serratos shared with Entertainment Tonight how she felt about seeing a young Beyoncé on the Netflix show.
"I thought it was so cool; I thought it was so cute," Serratos raved. "And I thought, you know, that's what this story is about, is inspiration, and inspiring young people to follow their dreams, whatever those dreams are."
"I just thought that was such a cool moment," she continued. "And I did the same thing everyone else did. Like, 'Did that really happen?' I always make jokes … is this going to be my connection to meeting Beyoncé?"