Beyoncé May Have Helped Launch Rihanna's Music Career
Today, Rihanna is one of the biggest moguls in the world, achieving great success in the music, film, beauty, and fashion industries. But just like many other artists, the singer's rise to fame wasn't an easy journey. Before her career took off in the mid-2000s, RiRi's superstar potential was questioned by Hollywood producers who didn't think she had what it took to be a chart-topping artist.
But thanks to Beyoncé, label execs took a chance on Rihanna who's since made music history (sorry, histoRIH). So how did Bey convince Rih's record label that she was a star in the making? Keep on reading to find out more.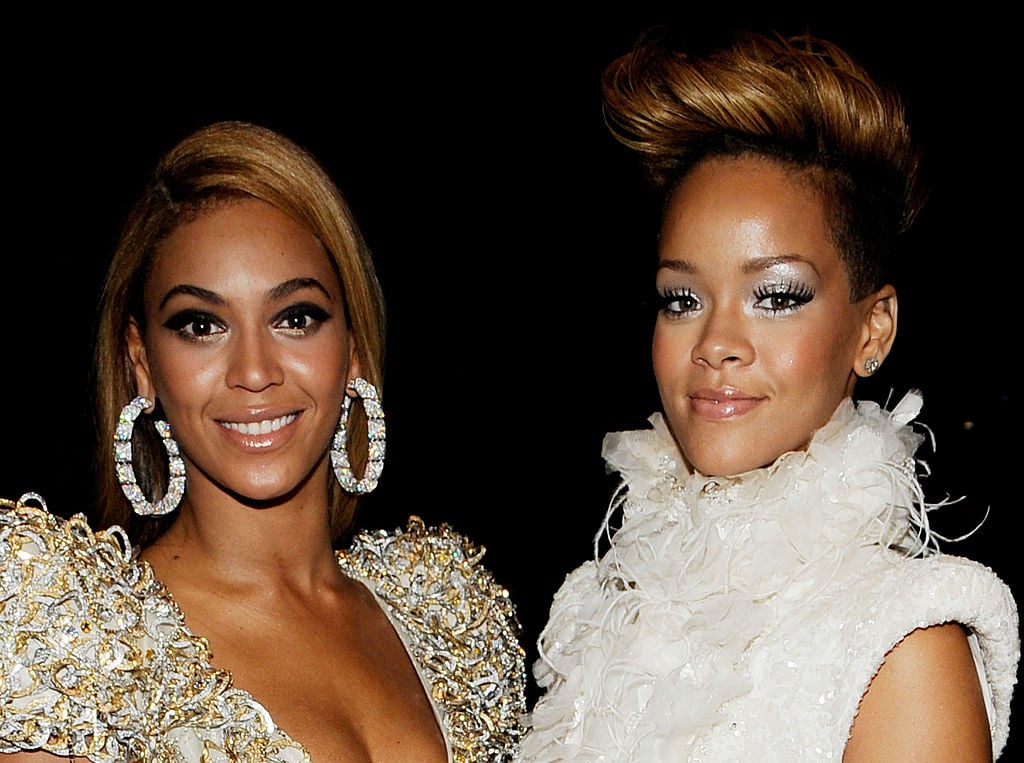 Rihanna signed to Def Jam Records on 2005
Rihanna was first discovered in her home country of Barbados by American record producer Evan Rogers in 2003. After performing renditions of Destiny's Child's "Emotions" and Mariah Carey's "Hero," Rihanna was flown out to the United States to record a few demo tapes that would be sent out to record labels.
A year later, RiRi's demo — which included the tracks "Pon de Replay" and "The Last Time" — was shipped out to Def Jam Records. After an A&R executive at the record label listened to it, they played the tape for Jay-Z, who had recently been appointed as president and CEO of Def Jam.
Though the "99 Problems" rapper wasn't in love with "Pon De Replay," he still invited Rihanna to audition for the label.
In 2005, the singer auditioned for music mogul L.A. Reid, who initially thought she was "just a pretty girl standing outside somebody's office."
In his 2016 memoir Sing to Me: My Story of Making Music, Finding Magic, and Searching for Who's Next, Reid recalls Jay-Z pushing for the label to sign Rihanna. But even after she was on board, the company believed the singer, Teairra Mari, had more potential.
"At the label, we thought Teairra Mari would be the big star," Reid recounted. "We spent more time on her, did more work on her, paid more attention to her. Rihanna already had a hit with 'Pon De Replay,' but we still thought it was the other girl."
Beyoncé may have played a key role in Rihanna's career taking off
Now here's where things get interesting.
Following a label show that included performances by Rihanna, the "other girl," and Ne-Yo, Reid's attitude toward the Barbados native shifted after audience member Beyoncé called her a "beast."
"A bell went off for me, however, when, after the showcase, Beyoncé came up to me. 'That Rihanna girl,' she said, 'she's a beast,'" the music mogul wrote.
As they say, the rest is history.
Rihanna went on to release "Pon de Replay," which charted successfully worldwide and became a club hit in the United States, peaking at No. 1 on the Billboard Dance Club Songs.
The singer rose to ultimate fame in 2007 with songs such as "Umbrella" and "Shut Up and Drive," which earned her multiple Grammy Awards.
Since then, Rihanna has continued dominating the music industry with her chart-topping hits and top-selling records. She's also taken over the beauty and fashion industries, developing Fenty Beauty and her lingerie line, Savage X Fenty.
Today, RiRi is one of the richest musicians in the world with an estimated net worth of $600 million.
But despite Rihanna achieved great success all on her own, the Queen B's definitely to thank for the singer's career taking off.