Beyoncé Responded to Grammy Memes Making Fun of Taylor Swift with a 'Great' Gesture
The 2021 Grammy Awards brought with it memorable performances, heartfelt speeches, and a few viral moments. Among the night's winners were world-renowned artists Beyoncé and Taylor Swift, both of whom broke records. After one clip of Swift made the rounds on social media, Bey responded with her own gesture.
Beyoncé and Taylor Swift go way back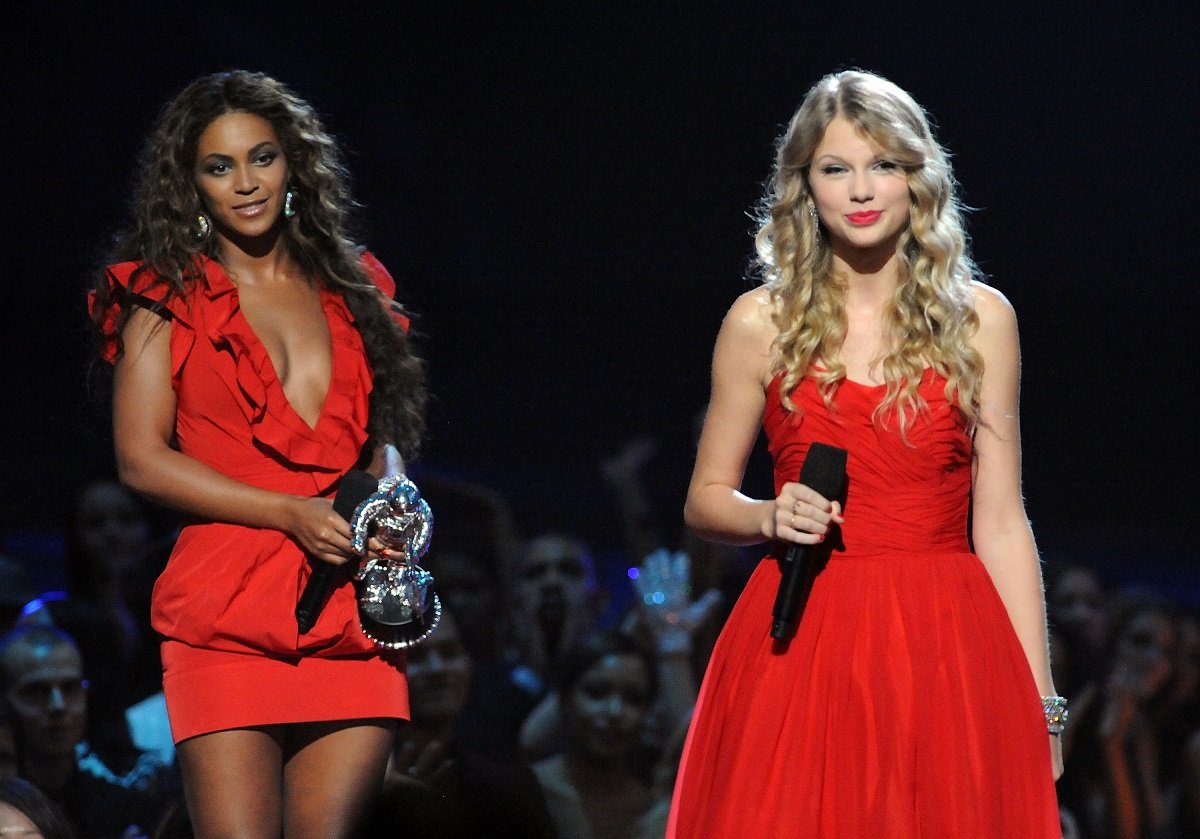 Like most her age, Swift grew up listening to Beyoncé. When she broke into the music industry herself, the artist was among those she now considered a peer. This was never more evident than at the 2009 MTV Video Music Awards when Kanye West interrupted Swift's acceptance speech for Best Female Video.
Later that night, Bey won for Video of the Year. Rather than give a speech herself, she said, "I remember being 17 years old, up for my first MTV award with Destiny's Child. And it was one of the most exciting moments in my life. So I'd like for Taylor to come up here and have her moment."
Her graciousness didn't go unnoticed. "It was just so wonderful and so incredibly classy of her," said Swift after (via PopSugar). And so they remained friendly.
Both made history at the 2021 Grammy Awards
More than a decade later, both musicians have won many, many more awards. At the 2021 Grammys, Swift took home Album of the Year for her 2020 album Folklore. She made history, becoming the first woman ever to win the award three times.
It was also a historic night for Beyoncé. She won four out of a total nine nominations, the most of any artist this year. Of those, two were presented during the telecast. Best Rap Song (with Megan Thee Stallion) put her at 27 wins in her career, tied for the most for a female artist. And her last win of the night put her over the top.
A clip of Swift cheering for Beyoncé made the rounds
When Beyoncé won for Best R&B Performance for "Black Parade," the crowd went wild. She naturally received a standing ovation as she made her way to the stage, but throughout her speech, she earned several whoops and cheers as well. Swift, in particular, showed her enthusiasm.
A clip of Swift clapping excitedly, bouncing up and down in her seat, began to circulate. While many of her fans cited her pure joy as lovely and endearing, not everyone took it that way. "That's weird," replied one person with a gif reaction. "She's so obsessed," wrote another.
Beyoncé gave Swift flowers to congratulate her
But neither Beyoncé nor Swift was bothered by these internet reactions if they saw them at all. In fact, Bey gave Swift "the best Friday EVER" on March 19, 2021, by sending her flowers and a very kind note, congratulating her on her Album of the Year Grammys.
Swift shared a photo of the flowers and note in question in her Instagram Story. "Woke up to flowers from the queen of grace and greatness," the Evermore musician wrote, noting that her cat, Olivia, "loves them too." "Thank you B and congratulations on your epic achievement Sunday night!!" she added.
Bey wrote, "Taylor, Congratulations on your Grammy. It was great seeing you on Sunday night. Thank you for always being so supportive. Sending love to you & your family. B."