How Did Beyoncé and Rihanna Become Friends?
They're two of America's wealthiest self-made women and two of the most influential figures in the music industry. Find out if Beyoncé Knowles-Carter and Rihanna are friends, here.
Both Beyoncé Knowles-Carter and Rihanna are powerhouses in the music industry. Beyoncé was the first black woman to headline Coachella. She has her own documentary on Netflix and stars in Disney's upcoming live-action adaptation of The Lion King.
Rihanna is a philanthropist for UNICEF and the Clara Lionel Foundation. She acted in Ocean's 8 and makes millions off of her inclusive line of makeup and clothing, Fenty Beauty and the Fenty Fashion Collection. Are these two powerful women friends with each other? Here's a look into their relationship.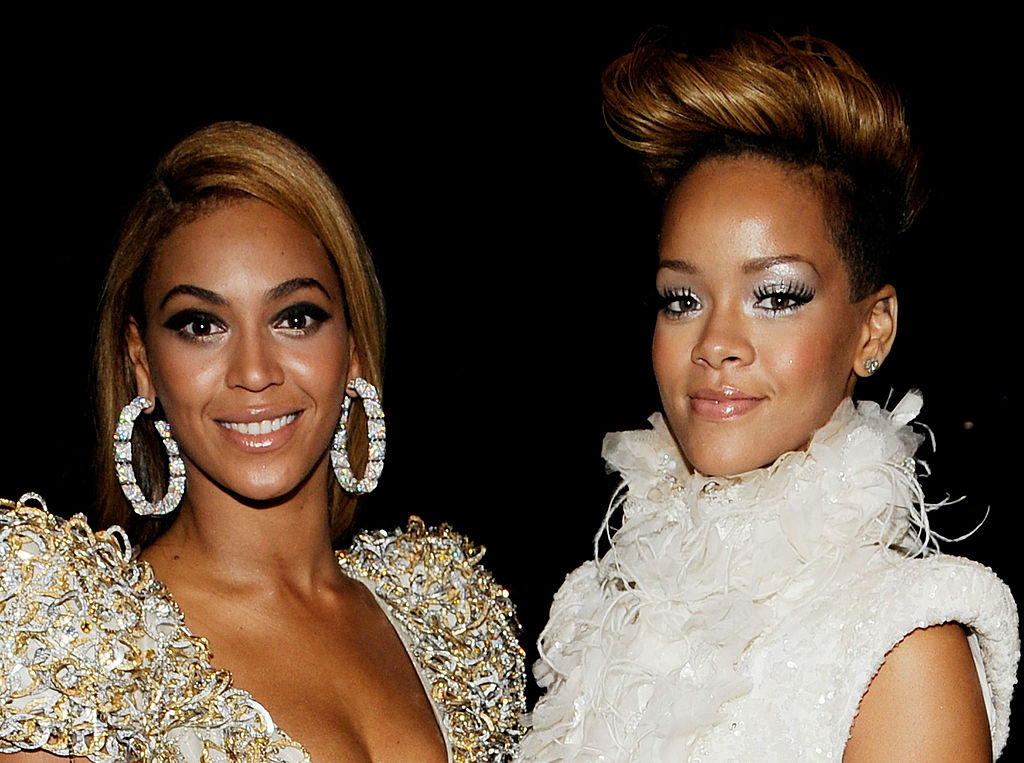 Rihanna and Beyoncé Knowles-Carter have longevity
In the 1990s, Beyoncé burst into the public eye with her girl group, Destiny's Child. Rihanna's album Good Girls Gone Bad earned her a spot on the music charts. Since then, the two artists rose the stardom, both earning spots on Forbes' list of "America's Richest Self-Made Women." Initially, some speculated the two were in competition with each other. Rihanna was quick to squash this rumor.
"Here's the deal," Rihanna said in an interview with Vogue. "[People] just get so excited to feast on something that's negative. Something that's competitive. Something that's, you know, a rivalry. And that's just not what I wake up to. Because I can only do me. And nobody else is going to be able to do that."
Some fans speculated an alleged affair between Rihanna and Beyoncé's now-husband, Jay-Z. These rumors have not been confirmed and will likely never be. The two female artists have since been photographed together and supporting each other's events and career endeavors.
In 2015, Beyoncé and Rihanna were photographed together at Tidal's #TidalForAll launch event. That same year, the two were seen together at Kanye West's "Yeezy Season 1" show in New York City. In 2017, the two were again united at one of Rihanna's charity events.
They are both Grammy-award winning artists
Beyoncé and Rihanna are both highly revered and awarded musicians. Rihanna earned the Grammy Award for "Best Rap/Sung Performance" multiple times. With 66 nominations, Beyoncé is the most nominated woman in Grammy history. Additionally, the organization GLAAD recognized Beyoncé for her philanthropy work. Both artists earned BET Awards through the years.
Outside of their music careers, the two artists often do work with and for nonprofit organizations. Beyoncé started her #BeyGOOD campaign. The campaign aimed to help the homeless, sick children, and the unemployed. She also performed at the Global Citizen Festival, a music event that honors those who take action to help others.
In 2017, the two reunited at Rihanna's Diamond Ball in New York City. This event was in support of the Clara Lionel Foundation, Rihanna's organization that benefits "impoverished communities across the globe, with healthcare, and education, among other various programs."
Rihanna and Beyoncé are both on Forbes' list of 'America's Richest Self-Made Women'

As successful musicians, actresses, and businesswoman, it's only fitting that Forbes' named these two powerhouses on the list of "America's Richest Self-Made Women" for 2019.
Rihanna comes in at number #37, primarily for her profitable business, Fenty. Her net worth is an estimated $600 million. Beyoncé Knowles-Carter is #51, with an estimated net worth of $400 million. Allegedly, she earns her income from a variety of sources. That includes Netflix, touring with Jay-Z, and her clothing line, Ivy Park.
Beyoncé Netflix documentary, Homecoming: A Film By Beyoncé is available for streaming. Rihanna's new line of Fenty clothing, the Fenty Fashion Collection, is available for purchase.