Which Beyoncé Songs Feature Her Daughter, Blue Ivy Carter?
She's sold-out stadiums, voice-acted for Disney's The Lion King, and collaborated on a best-selling clothing line with Adidas. But first and foremost, Beyoncé is a mother of three. Her oldest daughter, Blue Ivy Carter, even appears on a few of Beyoncé and Jay-Z's music, surprising and delighting fans worldwide. 
Which Beyoncé songs feature her eldest daughter, Blue Ivy Carter? Here are some of our favorites, available on The Lion King: The Gift, Beyoncé, and The Carters. 
Beyoncé first featured Blue Ivy on her song 'Blue'
This artist debuted her surprise, self-titled album in 2014, just two years after the birth of her first child, Blue Ivy Carter. One of the songs is about her daughter, titled "Blue," and even features her talking to her mother on the track. 
This was the start of Blue Ivy's own artist page on Spotify, which later included songs like "Lift Every Voice and Sing" and "Brown Skin Girl." Beyoncé Knowles-Carter then gave birth to her twins, Rumi and Sir Carter, sometimes discussing her children during interviews. 
"At some point, it's very important to me that my daughter is able to experience life and run through the sprinklers and have slumber parties and trust and live and do all the things that any child should be able to do," Beyoncé said, according to the Los Angeles Times. "School visits and lemonade stands and all that stuff. It's very important for me."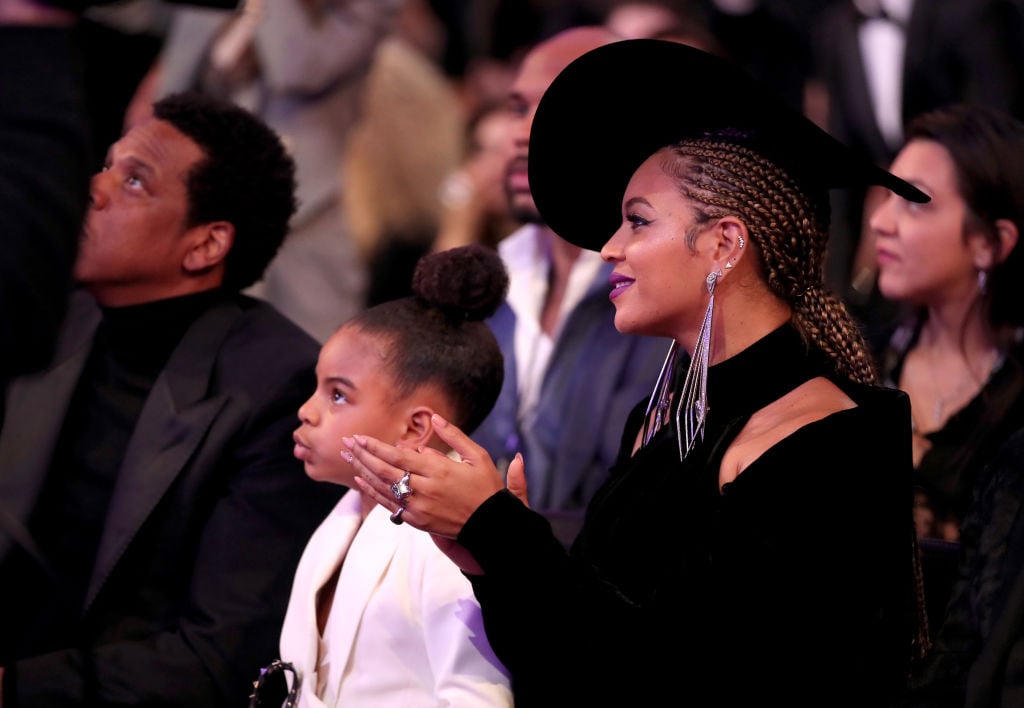 Blue Ivy gives a shoutout to her siblings on 'Boss' by The Carters
Following the release of Lemonade, Beyoncé collaborated with her husband, Jay-Z on a joint album titled The Carters. There, the couple got candid about their relationship with each other and even featured Blue Ivy on one of their songs. 
The end of "Boss" included the voice of their eldest daughter, who stated, "shoutout to Rumi and Sir, love Blue." That song earned over 30 million plays on the streaming platform, Spotify, leading up to Beyoncé's Homecoming: The Live Album, based on the artists' Coachella performance. That album featured Blue Ivy's version of "Lift Every Voice and Sing," also known as the "Black National Anthem.
Most recently, Blue Ivy Carter appeared on Beyoncé's album, 'The Lion King: The Gift'
Blue Ivy's first time actually singing on a song was in conjunction with Beyoncé's album, The Lion King: The Gift. There, she joined other artists like her mother on the empowering song "Brown Skin Girl." Within a matter of days, it became one of the most popular hits on the album, earning millions of plays on the streaming platform, Spotify. 
This also was a huge personal win for Blue Ivy, as she became the youngest person to win the NAACP Image Award for "Brown Skin Girl" at only 8-years-old. She also is listed as one of the artists and collaborators for the song.
Fans hope for more hits featuring Blue Ivy in the future. Until then, music by Beyoncé and Blue Ivy, including "Brown Skin Girl," is available on Spotify, Apple Music, Tidal, and most major streaming platforms.