Beyoncé Uses This Genius Trick to Recover If She Stumbles Onstage
Being the skilled performer she is, Beyoncé's learned how to gracefully recover and continue on with the show as if nothing even happened.
There's no doubt that Beyoncé has mastered the art of performing on stage. After headlining five solo world tours, three concert residencies, 2018 Coachella, and performing at various events around the world, Bey knows how to wow a crowd with her angelic vocals and choreographed dance numbers.
But while the Beyhive believes that her performances are the definition of perfection, there have been instances when the singer shows haven't been flawless as she's taken tumbles on stage a few times in the past. But being the skilled performer she is, Bey's learned how to gracefully recover and continue on with the show as if nothing had happened.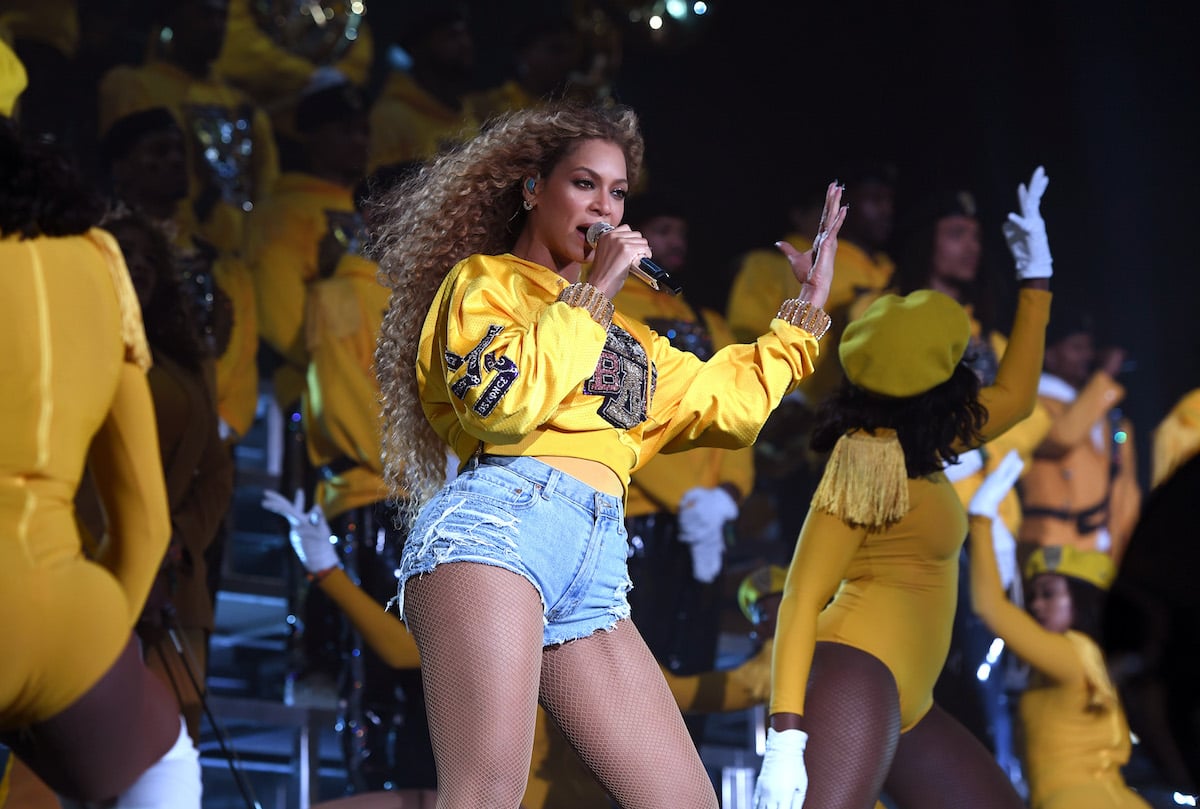 Beyoncé's taken many spills onstage
If you've ever had the chance to see Beyoncé perform, you know that she puts on a spectacular show, complete with dazzling costumes, incredible dance numbers, and amazing visuals.
Though fans consider her performances literal perfection, there have been times things have gone amiss for Bey onstage — some of which have even been caught on camera.
From getting her hair stuck in a stage fan to the singer forgetting the lyrics to songs, there have been times Bey's fallen short of grace.
But one unfortunate mishap that's happened to the "Halo" singer more times than once is when she's fallen onstage in front of millions of fans.
Bey's onstage tumbles are nothing new as she's been caught a handful of times losing her balance while performing.
One example of this was in 2007 when the Grammy winner tumbled down a flight of steps while performing "Ring The Alarm" during her The Beyoncé Experience Tour.
Though many cringed at the sight of Bey having tripped on her trench coat and sliding down approximately 12 stairs, she gracefully recovered from the fall and continued on as if nothing happened.
Another time Beyoncé experienced a misstep was when she was performing at the 2016 Super Bowl and almost fell back during a dance break.
But being a veteran performer, Bey managed to save herself with flawless impromptu choreography and finished out the performance with a bang.
The singer once shared her hack for recovering from falls like a pro
Though she's fallen quite a few times while performing on stage, Beyoncé's missteps have never seemed to faze her.
Instead of getting embarrassed and running off the stage (something we would do), the Queen Bey recovers gracefully and continues on with the show like nothing happen.
While we would have guessed Bey's many years performing on stage has taught her that the show must go on, it turns out that falling in front of millions of people isn't something she takes too seriously.
In fact, Bey's fallen so much that she doesn't even let the embarrassment get the best of her. Instead, she acts as though the fall didn't even happen and tries to play off her misstep as if it's part of the choreography.
"When I've fallen, most of the time, I kind of play it off and act like I did a trick and kind of spin back up," she revealed during a promotional video for her B'Day album.
While playing off a fall like it's part of a dance number hasn't always worked out for Bey, it's clear that slight tumbles never stop her from putting on incredible shows.