Beyoncé's Seemingly Embarrassed Blue Ivy By Telling This Corny Joke
Beyoncé has always been pretty private when it comes to her personal life, especially when it regards her husband Jay-Z or her daughter, Blue Ivy. But every once in a while, she gives us a glimpse into her personal life that reminds fans she's a normal person just like everyone else.
The singer showed fans that she likes to enjoy a good corny joke every now and again in a recent Instagram post. The post, which was shared on her mother Tina Knowles' Where Art Can Occur Instagram account, involves her telling a corny joke about Snoop Dogg that her Blue Ivy is less than amused by.
Beyoncé lives in a high-profile family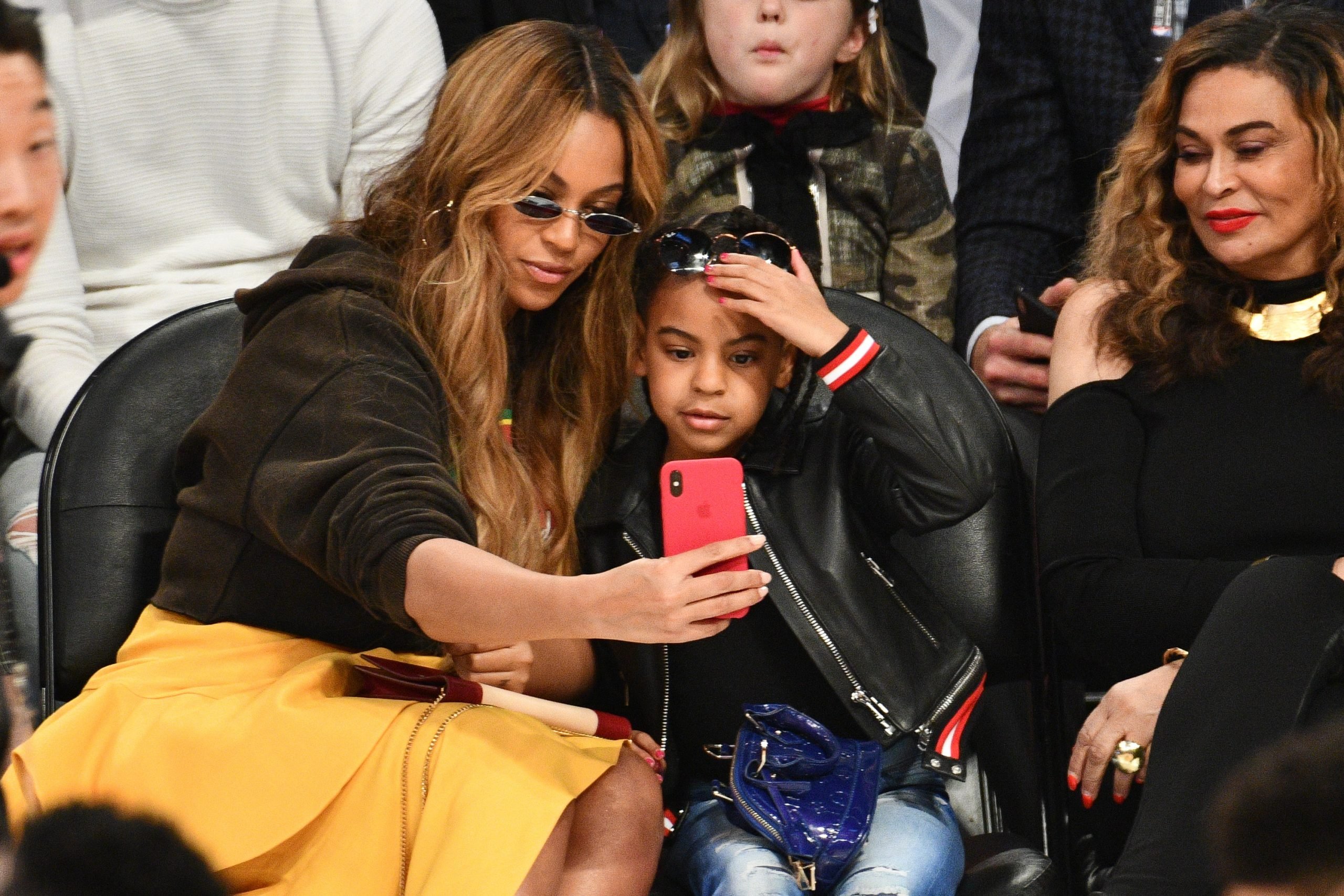 Surrounded by talent, Beyoncé lives in a very successful and famous family. She was born to Tina and Matthew Knowles, both of who did a stellar job raising her into the star she is today. Tina was integral to the success of her daughter's singing group, Destiny's Child, as she created the outfits that they would wear on stage during their early careers, according to Ebony. Beyoncé's father served as the manager of the group for many years and ran the business side of things as the trio became a global sensation.
Beyoncé's sister, Solange, has also become a successful artist in her own right. The 34-year-old songstress has released several albums, with the latter two, A Seat at the Table and When I Get Home, garnering critical-acclaim, A Seat at the Table peaked at #1 on the Billboard 200 chart, and the album's lead single, "Cranes In the Sky" Grammy for Best R&B Performance. 
Jay-Z, Beyoncé's longtime husband, had found success and fame long before he met Beyoncé. The rapper and mogul earned his billionaire status by selling millions of records, touring, and closing some massive business deals. Today, he runs his own entertainment firm, Roc Nation, and continues to release music.
She keeps her family life private 
Despite their huge public appeal, Beyoncé and her family prefer to keep a low profile. They rarely show the inner workings of their family unit, and it's not often that fans see them publicly. Beyoncé and Jay-Z had an extremely private wedding, and the details of their marriage were largely kept secret until the release of their respective albums, Lemonade and 4:44. 
Beyoncé told a corny Snoop Dogg joke that Blue Ivy didn't like
On Sept. 19, Beyoncé participated in the Celebrity Corny Jokes segment of her mother's Where Art Can Occur virtual celebration and told a joke that Blue Ivy wasn't here for.
"Why does Snoop Dogg need an umbrella?" Beyoncé said in an Instagram post. 
"No, no, that voice," Blue Ivy says, attempting to intervene. "No. Mom, the voice, no. NO! NO!"
"Fo' drizzle," Beyoncé continued, playing off of Snoop Dogg's signature slang. 
The video then shifts to an audio file of Beyoncé's mother leaving a message of concern for her daughter. 
"Hi, Bey. I really appreciate you doing this joke because I know how busy you are, but can't you like… will you just put on some makeup and get in some good light and stuff, cuz you … it's the gala, girl!" Tina says. "All right, call me back."
Beyonce later does another take of the joke, this time in full makeup and a stunning outfit.