Beyoncé's Performance at President Barack Obama's 2013 Inauguration Was Shrouded in Controversy
Beyoncé got the opportunity of a lifetime when she was invited to perform at President Barack Obama's inauguration in 2013. But unfortunately, it didn't go the way she had probably imagined. Here's a look back at her performance and the reason it left so many people upset.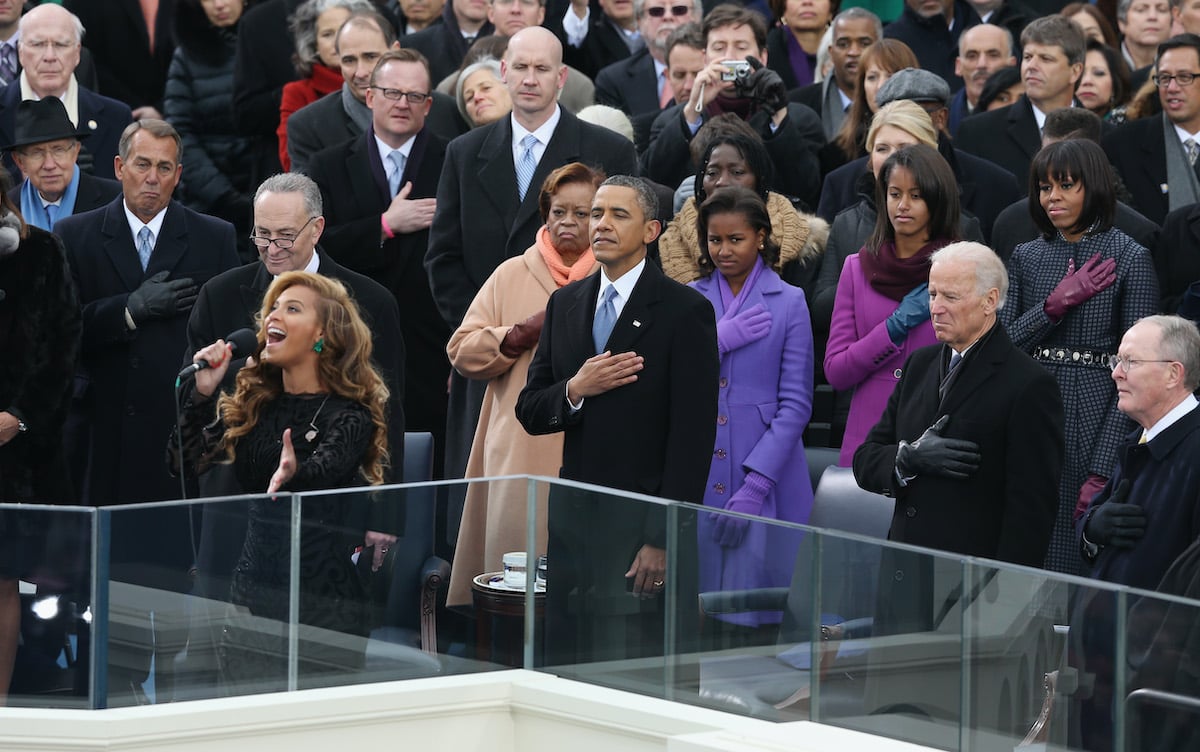 Inside Beyoncé's performance at President Barack Obama's 2013 inauguration
After defeating former Gov. Mitt Romney (R-MA) in the 2012 presidential race, Obama was elected to a second term. According to The Atlantic, he was sworn into office on Jan. 20, 2013, and had his inauguration the following day. Thousands descended upon the U.S. Capitol to witness the ceremony, where Beyoncé delivered a powerful rendition of the national anthem.
Though the song is notoriously difficult to sing, Beyoncé nailed it, garnering audible cheers from the crowd and a warm embrace from Obama. But her performance would soon be overshadowed by an onslaught of negative reports.
RELATED: The Best (and Worst) Presidential Gifts Given to Obama and How Trump's Gift Giving Stacks Up
Beyoncé was criticized for her performance at President Barack Obama's 2013 inauguration
A day after the performance, a representative for The United States Marine Corps band dropped a bombshell when they told The Times that Beyoncé had lip-synced to "The Star-Spangled Banner."
As the report began to spread, the Marine Corps seemingly tried to double back on the assertion, with a spokesperson saying in a statement to E! News: "No one in the Marine Band is in a position to assess whether it was live or prerecorded."
But multiple outlets confirmed the initial report.
The news left many people disappointed that Beyoncé had used a recording instead of making a live attempt. But lots of others rallied behind her. Even oft-critic Wendy Williams sided with the singer, saying on her eponymous show that lip-syncing is a "common practice," especially when outdoors. "It really doesn't matter to me," she added.
RELATED: Beyoncé's Performance at Obama's Inaugural Ball Sparked a Controversy With Etta James
Beyoncé finally reacted to her lip-syncing scandal amid mounting backlash
Clearing the air, Beyoncé attended a press conference in New Orleans later that month to address the reports surrounding her performance. According to The Washington Post, she kicked things off by singing the national anthem live in front of reporters.
When she was done, she reportedly asked: "Any questions?"
With her point made, Beyoncé recapped her performance at the inauguration. Rejecting claims she had fully lip-synced, she said she'd just sang along to a pre-recorded track because of the weather and her lack of preparedness.
"I am a perfectionist and … I did not have time to rehearse with the orchestra," she explained. "It was a live television show and a very, very important, emotional show for me — one of my proudest moments. And due to the weather, due to the delay, due to no proper soundtrack, I did not feel comfortable taking a risk."
"It was about the president and the inauguration," she continued, "and I wanted to make him and my country proud. So I decided to sing along to my pre-recorded track … and I'm very proud of my performance."
Judging from his reaction and his continued friendship with the singer, it's safe to say that Obama was proud of her performance, too.