'Big Brother 21' Runner-Up Holly Allen Addresses Fans Who Accused Jackson Michie of 'Gaslighting' Her
During Big Brother 21, Jackson Michie was accused of racism because he banished three minorities on the first day and being verbally abusive as he allegedly "gaslighted" Holly Allen in arguments and spoke aggressively to other females, including Kathryn Dunn.
Allen defended her boyfriend on a podcast, explaining she "wouldn't be in love with the kid" if he had a racist bone in him and claimed she does stick up for herself to him.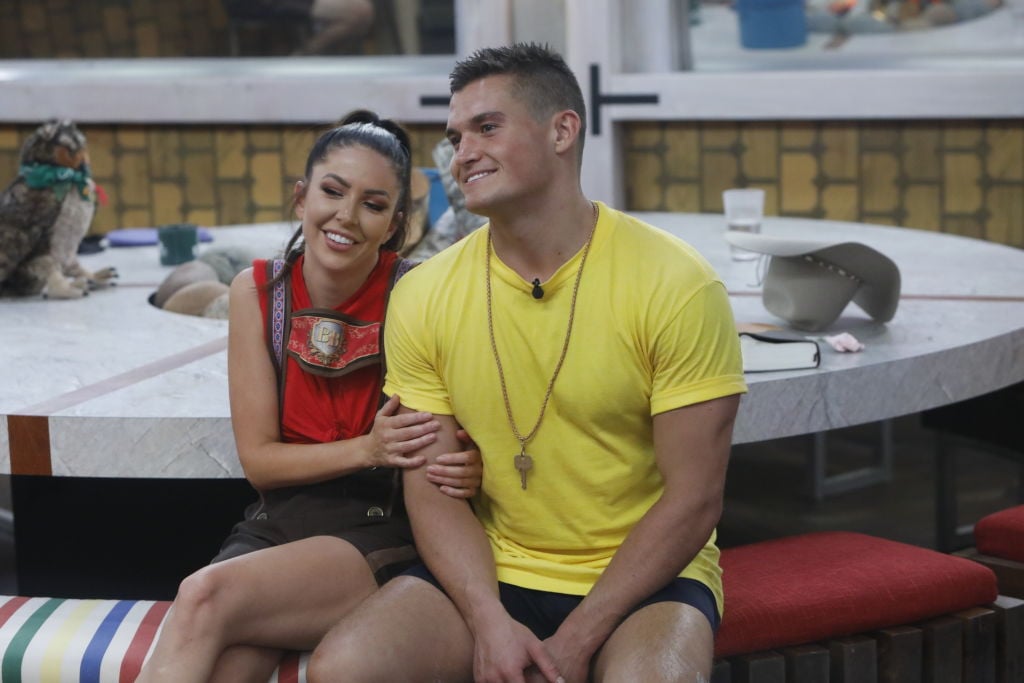 Holly Allen and Jackson Michie got into a fight on 'Big Brother 21'
Around Week 10, Jackson Michie joined Cliff Hogg, Tommy Bracco, and Christie Murphy in the living room while they were having a conversation. Allen walked up to Michie, and the server immediately told her he wanted to talk later.
Upset, the safari guide called him an "f*****g a*****e" and walked away to the outside bedroom, infuriating Michie. Allen explained her feelings to Murphy and then approached her boyfriend in the Head of Household room after they ignored each other for a while.
He told Allen he did not deserve for her to call him that name after everything he's done for her and embarrassed both of their families on national television by doing so.
Michie also compared her to ex-girlfriends, and Allen ended up leaving the room crying. They seemed to explain their feelings to each other and worked things out, until Michie later brought the situation up again, and said she looked like a mean girl because of how she plays with her hair.
Allen got upset, and Michie gave her a pep talk until they went to sleep, saying how "unbelievably special" she is and that he's her number one cheerleader.
Fans accused Jackson Michie of being verbally abusive
Fans sounded off on Twitter about Michie's behavior in the fight, accusing him of "gaslighting" Allen by spinning everything around on her and making the safari guide feel bad for merely having feelings.
Another viewer said Michie was "not letting her speak, playing the victim when he hurt her, berates the s***t while she sobs, and then cuddles her. Sickening."
BB15 winner Andy Herren also joined in the conversation, saying Michie "demonized a strong woman."
Holly Allen defended Jackson Michie's character
When asked about the fight with Michie on Your Reality Recaps Podcast, Allen prefaced everything by saying, "humans get stressed out and fight," and reminded everyone they went from being strangers to lovers living together with no distractions.
Additionally, the couple couldn't communicate the best because they had things in their past that they wanted to share. However, they were always mic'd up and didn't want their personal lives out to the world.
Therefore, the safari guide said the fight happened because she became incredibly frustrated after feeling that he shut her out. Since being out of the house, Allen said they only had one miscommunication, and they sat down, explained their past and other triggers, and things have been great ever since.
She also made a point to address people who said Allen allowed Michie to talk down to her, explaining she immediately stood up to him when they had their disagreement.
However, the safari guide didn't want to inside the house because she didn't know how he would react as it has "went bad" for her previously. Allen also took some ownership in the argument, explaining she was back and forth about wanting to be in a showmance and "hesitant" because of their age difference.
Nonetheless, Allen and Michie have seemed to work things out and are happy together outside the house.