'Big Brother 21' Kat Dunn Claps Back at Fan Who Accused Her of Faking Relationship With Nick Maccarone
'Big Brother 21' star Kat Dunn clapped back at an Instagram follower and claimed she was not faking her relationship with Nick Maccarone.
Texas-based Kathryn Dunn and New Jersey-native Nick Maccarone began dating in the Jury House while they filmed Big Brother 21 and continued their relationship after the show.
The couple haven't hung out in over a month despite Kat often traveling, and fans began wondering why. She clapped back at an Instagram user who expressed their concern and explained they are not "just together for clout."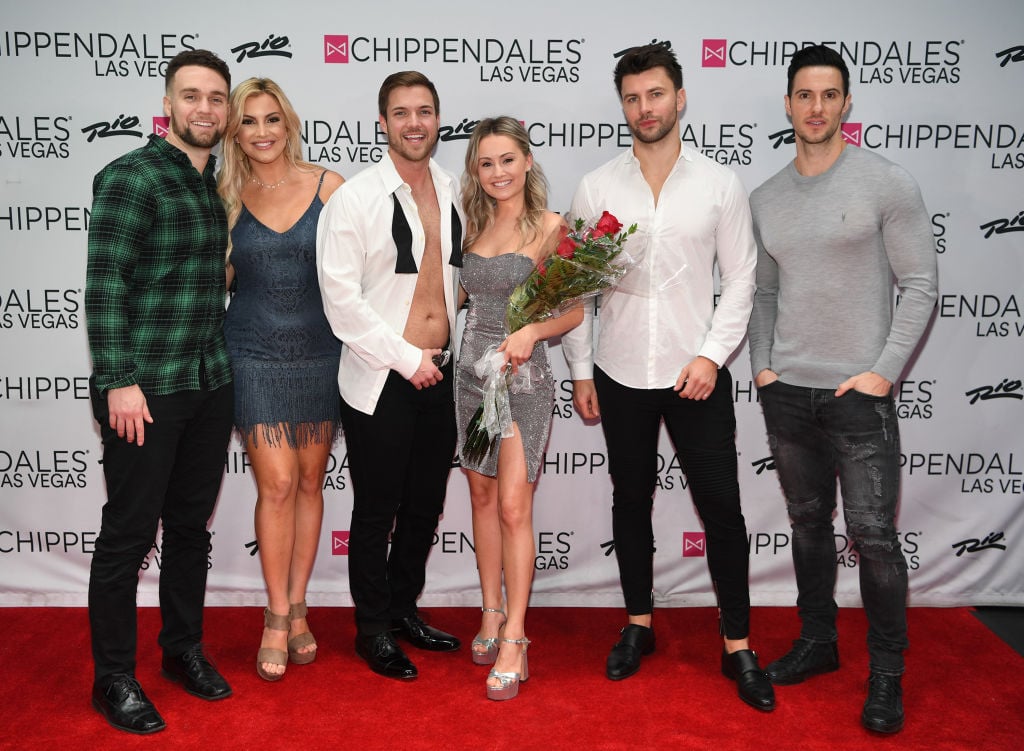 Kat Dunn and Nick Maccarone began dating in 'Big Brother 21'
Initially, both digital marketing executive Kat Dunn and therapist Nick Maccarone were interested in different people while living in the Big Brother house.
While Kat had a short-lived fling with eventual winner, Jackson Michie, at the beginning of the season, Nick and public health analyst Isabella Wang enjoyed a seemingly serious relationship. The couple frequently professed their love for each other and shared public displays of affection.
However, after her eviction, fans observed Nick behaving more affectionately toward college soccer star, Analyse Talavera. Additionally, he began a romantic relationship with Kat in the Jury House, which the show featured in a segment.
After filming, Kat blasted CBS for including that as she felt it "cheapened" the genuine relationship she and Nick formed.
Kat Dunn and Nick Maccarone continued dating
Once the show ended, Kat and Nick "raided" Area 51 in Nevada alongside a few other cast members. The sports-loving couple then went to a Dallas Cowboys vs. Philadelphia Eagles football game as well as one of the games in the Washington Nationals vs. Houston Astros World Series.
They also visited houseguest Tommy Bracco in his native Staten Island, New York, and met Todrick Hall at his concert. Additionally, Kat began a YouTube channel where she discusses conspiracy theories, and Nick has appeared in a few of them.
In one, the couple did a question and answer and revealed they fell in love with each other. Most recently, they traveled to Las Vegas together and visited co-stars Jackson Michie and Holly Allen in Los Angeles.
Kat Dunn clapped back at fan who accused her of faking relationship
Initially, Kat planned to hang out with Nick in his native New Jersey on March 12. However, due to concerns regarding the coronavirus (COVID-19), she decided to cancel her trip and stay in Texas.
A couple of weeks after their canceled plans, Nick posted an old picture on Instagram with his girlfriend expressing how much he missed her. One of his followers noted that "Kat has been spending more time with others and herself than you."
Even though the Texas-native did not "like" the picture or respond to Nick, she promptly replied to the comment. Kat explained she planned to see her boyfriend but "needed to stay home to be near my family instead."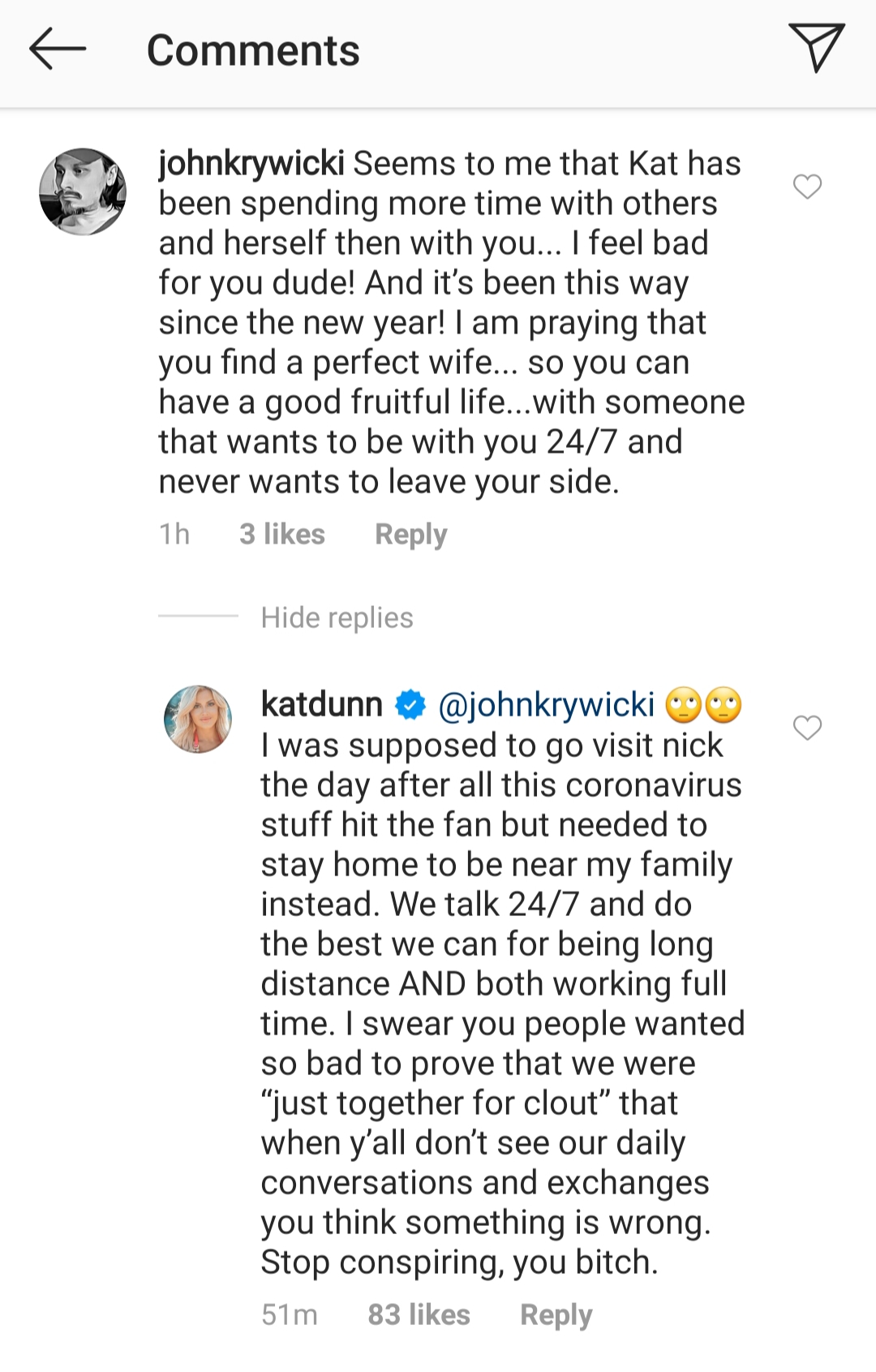 She claimed they "talk 24/7 and do the best we can for being long distance and both working full time." Additionally, Kat said they aren't "just together for clout" and people assume "something is wrong" when they don't see the couple talking daily.
The digital marketing executive ended with a variation of her catchphrase, writing, "Stop conspiring, you b***h." Nick didn't say anything to the initial comment but replied to Kat in the thread and told her he loved her.
While some took Kat's side, others agreed with the original commenter as she hasn't liked or commented on any of his posts since the end of December 2019.