'Big Brother' Season 20: Everything to Know About Bayleigh Dayton and Chris Williams' Engagement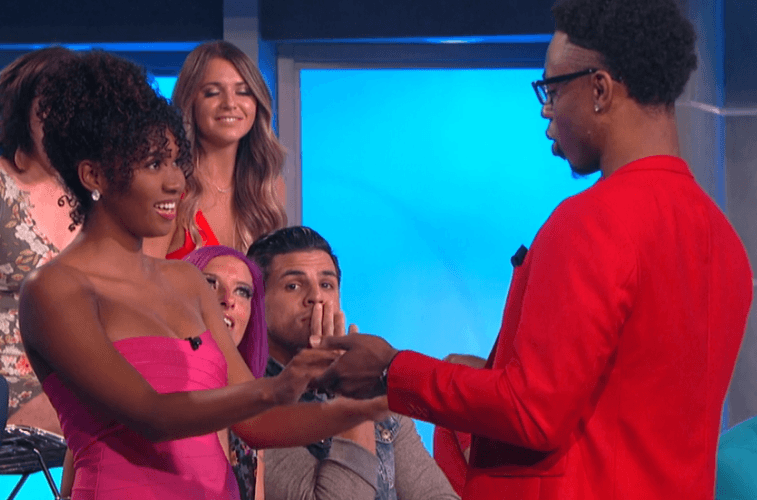 Bayleigh Dayton and Chris "Swaggy C" Williams had an interesting start on Big Brother Season 20. But after 23 days in the house, they fell in love and were an official couple. On the finale of the season, Williams got down on one knee and proposed to Dayton after not seeing each other for 76 days. So obviously fans want to learn more about the unconventional engagement. Here are six things to know about the reality star couple.
1. Chris Williams has been spending time with Bayleigh Dayton's family
https://www.youtube.com/watch?v=xqR9S1At4eU
Williams might have spent more time with Dayton's family than he did with Dayton. We saw him meet her parents on the show, but he also revealed more of what he's done with them in his proposal.
"There's been a lot of stuff that's been going on in the real world that you haven't known – that I went to your parents wedding anniversary," Williams told Dayton on the show. "I've spent a lot of time with them. I play golf with your dad every single weekend. There's a lot of stuff that I want to tell you."
2. Dayton said she was blindsided by the proposal
Dayton admitted that the proposal was a complete surprise. "On a scale of one to 10, maybe a 25? I was completely blindsided," she told ET. "I never thought that that was even going [to happen] and you can't make assumptions like that."
3. Williams said he got the ring two weeks ago
The evicted houseguest made the decision to propose a while ago. "I had the ring two weeks ago, but I was like, 'I'm gonna do it later, like, for Christmas,'" he explained to ET. But he couldn't stop thinking about it and pushed up the date.
4. They plan to move in together in L.A.
The two are going to also pack their bags and live together in the real world. "We're moving to L.A.," Dayton told ET. "That's the plan for now."
This isn't too shocking because Williams previously told Us Weekly that the two had plans before he got evicted. "It's crazy but we talked about moving in with each other after the show ends," he said. Williams is from Bridgeport, Connecticut, and Dayton is from Atlanta, Georgia.
5. They had a celebration after the finale
Bayleigh getting her surprise from @SwaggyCTV ??❤️ #bb20 #swayleigh pic.twitter.com/PQu7wkcowV

— ?Q̶u̶e̶e̶n̶M̶o̶? (@Queens_Mo) September 27, 2018
There was a video posted of  Dayton walking into a room that had rose petals on the floor and a bed. There was also a laptop playing a video of Williams and Dayton together on Big Brother. We hear Dayton say, "this is adorable" so the two must have been celebrating their engagement.
6. The two have yet to say whether they are expecting or not
Dayton previously told Haleigh Broucher on live feeds that she thought she might be pregnant. So fans are wondering if she knew for sure. They will still have to wait.
"Not commenting on anything. … We're not saying nothing," Williams said on Off the Block With Ross and Marissa. Dayton then said, "We can't comment [on] anything baby related."
Read more: 'Big Brother' Engagement: How Victor Arroyo and Nicole Franzel Fell in Love