Big Hit Entertainment Creates a New Concert Experience for BTS Fans
It's not just BTS who are leaving their mark on the music industry. Big Hit Entertainment is also changing the industry and the fan experience. For BTS's Love Yourself: Speak Yourself [The Final] concerts, Big Hit Entertainment created a unique festival experience for fans.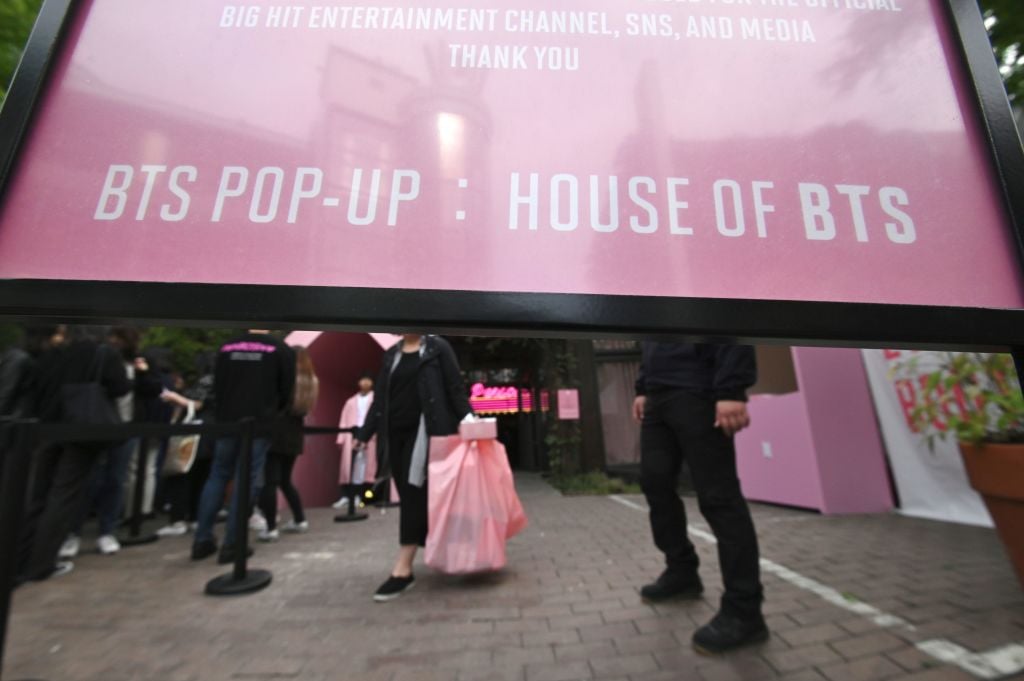 Big Hit Entertainment has long-term goals for the concert experience
On Aug. 21, 2019, Big Hit Entertainment's co-CEO's Bang Si-Hyuk and Yoon Seok-Jun held a corporate meeting in Seoul. At the company briefing, executives revealed Big Hit Entertainment's revenue from the first half of 2019. The co-CEO's also discussed the future of Big Hit Entertainment and plans for the company's K-pop groups.
At the time, many focused on Big Hit Entertainment's goal of implementing the lottery ticketing system worldwide. The lottery system is meant to dissuade ticket scalping and make purchasing tickets easier for music fans. Yoon also announced other plans to improve the concert experience.
"Big Hit is committed to turning the hosting city of a concert into a festival, improving inconvenient and unfair elements and enhancing the overall customer experience," said Yoon.
Some ideas mentioned at the conference included viewing events near the concert, pop-up stores during the concert period, live-streaming the concert for fans unable to attend, and turning the area surrounding the concert into a celebratory event.
A BTS pop-up opened in Seoul
Several of the proposed changes from the corporate meeting in August were implemented for BTS's Love Yourself: Speak Yourself [The Final] concerts in October 2019. The three-day concert experience took place on Oct. 26, Oct. 27, and Oct. 29.
On Oct. 18, BTS Pop-Up: House of BTS opened in the Gangnam district in Seoul. The pop-up features artwork and interactive stations from different BTS eras. Fans can also purchase merchandise. The pop-up will run for 80 days and close on Jan. 5, 2020.
Big Hit Entertainment created a new fan experience for Love Yourself: Speak Yourself [The Final]
The first concert of Love Yourself: Speak Yourself [The Final] was available for fans to watch via a livestream on VLIVE on Oct. 26. The second concert date on Oct. 27 was shown in movie theaters around the world. Both of these viewing options gave BTS fans a chance to watch two of the final concerts of BTS's Love Yourself era.
For fans attending the three concert dates in Seoul, Big Hit Entertainment transformed each day into an all-day festival experience. There were food trucks available for concert goers to grab a bite to eat. In an event zone outside Jamsil Sports Complex, a wide array of outdoor activities awaited fans.
In the event zone, there was a photo studio and photocard dispenser. To help fans tired from waiting in lines, concert goers could relax in massage chairs. Fans could also take their pictures with photo walls, receive assistance setting up their ARMY Bombs, and more. Because of the cold weather, Big Hit Entertainment also gave out FILA blankets to every fan attending the concert.
BTS fans were impressed with the changes Big Hit Entertainment implemented
At Love Yourself: Speak Yourself [The Final], BTS fans were made a priority by Big Hit Entertainment. The concert experience truly became a festival dedicated to BTS and ARMY. On social media, fans expressed their gratitude for the company.
"So far nobody is doing it like Bh and @BTS_twt when it comes to concerts. They want fans to experience a festival. I'm sure others are taking notes on what they're seeing from all these. This final tour is a flex on another level & they're walking their talk," a fan tweeted.
"In the prev company briefing bh said that they wanna enhance the fan experience for the concert by implementing new stuff to make it feels like more of a festival and i like what i'm seeing so far (in the prev saudi and today's concert). They really treat us like kings & queens," one fan wrote on Twitter.
"I remember in that press conference BH talked about making a concert a whole ARMY Festival. Like an experience This looks/sounds like it's going great for the Final, I hope they will be able to do something similar on their next international tour! @BTS_twt," wrote a Twitter user.