Big Hit Entertainment Forced to Shut Down Dating Rumors About BTS's Jungkook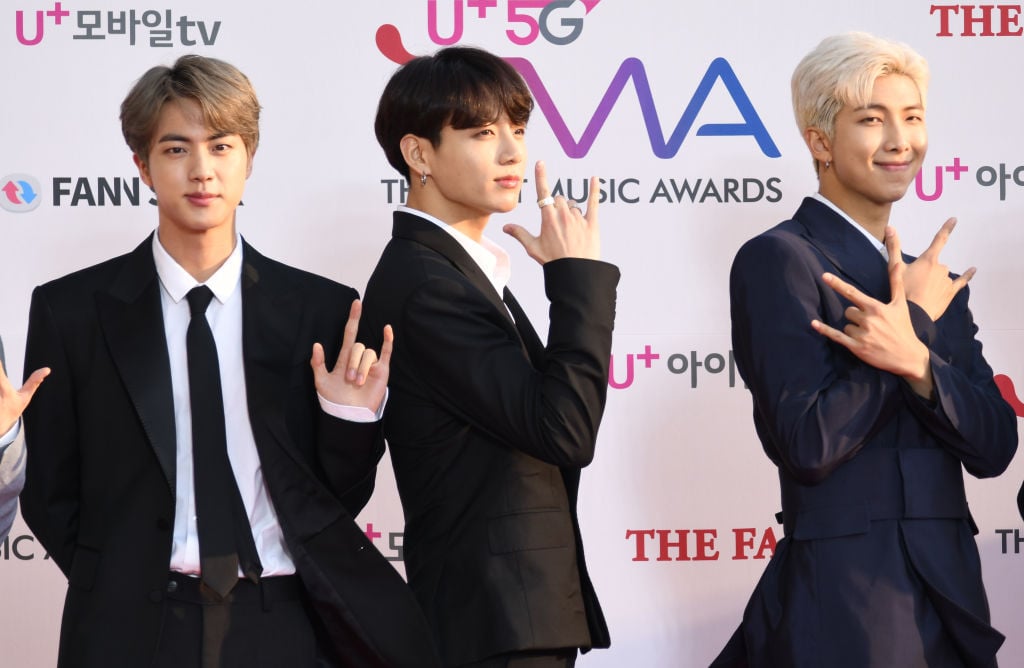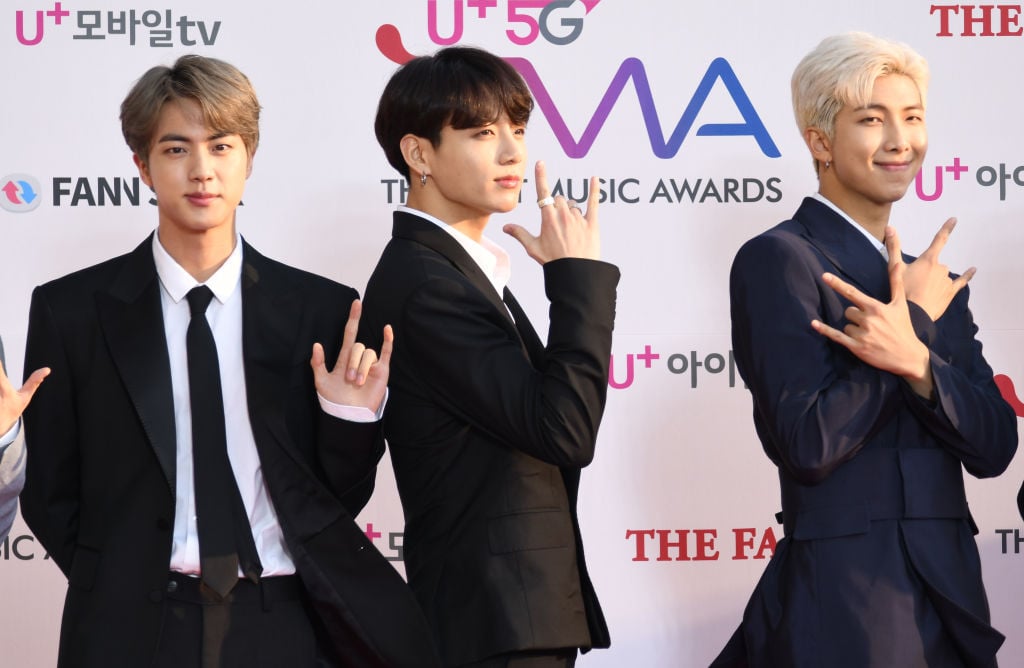 BTS's month-long break ended on Sept. 16, and fans were ecstatic at the band's return after a period of relaxation. However, BTS's return quickly turned sour when false dating rumors about Jungkook spread online. Even though members of BTS ARMY tried to stop the rumors from circulating, Big Hit Entertainment was forced to release a statement denying the dating rumors.
Leaked images of Jungkook with a tattoo artist spread throughout social media
Just hours after BTS's break ended, photos of Jungkook with a female tattoo artist spread throughout social media. Someone leaked the images from CCTV footage. Fans then found the tattoo artist's Instagram and followed her, and within hours she gained tens of thousands of followers.
Fans upset with the dating news tagged the tattoo artist in malicious posts. They also spread her name and Instagram account on social media. A majority of BTS fans attempted to quell the rumors by reporting any accounts that posted the leaked photos. Despite their best efforts, the rumors and hostile behavior reached Big Hit Entertainment and Jungkook.
Big Hit Entertainment released a statement denying the rumors
Big Hit Entertainment released a statement denying the dating rumors. The full statement can be read below.
"Big Hit Entertainment clearly states that the claims about our artist Jungkook that are being spread on social media and online communities are not true.
While in Geoje Island during his period of rest, he found out that his acquaintances from a tattoo shop were also visiting the area. He then met with his tattoo shop acquaintances and other acquaintances from Geoje Island for a meal and had a karaoke session. This is the truth that has been distorted.
We think it is unfortunate that [Jungkook's] personal daily life during his period of rest became known in a distorted way.
We will figure out whether CCTV footage was leaked or if there was illegal filming and take strong legal action against the disclosure of personal information and invasion of privacy. Furthermore, we announce that we will also take legal action against the spread of false rumors."
The tattooist also released a statement denying the dating rumors
The tattooist also released a statement to her Instagram page. Allkpop.com translated the post.
The statement read, "I'm absolutely not in a relationship with Jungkook. I'm posting this because of what's spreading online and the unfortunate situation of people causing misunderstandings by impersonating me. I didn't say anything because it seemed obvious that people wouldn't believe me or they would interpret what I say the way they want or I would get even harsher responses. I would like to once against ate that it's absolutely not true that I'm dating Jungkook or that I tattooed my initials on him."
Even though she did nothing wrong, the tattooist still felt the need to apologize for the way fans reacted to the false rumors.
"We're simply close friends, and I am very apologetic as it seems fans were extremely hurt in addition to myself and people around me. I will not say anything further. I'd just like to make it clear that I wasn't ignoring or disregarding everything," she said in the statement.
BTS fans were not happy people invaded Jungkook's privacy
While there are exceptions, K-pop idols typically keep their relationships out of the public spotlight to avoid backlash. After Big Hit Entertainment released the statement about Jungkook, BTS fans expressed their disappointment about the situation on social media. To a large number of BTS fans, ARMY should not care about BTS's private lives.
"this situation shouldn't even have to be explained. he's an adult and he can hang out with whoever he wants. get rid of this toxic mentality that your idol belongs to you and owe you their loyalty. know your limits as a fan because that's all you'll ever be," one fan wrote on Twitter.
"It's not right. Jungkook can't even have fun with friends during his break without rumors being spread, s*s*engs following, taking photos, invading privacy & now BH has to clear up the mess created by bored people. I hope one day the guys don't have to worry about stuff like this," wrote a fan on Twitter.
Other fans pointed out how much Jungkook loves ARMY and that he did not deserve his privacy being invaded.
"now i know jungkook did not put the word army across his knuckles for everyone to invade his privacy like this…," a fan tweeted.
BTS ARMY trended #AlwaysWithJK to show their support for Jungkook
To try and make up for the experience, hundreds of thousands of BTS fans trended #AlwaysWithJK on Twitter. With the hashtag, fans expressed their love for the singer and vowed to always support him. ARMY also expressed how sorry they were about other fans' behavior.
"We better stop disappoiting him and love & support him harder bc he deserve better #AlwaysWithJK," a member of ARMY tweeted.
"y'all don't deserve what this boy is doing and has done for you. He deserves all the happiness in the world, but y'all can't even respect him wow #AlwaysWithJK i love you; i am so sorry people had to invade your privacy to this point," another wrote.