'Big Little Lies': Adam Scott Made a Hilarious Joke About His Castmates
Though there's plenty to love about Big Little Lies, the show's phenomenal and highly recognizable cast is certainly a huge draw for viewers. Acting legends like Laura Dern, Reese Witherspoon, and Nicole Kidman ensnared viewers from the very first episode. Meanwhile, younger talents like Zoë Kravitz and Shailene Woodley added more buzz and more than delivered on their performances.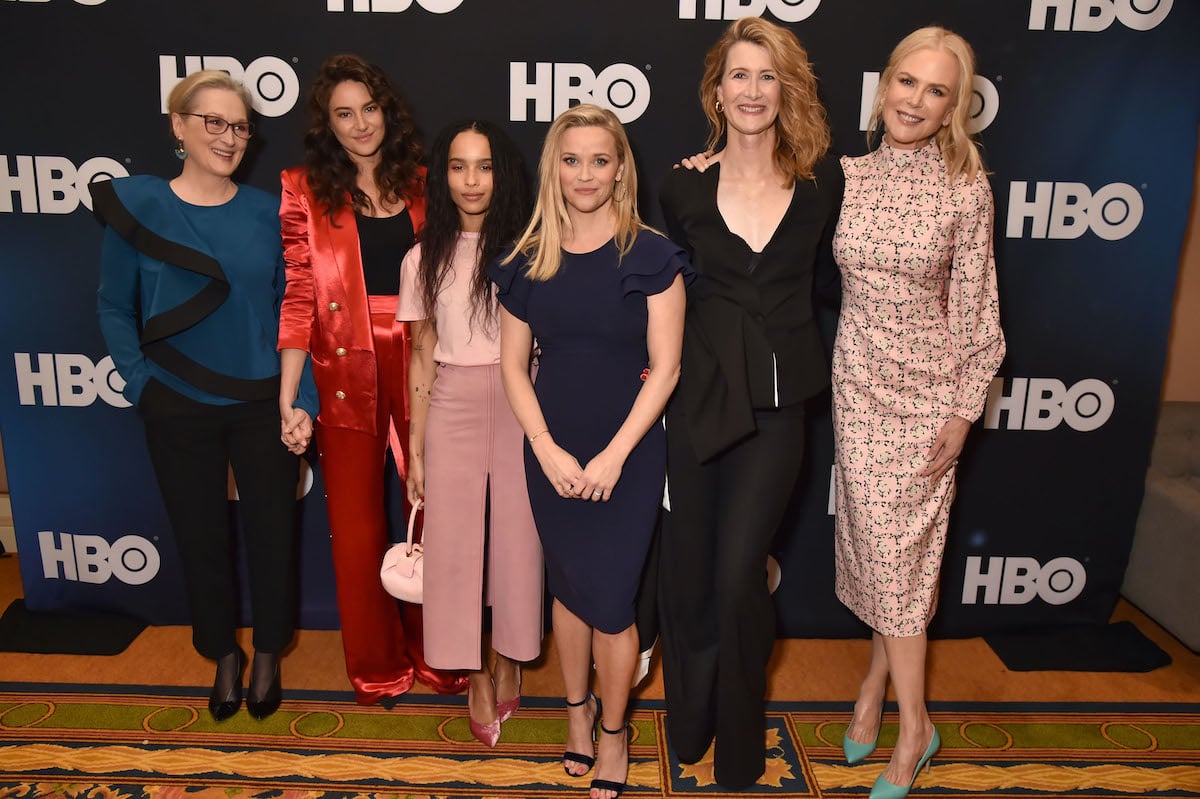 The cast of the Big Little Lies was already phenomenal in Season 1. In fact, one of the caveats of making a sophomore season relied on every actor's availability. The cast only agreed to do Season 2 if the full cast (including the child actors) could return. But the already talented cast got another boost when Meryl Streep agreed to come aboard.
How Meryl Streep joined the cast of 'Big Little Lies' Season 2
Streep, like millions of others, was already a huge fan of the show before she was offered her role. In fact, she said yes to portraying Mary Louise Wright before she'd even read the script. According to the Doubt actor, the first season of Big Little Lies was the best thing on television and she was eager to find her way into the world.
RELATED: 'Big Little Lies': 2 Cast Members Lived Together Years Before the Show
Adam Scott made a hilarious joke about his Oscar-winning castmates
But what was it like for other actors to act with such renowned actors? In an interview with Gold Derby Adam Scott, who's experienced plenty of his own success, asked what it was like to work with so many Oscar winners. In a bid for levity, the Parks and Recreation alum made a hilarious joke about his fellow Big Little Lies castmates. "Well, they all carry all of them to set which makes it extra intimidating," Scott said, joking about his fellow actors and their golden statues.
Scott reveals what it's really like to work with so many acting legends
Continuing on, Scott gave a more serious response about his fellow Big Little Lies actors. "Yeah," he began. "No, of course, that's intimidating but it's also something that you get over pretty quickly. But also, even more than the awards that they have and richly deserve, it's so thrilling to watch it on display right in front of you, to watch Reese or Laura or Nicole, how they go from chatting on the sidelines to diving into a scene and getting to watch that, being such a fan of all of these women, and such an admirer of Meryl as well, of course, getting to see that and see the magic trick of it, it's really, really fun."
RELATED: 'Big Little Lies': Meryl Streep Noticed Things the Rest of the Cast Missed
Scott also shared that his Oscar-winning co-stars were just as great when they weren't on camera. "But they're all really sweet, generous, cool people that you wouldn't know that they have all of this hardware, as you say, sitting at home because there's no airs about them or anything like that," Scott revealed. "They're all really cool."
Is 'Big Little Lies' Season 3 a possibility?
It's pretty great that the cast of Big Little Lies gets along so well. With the amount of talent that the show features, it would be all too easy for egos to get in the way. And, because the actors get along so well, there's still hope that the cast could potentially reunite for Season 3.