Will 'Big Little Lies' Get A Third Season?
Everyone's favorite Sunday night show, Big Little Lies, has returned to HBO and it's just as satisfying as before. The show, which centers around five mothers living in Monterey, CA, is packed with brilliant acting, fantastic writing, and scenery so gorgeous that we all want to pack up our bags and move to the central coast of California. The show received incredible acclaim in its first season and is shaping up to do the same for its second. Which begs the question, will there be a third season of this outstanding television show?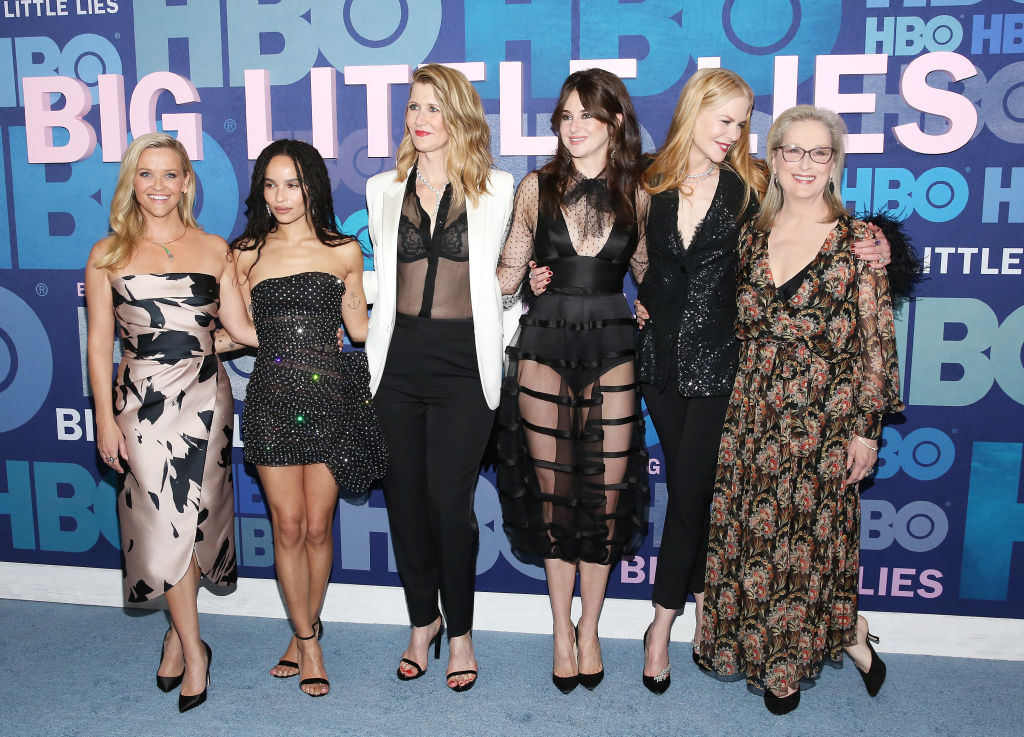 Season 1
Though the show was brilliantly done in its first season, there were never any plans to bring it back for a second season. The show, which is based on the eponymous book by Liane Moriarty, had a very concrete and satisfying ending, and those involved in creating the show were extremely hesitant to deviate from that.
"We wrote it as a one-off and we ended it in a way that was very lyrical. But we ended on a lie. I get so protective of characters and series, too, that I don't want to damage them in any way, and I so loved how we ended year one and I thought, Let's just leave it at that," the show's creator, David E. Kelley said in an interview with The Hollywood Reporter voicing his initial concerns with extending the original narrative.
Season 2
And Kelley wasn't the only one to have qualms about season two. Moriarty (who is also one of the show's executive producers) admits that she wasn't originally too keen about being involved in an additional season either. "I was saying, 'No, no. I think it's a great idea to do a season two, but I'm not interested in writing it,' But then I kept saying, 'But if you do it, you could do this.' So I kept coming up with different scenes" the author admits.
Moriarty admits that the turning point was imagining a new character and seeing how they would impact the other characters. "When I was sort of agonizing over whether or not I should do it, it was actually my sister who said to me, 'Only do it if it would be fun, and why not create a role for your favorite actor?' And that's when I came up with this role for Meryl Streep, to be Perry's mother. And it was really from there that it all came together because you bring this new character in and the storylines just emerge." Moriarty said.
Meryl Streep
Once Moriarty began writing with acting legend, Streep, in mind new ideas seemed to just flow. The inspiration from a new character gave way to an entirely new novella, most of which serves as the inspiration for season two. When Streep immediately said yes to the role, Kelley soon got on board for a second season also. "The genius was introducing this character who's being played by Meryl Streep. It's a delicious character and I felt bringing her in was both liberating and daunting" Kelley said about the new character, Mary Louise Wright, and bringing Streep onboard.
Season 3
Does this mean that we could potentially get a third season from the show? It seems pretty unlikely. Actress Nicole Kidman, who plays Celeste Wright, said that while the cast would love to do it, it would be quite difficult to bring the entire cast back. Kelley gave a more concrete answer when he said, "No such plan now. I think that it's one and two, and we like where our closure is at the end of Season 2, so that will probably be it."
So, while the odds don't look so great, we haven't given up hope for a third season. After all, there were never any plans for a second season, and here we are knee deep in more delicious drama. For now, we'll just be appreciating the show for what it is and watching it on repeat.