'Big Sky' Season 2 Episode 15 Recap, 'The Muffin or the Hammer' — Another Death
As usual, in the 'Big Sky' Season 2 Episode 15 recap, viewers find out that someone died again this week, but Jenny got out alive.
ABC's Big Sky Season 2 Episode 15 recap begins with the death of yet another minor character. Jenny Hoyt (Katheryn Winnick) confesses to Cassie Dewell (Kylie Bunbury) after her venture into the Bhullar drug facility in episode 14. Travis Stone (Logan Marshall-Green) continues to play both sides, and Veer (Bernard White) questions Ren (Janina Gavankar) and Jag's (Vinny Chhibber) leadership skills. Plus, Jesse James Keitel returns to guest star in the Big Sky Season 2 cast and shakes up that Mark Lindor (Omar Metwally) and Cassie love triangle. 
[Warning: This article contains spoilers about Big Sky Season 2 Episode 15, "The Muffin or the Hammer."]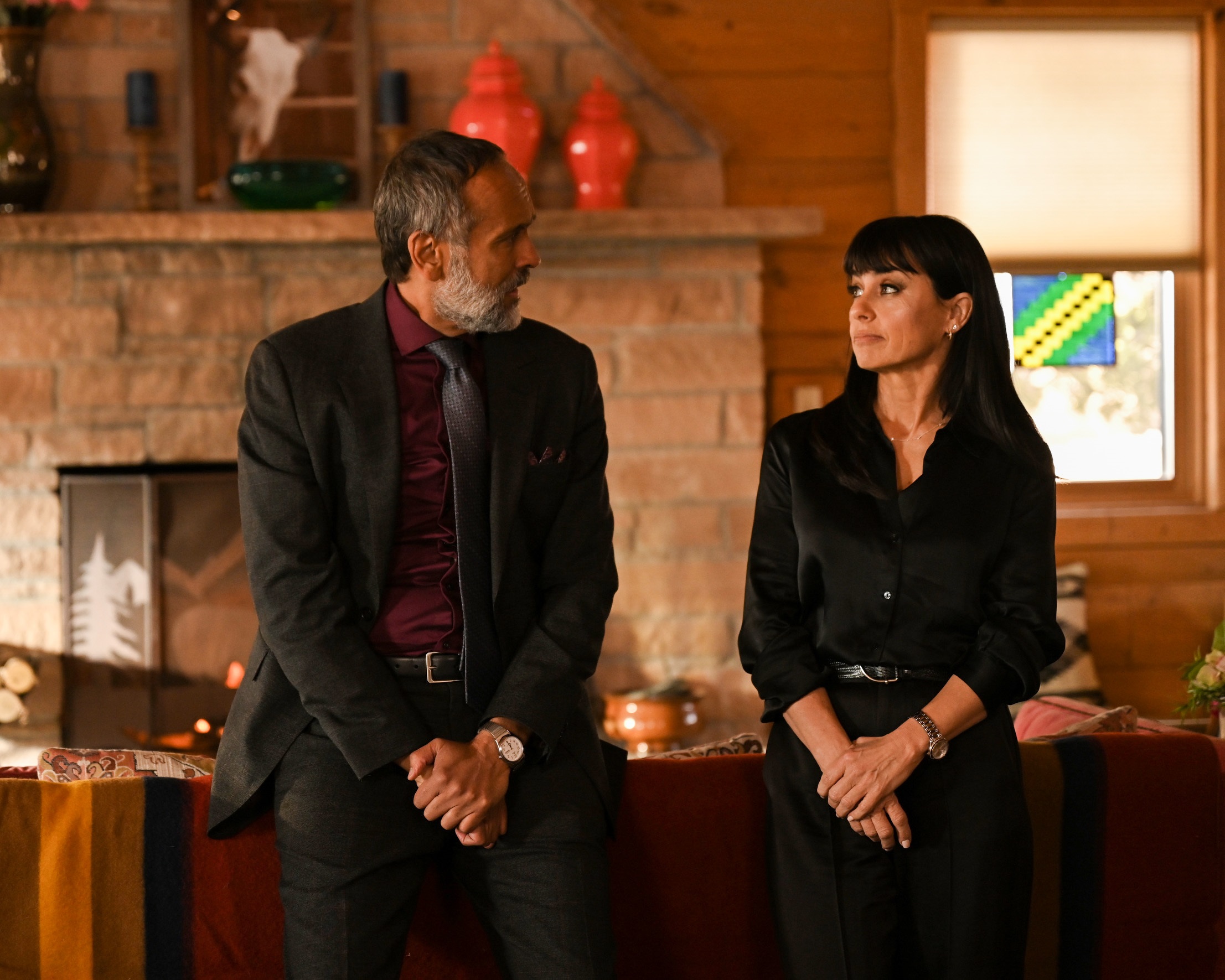 'Big Sky' Season 2 Episode 15 Recap: Vinny's enforcer, Dhruv, died
Like viewers watched in the Big Sky Season 2 Episode 15 preview, Jenny struggles to get out of Dhruv's (Jinder Mahal) grasp when the show opens. However, she ends up throwing fentanyl in his face. He dies moments later. Ren, Jag, and Travis find their dead friend and search for whoever killed him.
Travis runs into Jenny first and tells her which way to go to getaway. She begs him to go with her, but he won't. Ren and Jag run up to Travis moments after he lets Jenny go. 
Donno (Ryan O'Nan) and Tonya (Jamie-Lynn Sigler) interrogate all their drug distributors to see who is cutting their drugs. They offer a choice of "the muffin or the hammer," for how the dealer might die if he doesn't answer correctly. 
Meanwhile, Cassie returns to her father's house as she gets a call from Jenny. The cop is afraid to be alone after the incident at Bhullar's lab. Cassie insists she tell Sheriff Tubb (Patrick Gallagher) everything; however, Jenny's worried about Travis. 
'Big Sky' Season 2 Episode 15 Recap: Richard is a wild card
Jerrie, Mark Lindor (Omar Metwally), and Denise (Dedee Pfeiffer) sift through cases of cheating husbands when a worried teen walks into the office. Hayden (Keara Lloyd) visits Dewell & Hoyt's investigative offices because she's worried about her father, Richard Ford (Dallas Roberts). He didn't come home the night before; he left his phone but took his gun. Mark and Jerrie head to Richard's storage unit later in the Big Sky Season 2 Episode 15 recap. They find a teen strapped to a chair. Richard kidnapped him to attempt to find out where Mason secured his drugs. Next, Jerrie and Mark confront Deitrich (David Meunier) at the Boot Heel Bar about where Richard might be. However, he gives no answers. 
Cassie returns to work, and the others brief her on the case. When she suggests that being where her father died is comforting, it gives Mark an idea. Mark and Denise head to the place Mason died. Richard insists that he will make things right, but it doesn't sound compelling. Later, Hayden calls Denise and reveals that Richard never came home. In the last few moments of the episode, Richard pulls up at the Bhullar residence.
Later, Jerrie invites Mark inside, but he reveals that he doesn't know how to feel about Cassie or Jerrie. He feels stuck and doesn't know "which way is up." Jerrie sees it as a choice he needs to make. So, Mark heads to Cassie's house to check in and she kisses him to stop him from rambling.
Jenny searches the Bhullar household with a warrant
In the Big Sky Season 2 Episode 15 recap, Jenny insists that Sheriff Tubb secure a warrant to search the Bhullar property. However, when they arrive, the lab is empty. Veer reprimands his son for Dhruv's death and appoints Travis as Jag's new security detail moments before the police barge into their home.
Alicia (Constance Zimmer) suggests that Veer find someone within the police department to be on their side. She also describes a dream that she had. She suspects that Jag will kill Veer. 
Jenny's upset that they didn't find anything at the Bhullar house. However, they track down the truck she saw there and find the cartel's drugs. After interogating the trucker, Bryce (Travis Hammer), they convince him to be their inside man.
When Ren suspects "the barbie doll cop" as the person who killed Dhruv, Veer insists they take care of her. He orders Travis and Donno to track down Jenny to kill her. In another scene, Ren and Jag find out that it's their father who cut their drugs. In the last few moments, Donno and Travis watch Jenny leave the police station alone.
According to IMDb, Big Sky airs Thursdays at 10 p.m. EST on ABC.