Big Time Rush is Back; Why Did the Band Go On Hiatus in 2014?
Big Time Rush is ready for a big-time reunion. Late 2000s Nickelodeon fans may recall the network's hit show, Big Time Rush, about a beloved boy band. Members Logan Henderson, James Maslow, Kendall Schmidt, and Carlos Roberto Pena Jr. took the fictional band's music off-screen and turned it into a reality, producing three studio albums and five tours in conjunction with the show's run.
After four seasons and a film, Big Time Rush went off the air, taking the real-life band with it. However, in a similar fashion to the Jonas Brothers, the popular boy group announced its return on July 19, 2021. What led to the band's 7-year hiatus?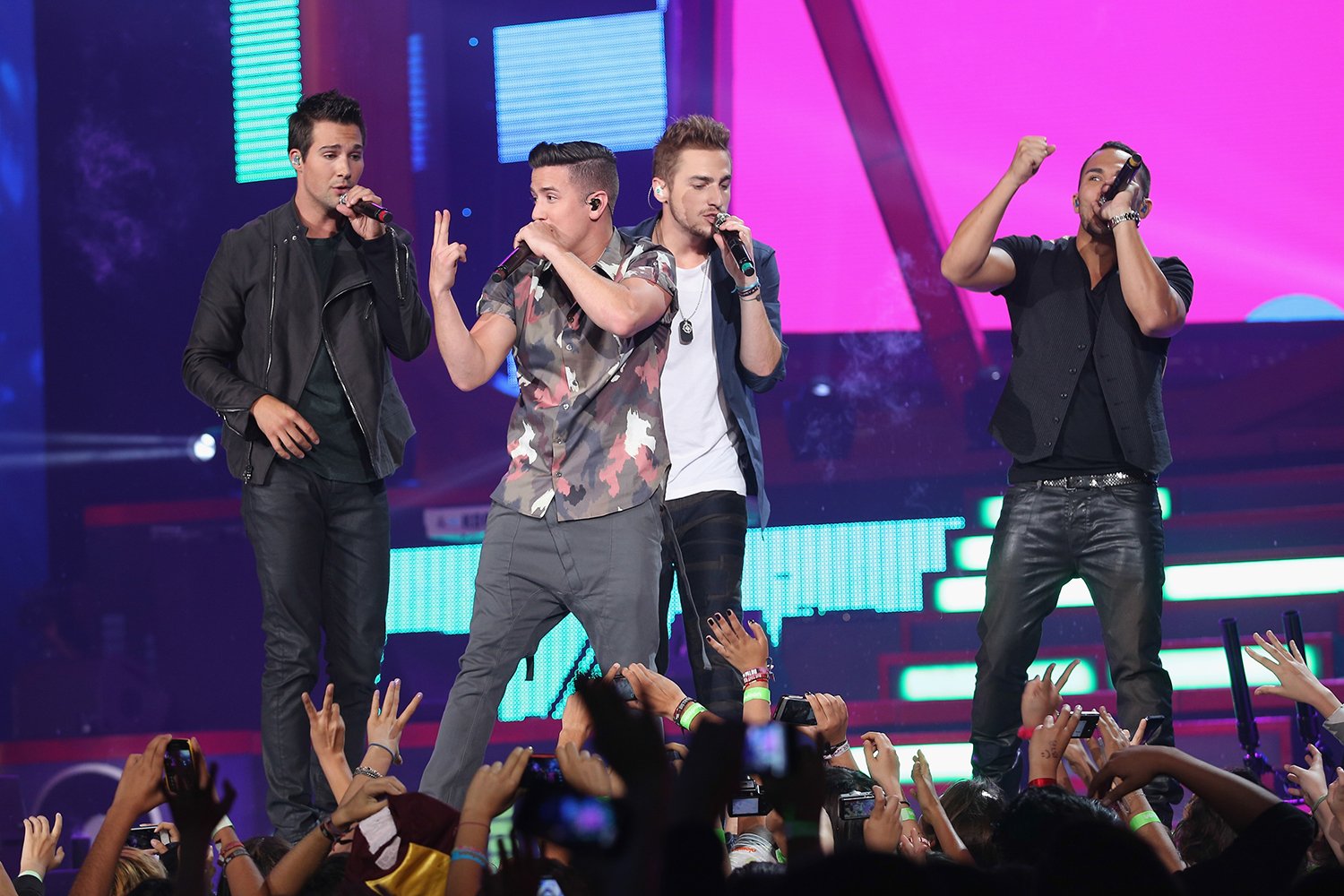 Big Time Rush started on a Nickelodeon show in 2009
The Big Time Rush television show followed characters Kendall, James, Carlos, and Logan on a journey from Minnesota hockey players to California boy band. After a successful audition in the pilot episode, the fictional group began their work under music producer Gustavo Rocque and navigated a new life of Hollywood fame.
Series creator Scott Fellows said at the time that Big Time Rush was inspired by The Monkees, a show about four young men in the '60s who formed a rock band, according to Palm Beach Post.
Meanwhile, in real life, Big Time Rush signed with Nickelodeon Records in 2009 and then moved to Columbia Records. They released their debut album, BTR, in 2010, featuring their self-titled debut single, which was used as Big Time Rush's theme song. Then, the band released Elevate in 2011, followed by 24/Seven in 2013.
Big Time Rush became a major success both on and off-screen. The group embarked on multiple tours between 2011 and 2014. Additionally, they performed live at Nickelodeon events like the Kids' Choice Awards. In 2012, Big Time Rush won the Kids' Choice Award for Favorite Music Group.
Big Time Rush is now available to watch on Netflix.
The band announced a hiatus after the show's end in 2013
Unfortunately, Nickelodeon canceled the series in 2013, which marked the beginning of the end for Big Time Rush. The band continued touring until March 2014 and announced an "indefinite hiatus" shortly after.
When the show ended, the group hinted that they would soon go their separate ways. In an interview with HuffPost, Pena said that they were "ready for our individual careers" after five years together. Nothing dramatic happened, but they felt it was time.
"I think it'll just help the band if we give people time to miss us — it's kind of like a relationship," Pena added. "I think that we've been around for five years is great. Now, we're leaving for a little bit."
However, Big Time Rush emphasized that they were only going on a hiatus, not breaking up. Schmidt assured that they would come back together if they were ever given the right opportunity.
"It's sort of like a thin line to walk on because we have a lot of fans who love Big Time Rush, and we don't want to ever disappoint them. We want them to be fans of individuals whenever we go and do our own things — which I think they are, anyway," he said. "But we don't want to end Big Time Rush in a way that's going to make them go, 'Well, that f—ing sucked.'"
Big Time Rush will reunite in December for two shows
It seems the opportunity has finally come. Big Time Rush teased fans on social media for weeks by changing their profile photos to a red circle. Then, on July 19, the band released a video announcing their return.
"The people of the world are ready for a comeback of epic proportions," the video stated.
Big Time Rush will perform two shows in December 2021. The first will be at Chicago Theater in Chicago on Dec. 15, followed by the Hammerstein Ballroom in New York on Dec. 18. Eager fans can sign up for the ticket pre-sale now.
"Let's make up for lost time," the post's caption read.
RELATED: The Jonas Brothers Were Once Abandoned 'in the Middle of Nowhere' While Touring