Big Time Rush Member Under Fire for Saying BTS's 'Dynamite' Sounded Like 'A Girl' Singing
Before BTS debuted and took over the world, Big Time Rush was one boy band competing for fans in the American music market. However, by the time BTS started gaining traction in the mid-2010s, Big Time Rush had gone on an indefinite hiatus.
The two groups are now coincidentally active at the same time, but one Big Time Rush member recently came under fire for making negative comments about BTS.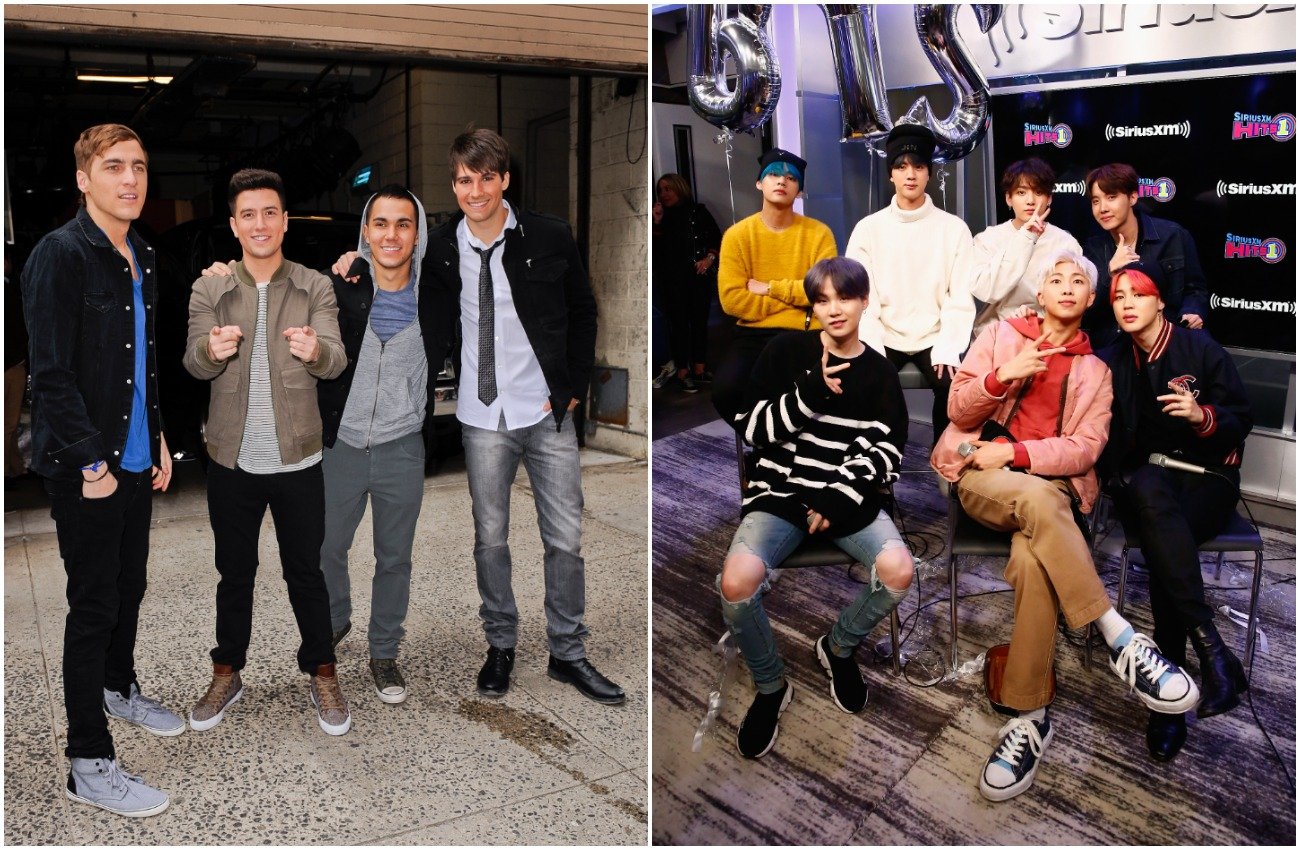 Big Time Rush recently united after an indefinite hiatus
Big Time Rush came on the scene in 2009 as a group formed for the Nickelodeon show with the same name. The series lasted for four seasons, ending in 2013. Meanwhile, Big Time Rush also released three albums before going on a hiatus in 2014.
In 2020, Big Time Rush had a social media reunion, where the members shared a short video reminding fans to stay home and have compassion during the coronavirus (COVID-19) pandemic.
On July 19, the group announced they would have reunion concerts at the end of the year. Big Time Rush revealed they would play a show in Chicago on Dec. 15 and a show in New York City on Dec. 18.
Big Time Rush's Carlos PenaVega under fire after saying BTS sounded like 'a girl'
RELATED: BTS Reveals 1 Thing That Keeps Them Humble Despite Worldwide Fame
Big Time Rush recently hosted an Instagram Live where the members interacted with fans. One fan asked the group if they would collaborate with the Jonas Brothers, and the members commented that it would be a lot of people singing in that collaboration.
However, James Maslow also pointed out that "the Jonas Brothers with Big Time Rush is the same amount of members as BTS."
Carlos PenaVega added, "I don't even know. I couldn't name one BTS song… I have no idea."
Logan Henderson chimed in that "Butter" is "great," and Kendall Schmidt started singing "Dynamite," which seemed to trigger PenaVega's memory.
"I thought that was a girl," PenaVega said of BTS's first no. 1 hit.
The other members did not respond to the comment about BTS's gender. Henderson simply said, "It's so good, right?" Meanwhile, Maslow told PenaVega, "Jenna wrote both those songs," referring to singer-songwriter Jenna Andrews.
According to Koreaboo, after clips of the Big Time Rush livestream surfaced on social media, a number of BTS fans began criticizing PenaVega. Some people even speculated that this could affect Big Time Rush's comeback.
BTS has dealt with many ignorant comments from media personalities
RELATED: BTS Reveals Why They Now Cringe at Their Debut Showcase
Ever since BTS began receiving international attention in 2017, the group has endured a lot of ignorant comments from Western media outlets.
For example, in 2019, Greek TV host Katerina Kainourgiou made racist and homophobic comments against members Jungkook and V. This came after they were voted as two of TC Candler's "Most Handsome Faces of 2018."
More recently, in February 2021, German radio host Matthias Matuschik compared the group to the coronavirus (COVID-19) and defended his comment by saying he had a car from South Korea. Several celebrities jumped in to condemn Matuschik and called for a stop in discrimination against Asians amid the pandemic.
While both Kainourgiou and Matuschik apologized for their actions, it's clear BTS will continue to be subjected to xenophobic remarks as long as the group is having success.