The Only Way Billie Eilish Would Try Acting (Again)
At just 19 years old, Billie Eilish continues to take the world by storm. With the success of her second album, Happier Than Ever, and the debut of her Disney+ special, Happier Than Ever: A Love Letter to Los Angeles, the people are clamoring for even more Billie. Would the "Ocean Eyes" singer ever dabble in the cinematic arts? In a recent interview, Eilish spoke about what it would take for her to give acting a try (again).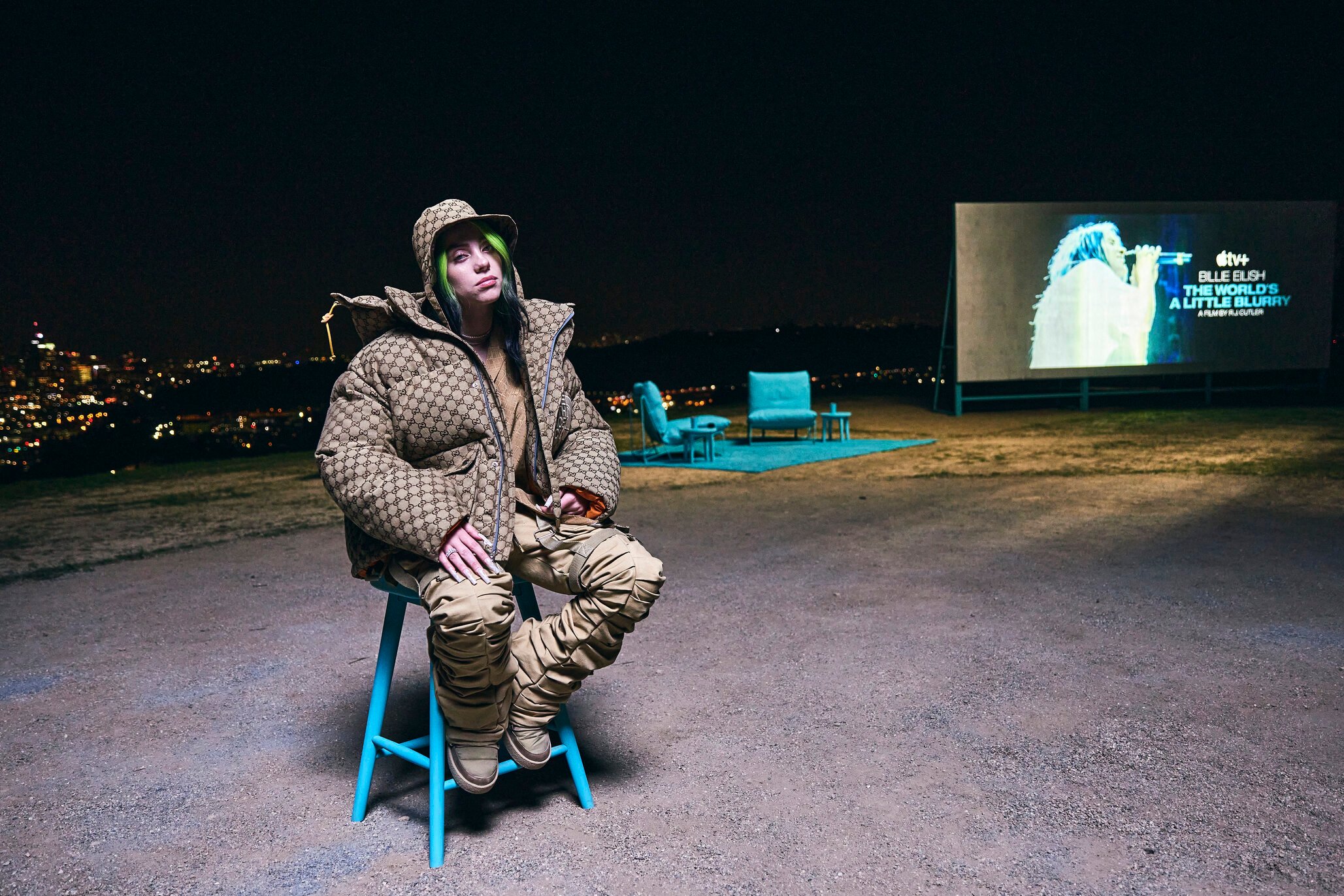 Billie Eilish's Disney+ concert film, 'Happier Than Ever: A Love Letter to Los Angeles'
Eilish's concert film is hitting Disney+ today, Friday Sept. 3. The project is a mix of live-action and animation and is directed by Robert Rodriguez and Patrick Osborne. Happier Than Ever: A Love Letter to Los Angeles features Eilish on the Hollywood Bowl stage along with her brother and songwriter-producer Finneas, the Los Angeles Children's Chorus, the L.A. Philharmonic, and guitarist Romero Lubambo as she makes her way through her sophomore album.
On working with Rodriguez and Osborne, Eilish told The Hollywood Reporter:
"It was, for me, a big multimedia thing because we knew that we wanted it to be interspersed with animation. We wanted somebody that knows how to make a beautiful film and somebody who also knows how to make a beautiful animated piece at the same time. They were just perfect choices, really. They really took the lead. I was like, 'Guys, please do your thing. I don't want to intervene. I trust you, and you're going to make it look beautiful.' Of course, they were always coming over to me and asking, 'Does this feel good? What about this…' I love that so much and appreciate it when people do that because it means a lot to me when I am asked for my input at all. It was great. Robert is one of the sweetest guys I've ever met in my life, for real."
Eilish is thrilled with the result.
"It's going to be beautiful," she said. "I mean, it's really going to be beautiful."
Would Billie Eilish ever want to pursue an acting career?
Having the "Oxytocin" singer's name on a cast list would certainly draw in quite the audience. But Eilish says she'd only return to acting if the right project presented itself — no acting for the sake of acting.
"If I fall in love with something, I would love to act in it," she said. "It would only have to be the right thing because I'm not an actor and I'm not… It's not my calling, but I've always loved acting. I loved acting as a kid. I would have to really, really feel a connection and have a moment of just, I don't know, love for it."
'Things I once enjoyed just keep me employed now'
Eilish loved acting as a kid, but she's moved onto other aspirations. These new aspirations, though, have been feeling different lately.
THR writer Chris Gardner asked Eilish about one line that jumped out at him on the album: "Things I once enjoyed just keep me employed now." The line is in "Getting Older" and Eilish says that's just "how life is."
"That chorus always bums me out when I hear it, especially the second half, because it's one of the most truthful things I've ever said," she told Gardner. "'Things I'm longing for, someday, I'll be bored of.' Really gets to me every time I hear it. I've always been a person who focuses on the things in the future to keep me going or to get excited for. Thinking about what's going to be really fun, but when it's over, or even when it's going on or you're used to it and it's not as fun anymore, all of these things. That's just how life goes. It keeps moving and things keep being exciting, then lame, then exciting, then lame. It's so weird. Life is weird."