Billie Eilish Confesses She's 'Felt Very Hated Recently'
Career-wise, Billie Eilish has a lot to celebrate. At age 18, the talented singer has already accomplished a great deal. In 2020 alone, the "bury a friend" artist performed a tribute to The Beatles at The Oscars and took home five Grammy Awards including Album of the Year for her album, When We All Fall Asleep, …
Career-wise, Billie Eilish has a lot to celebrate. At age 18, the talented singer has already accomplished a great deal. In 2020 alone, the "bury a friend" artist performed a tribute to The Beatles at The Oscars and took home five Grammy Awards including Album of the Year for her album, When We All Fall Asleep, Where Do We Go? The singer also has a documentary in the works and boasts no less than a whopping 54.8 million followers on Instagram alone.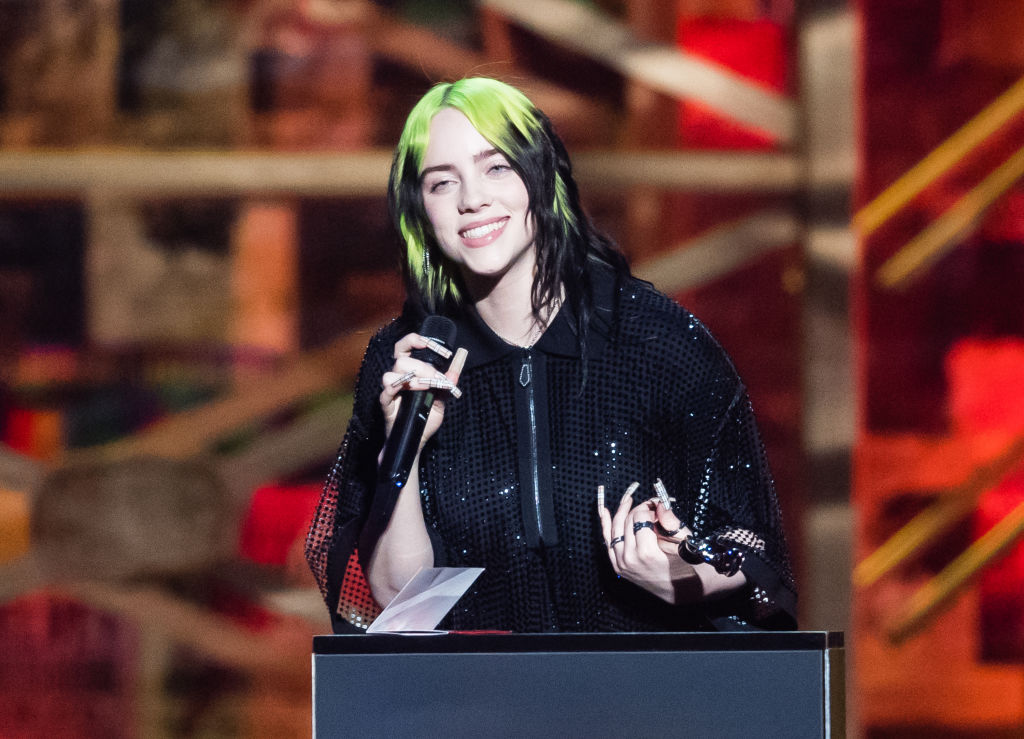 Billie Eilish and her brother get real about fame
But, with increased fame, comes increased scrutiny and hatred. Unfortunately, Eilish's young age does not protect her from the vitriol of negativity that gets thrown her way. Following her Grammy wins, lots of people were showing their support for the "Ocean Eyes" singer. However, there were also tons of people in her comments telling her that she was undeserving of the awards and claiming that she had no real singing talent. Things got so bad that for the first time, Eilish decided to stop reading the comments on her social media profiles. "I stopped reading comments fully, it was ruining my life," the singer said in a recent interview with BBC Breakfast alongside her brother, Finneas.
The No Time To Die singer says she's been feeling hated lately
But, just because Eilish stopped reading the comments doesn't mean that they negativity hasn't had lingering effects on her. The "xanny" singer recently took home the award for International Female Artist at the BRIT awards and she was overcome with emotion. The 18-year-old teared up and showed gratitude for her supporters. "I've felt very hated recently and when I was on the stage seeing all you guys smiling at me, it made me want to cry," Eilish declared.
Fans show their support for the singer
Of course, fans and non-fans were quick to show their support for Eilish. They sympathized with her having to deal with so many people of all ages hating on her. "So many people finding any and everything to hate on her for when they purposely put themselves through something they don't have to. If you don't like her or her music why tf pay it mind and not listen to what you like? She sees all the that stuff and it really gets to her," one person wrote. "People will say cry into your money but I feel for young celebs like Billie who gotta deal with so much at such an early age instead of just getting to enjoy their successes," another person wrote.
How the social media age and cancel culture affects artists
Other people claimed that in the age of social media and cancel culture, it can be hard for celebrities like Eilish to escape the constant negativity and hate. "The nasty commentary has always been there but social media really does amplify that more. I feel bad that Billie got some hate for winning all those Grammys. I mean it's not like she controls the voting circles. I remember when Alessia Cara also got shit*ed on for winning best new artist. Aim your frustrations at the organizations people!!" one person shared, citing another artist. Hopefully, Eilish refraining from reading comments will help her be in a better headspace. We wish her the best moving forward.