Billie Eilish Begs Fans to 'Please Stop Doing This Sh*t'
Billie Eilish is on a roll. Just last Sunday on January 26, 2020, she broke records at the Grammy Awards. Not only did she take home five awards, but she also became the youngest artist in history to win Album of the Year, at just 18 years old. (That record was previously held by Taylor Swift who won it a decade ago for her sophomore album, Fearless.) With critical acclaim, Eilish is also getting more and more recognition. In fact, in less than a week, Eilish's Instagram following increased by a whopping 1.5 million followers.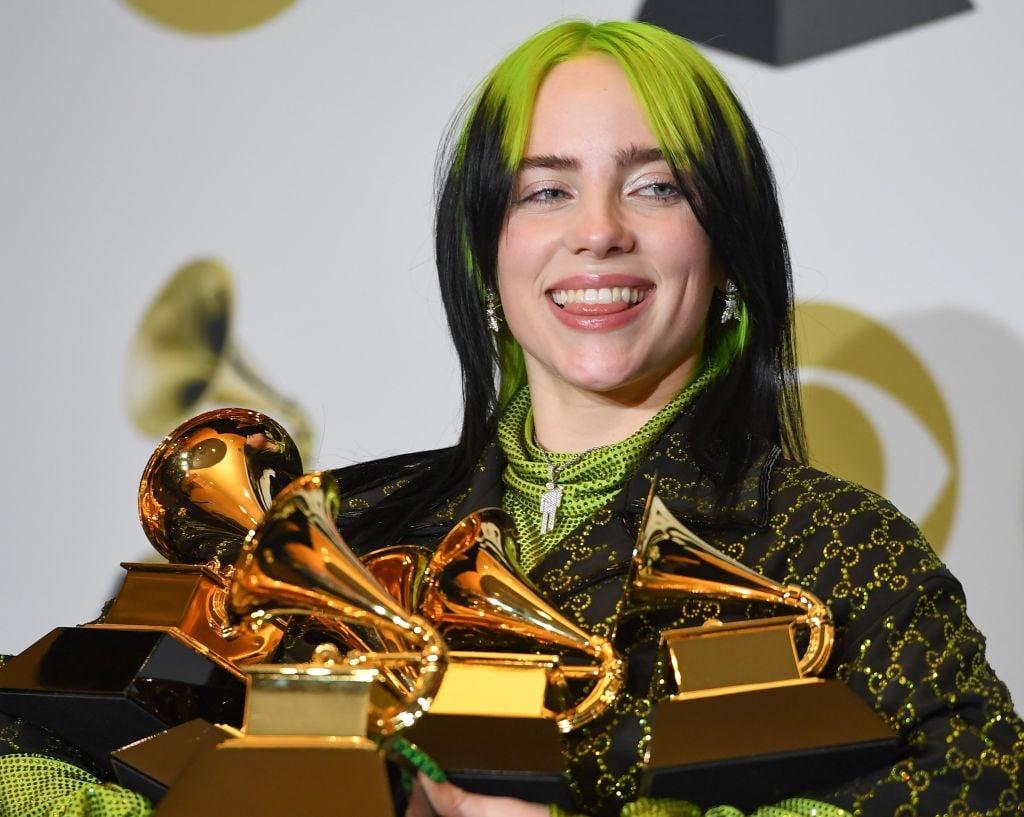 Of course, with increasing fame comes increasing problems. One problem that the "bury a friend" singer is currently facing is fans that attempt to impersonate her. As Eilish's style features colored hair (currently it is green in hue) oversized clothes, and sunglasses, her look is quite distinctive and thus fairly easy to replicate to those who have the time and resources. Fans of the singer dress as her as a means to prank people, grow their own social media following, and to experience what it is like to be as famous as Eilish.
Billie Eilish asks fans to stop impersonating her
Eilish doesn't seem to appreciate the impersonations. On January 30, 2020, the Grammy award-winning artist took to her Instagram story and posted several screenshots of people impersonating her. "Please stop doing this sh*t. It is not safe for you and it is mean to people who don't know any better you make me look bad," she shared also posting screenshots of videos that successfully tricked people into thinking they were her. "Also soooo disrespectful that you'd go out pretending to be me wearing THIS," she joked posting a photo of someone in shorts. Though Eilish didn't call anyone out by name, fans of the singer did recognize one of the people posted in the story. That person was popular dancer and photographer, Jordan Matter, who recently shot a performance where an acrobat was dressed as Eilish.
A photographer apologizes to the bad guy singer
"You've been commenting on the video shoot I did yesterday, and I'd like to respond. I gathered a crowd and had an acrobat pretending to be Billie do a huge cheer flip, which revealed it was not Billie. I had absolutely no intention of disrespecting Billie. I'm a big fan, like everyone else. I've never done a celebrity impersonation video before, but they're pretty common so I thought it would be fun to add my own acrobatic twist. I felt it was completely harmless since at no time in the video are we pretending that she is actually Billie. I have reached out directly to Billie and Maggie and apologized, and I will not post the video without their permission. I hope this clarifies everything," Matter said in the caption of the photo.
Fans stick up for the Grammy winner
But, despite Matter's apology, many fans of the "bad guy" singer were unimpressed with his response. They felt that he was still violating Eilish's wishes by posting a photo without her consent. "You say this apology and say your not gonna post videos yet here is a photo?!?!? Sorrrry what? How contradicting,🤥" one person declared. "Ok you ask them and they didn't respond doesn't give you the right to think her answer was automatically yes🙄🤔," another co-signed. While some fans will likely respect Eilish's wishes, we doubt everyone will. But, now that the Grammy award winner has brought the issue up to her fans, at least fewer people are likely to be bamboozled by impersonations.