Does Billie Eilish's Brother, Finneas O'Connell, Have a Stage Name?
There are two main musicians behind the Grammy-award winning album When We All Fall Asleep, Where Do We Go. One of those is 23-year-old Finneas O'Connell, who sometimes performs and releases his own music under a stage name. (This stage name, though, is still pretty similar to his actual name.)
Billie Eilish's brother, Finneas O'Connell, creates his own music
This artist is a record-breaking, chart-topping musician, but she doesn't do it alone. Billie Eilish often credits a lot of her success to working alongside her older brother, named Finneas O'Connell. 
Born and raised alongside Billie Eilish, Finneas O'Connell is a musician himself, playing guitar and piano, as well as mixing music as a solo artist and for his sister. However, some know this performer by his stage name.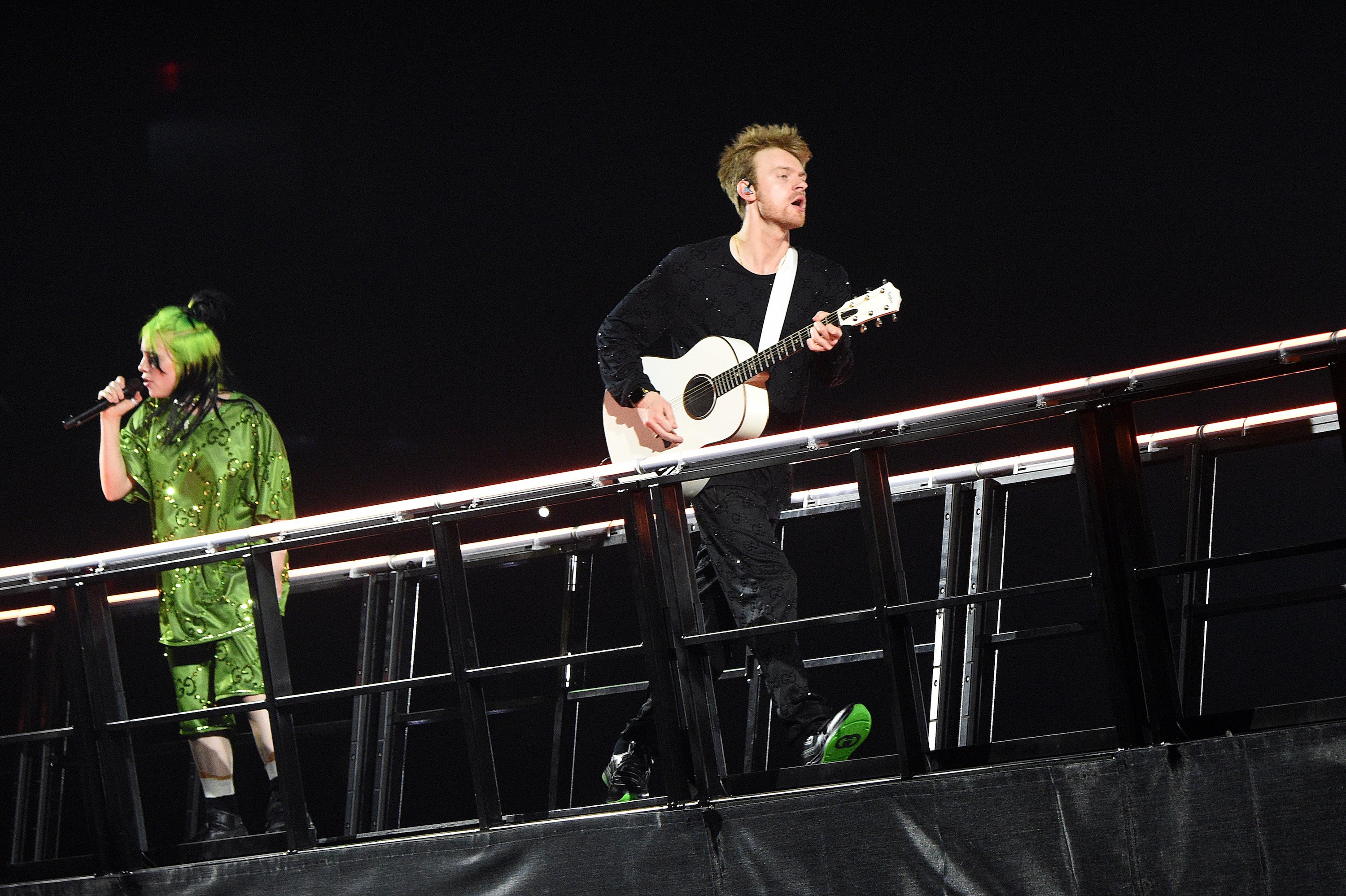 What is Finneas O'Connell's stage name?
Billie Eilish's brother often goes by a stage name while performing. His full birth name is Finneas Baird O'Connell, (Baird is his mother's last name,) but he simplifies it to FINNEAS when releasing music. There's even some songs already available for streaming under this name.
The singer Billie Eilish, technically, uses a stage name while she's performing. Eilish isn't her last name — it's O'Connell. Because her full name is considerably long, Billie Eilish Pirate Baird O'Connell, the artist just releases music under the name "Billie Eilish" 
Finneas writes music for his sister
Aside from performing as a solo artist, Finneas often appears alongside his sister, Billie Eilish. He even earned a couple of Grammy Awards for his music, including the album titled When We All Fall Asleep, Where Do We Go.
"I think Billie and I've played enough shows that they're really fun, but they don't make me nervous anymore," Finneas said during an interview with WBUR. "And I carry a less heavy burden every night than she does. People don't come to see a Billie Eilish show to come to see me. They come to see her. So I just try not to screw up too much on my instruments."
Although Finneas writes music for Billie Eilish, and performs alongside her for select concerts, the artist stated his solo music has a different feel. That is primarily because he has a different writing process. 
"Part of the thing that might separate mine is that I grew up playing piano and guitar, and she plays a little bit of piano and guitar, but I definitely like always written sitting at those instruments," Finneas continued. "And so on pretty much every song of mine that's like a center point is kind of me sitting at a piano playing music, or standing and holding a guitar."
Fans can learn more about this performer, and Billie Eilish, from their social media platforms. Music by Billie Eilish, including her album When We All Fall Asleep, Where Do We Go, is available on music platforms like Spotify, Apple Music, and Tidal.