Billie Eilish's Favorite Color is Totally Predictable
Fans have seen this artist grow as a person, as an advocate for the environment, and as a musician. What is one of Billie Eilish's favorite colors to wear? Here's what we know about the singer behind the Grammy Award-winning album, When We All Fall Asleep, Where Do We Go? 
Billie Eilish is one of the most awarded artists of 2020
She may be a little different, but that's just the way fans like her. Since she was a young teenager, Billie Eilish caught the attention of music fans for her unique voice. As she grew, she became more and more creative, especially with the music videos for songs like "Bury a Friend" and "When The Party's Over."
Along with artists like Ariana Grande and Lizzo, Billie Eilish picked up a number of Grammy nominations at this year's award ceremony. She and her brother, Finneas, took home a handful of awards from the biggest categories. That includes Album of the Year, Best New Artist, Pop Vocal Album, and Song of the Year.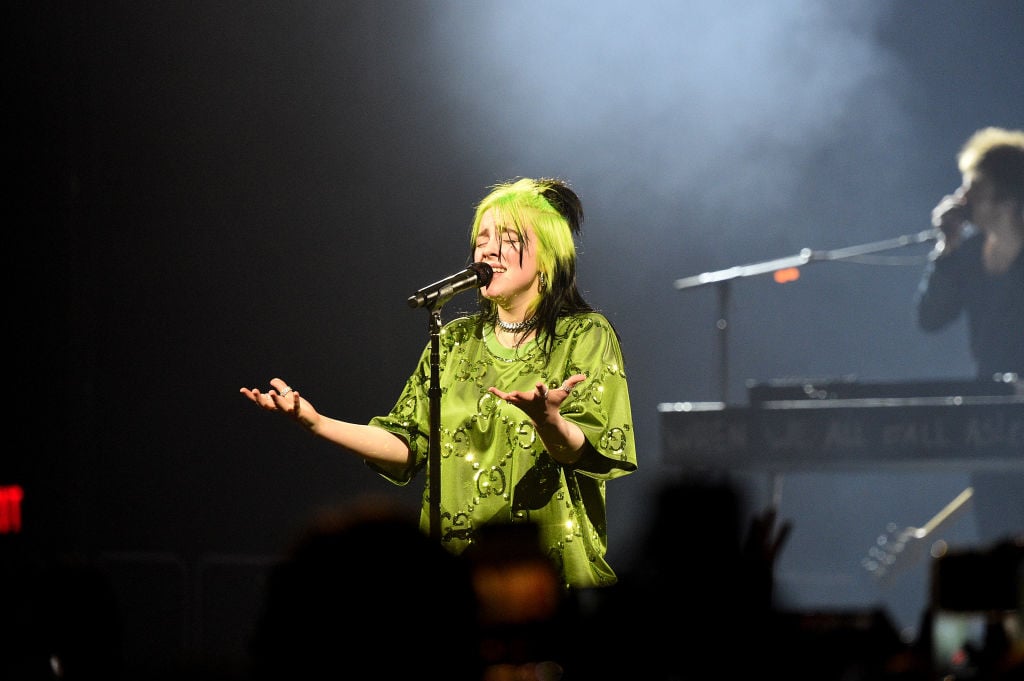 Billie Eilish likes wearing black to the airport
Since her rise to stardom and the release of her 2019 album, Billie Eilish found that going out in public isn't like it used to be. As a result, one of her favorite colors to wear to the airport, and just when she wants to be incognito, is black. (Although, she often wears bright colors while she's lighting up the stage.)
"Black is the only time I can go through the airport and be fine," Eilish said during a video interview with Vanity Fair. According to the singer, being in the airport is normally like a meet and greet, "but if I'm wearing a black beanie, and a black shirt, and some black pants, and some black shoes, I'm pretty good."
Billie Eilish currently has black and green hair
It's been a few months now since Billie dyed her hair black with green roots. She sported that look at the Grammy Awards and even during her performance with her brother for the One World: Together At Home event organized by Lady Gaga. 
Billie Eilish isn't afraid to change her hair color, though. Prior to the iconic black and green look, the artist had bright blue hair. For the "Xanny" music video, Billie Eilish chose a light brown color to match the aesthetic of the song. When it comes to her clothes, her style and color palette often reflect how she wants to be perceived in the music world. 
For one video, the artist explained that she didn't want people to judge her for her body. Rather, she'd prefer people to focus on the music. Songs created by Billie Eilish and Finneas, including "Bad Guy" and "No Time To Die" are available for streaming on platforms like Spotify and Apple Music.