Billie Eilish's Jewelry Reflects the Singer's Expressive Personality
Billie Eilish has changed the face of music. Her unique sound has led to hit songs and their appearance in popular movies and TV series. Even the way she became famous is unique. Eilish is a streaming success story. She put her work on Apple Music, and it took off from there. 
Now, Billie Eilish is an international pop star with a unique style that inspires fans. Her fashion includes many unusual jewelry pieces. When Eilish first took off, and had her signature lime green hair and clothes, she was mostly wearing Heart of Bone jewelry. The company has since capitalized on her love of its products by advertising her faves to fans. That's according to the Heart of Bone blog. 
Billie Eilish's style is unique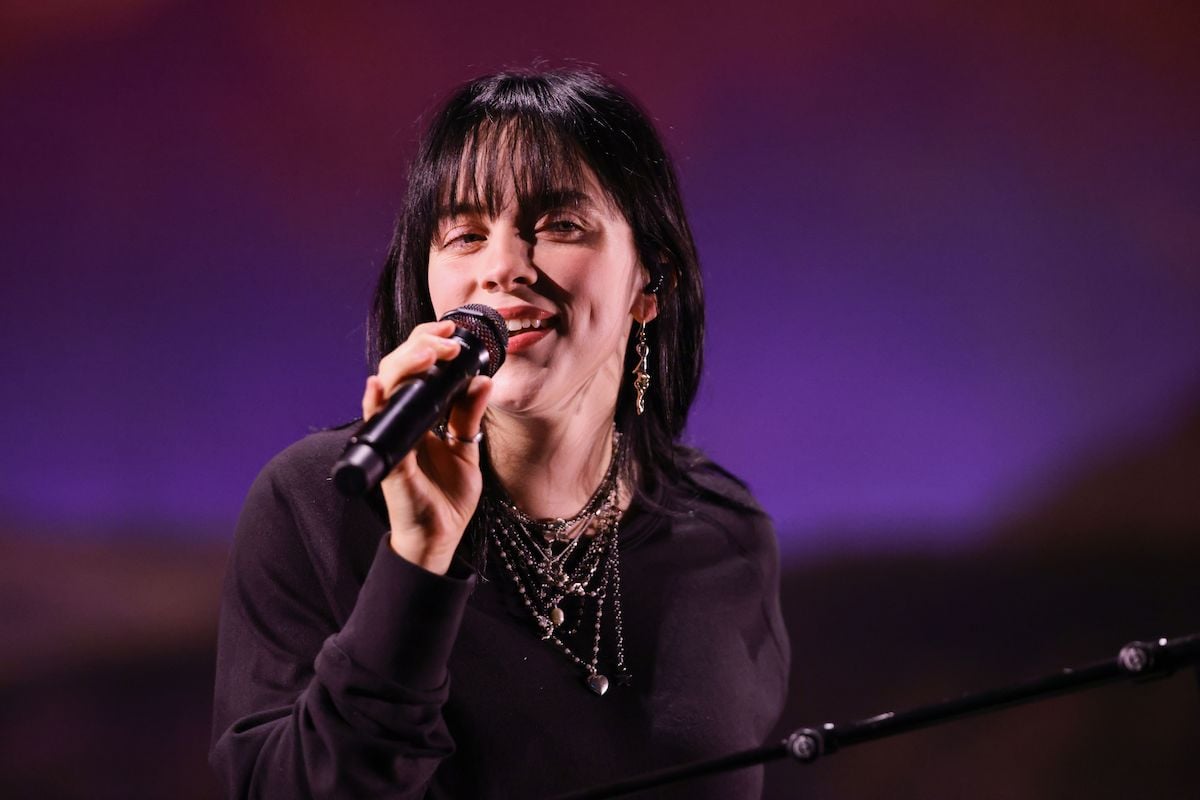 The singer-songwriter's music has won over her fans, but they also love Billie Eilish's style. When she made it big, she had lime-green hair and wore mostly lime-green and black outfits.
But the singer was young when she became famous. Eilish was just a teenager when her career blew up, basically overnight. So it makes sense that Eilish's style would change over the years, and it did. 
In January 2021, Eilish stunned fans with a new look featuring platinum-blond hair. She muted her style by wearing softer, less garish clothing and less exaggerated makeup. Billie Eilish's jewelry tastes also changed. 
Billie Eilish uses jewelry to express herself
When she was a lime-green sensation, Billie Eilish layered edgy jewelry on almost every part of herself. She wore spiky necklaces and stacks of chunky rings. Most of her jewelry came from Heart of Bone, an Australian company famous for dark designs that celebs love. According to the Heart of Bone website, the jewelry is popular with other pop stars as well, including Miley Cyrus and Lil Nas X. 
Most of Billie Eilish's jewelry faves from Heart of Bone are silver-toned, including multiple bunny skull rings, skeleton rings, and dagger earrings. One of her most famous jewelry pieces is a silver-toned version of her logo, known as a Blohsh. It's basically a stick figure shrugging one shoulder. Eilish has used the symbol since at least 2016, according to 1,000 Logos. 
Since then, Eilish has also worn gold-toned jewelry. After going blond, she was spotted wearing a pearl necklace on The Late Show With Stephen Colbert, according to ET. But it isn't your grandmother's pearl necklace. Eilish put a modern, stylish twist on pearls. Her string of freshwater pearls hung on a gold chain, making them look delicate and soft, a complete turnaround from her Heart and Bone jewelry. 
But she still loves to layer silver necklaces and drop earrings, as evidenced by a June 1 concert in Germany. The performance also saw the artist wearing her hair in a raven-hued mid-length style (see the photo at top).
A fan returned the singer's lost ring after a concert 
Billie Eilish loves her followers, and they love her right back. At concerts, she occasionally reaches into the crowd to connect with fans, and that puts her many rings in danger. Once, at Austin City Limits, one of Billie Eilish's rings fell off into the crowd.
She assumed the bauble was lost. But one of the concertgoers found it and turned it into security. Eventually, Eilish got her ring back.
According to TMZ, it wasn't one of her favorite Heart of Bone rings. The lost jewelry piece was a silver ring with emerald-cut clear gems around it, but they weren't real diamonds. It was a costume piece, probably worth less than $100. 
RELATED: Billie Eilish Gained Nearly 100M Instagram Followers in 5 Years — Who Follows Her?