Did Billie Eilish and Justin Bieber Ever Date?
Ever since Billie Eilish and Justin Bieber met for the first time, the two singers have supported each other and spoken fondly of their close friendship. Eilish and Bieber both started their careers at 13 years old, so they've often commented on how much they relate to each other. Has their relationship ever been anything more than friends? Here's more on the bond between Eilish and Bieber.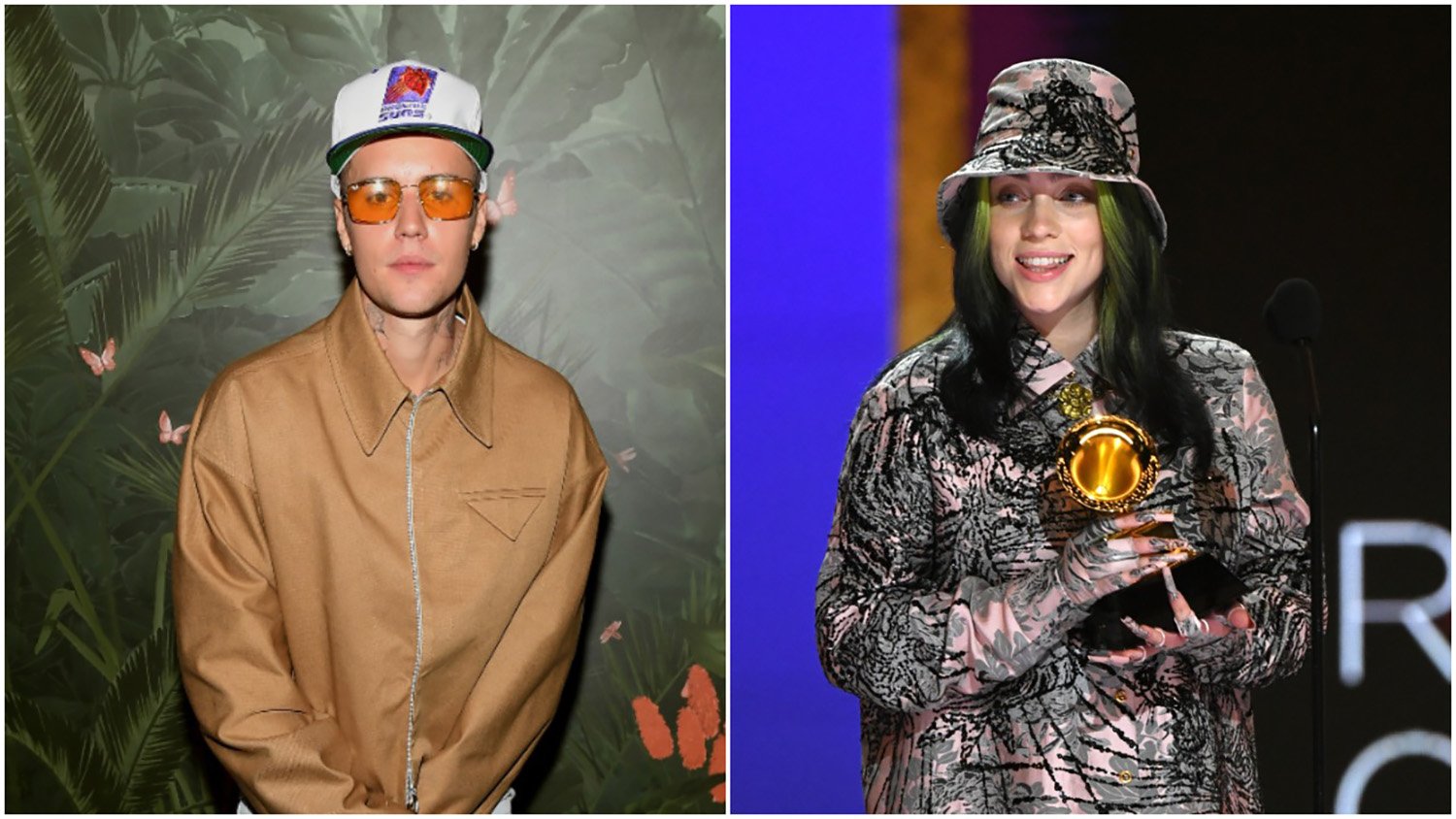 Billie Eilish had a huge crush on Justin Bieber when she was younger
It's no secret that Eilish was a major Belieber when she was younger. In her 2021 documentary, The World's a Little Blurry, the singer detailed the early days of her crush, noting that it began when she was around 12 years old.
"I literally remember sobbing into a pillow because I thought, 'I'm never gonna feel this way about anyone,'" she said in the film, noting her fear that her future partner would have to compete with Bieber.
Eilish's mother, Maggie Baird, once revealed during her me & dad radio podcast that she and husband Patrick O'Connell even considered sending Eilish to therapy for her crush, as Vanity Fair reported. Baird said Eilish was "sobbing" when she listened to Bieber's "As Long As You Love Me" and spoke about the music video frequently.
"I just want to say, we did consider taking you to therapy because you were in so much pain over Justin Bieber," Baird said to her daughter.
However, Eilish explained to Baird that she wasn't necessarily crying over Bieber; she just cried often between the ages of 13 and 15.
"There was a period where I cried every single day of my life when I was like 13, 14, 15," Eilish revealed. "Every single day, I cried. And 17, 18 I cried barely at all. I'm proud to say I barely cry anymore, and it's one thing I've overcome. This is a big deal."
Did Billie Eilish have a relationship with Justin Bieber?
In April 2019, Eilish's dream of meeting Bieber finally came true at Coachella. Bieber surprised the "Ocean Eyes" singer by appearing beside her in the VIP section to watch Ariana Grande's headlining set. Although she was in shock at first, the two finally hugged, and their friendship began. Just a few months after their meeting, Eilish and Bieber released the "Bad Guy" remix.
Bieber married model Hailey Bieber née Baldwin in 2018, before he and Eilish met, so the two singers never dated. However, Bieber has made it clear that Eilish means as much to him as he does to her. In The World's a Little Blurry, Eilish revealed a touching message Bieber sent her after their first meeting.
"It's moments like tonight when I'm reminded what I mean to people. Your love for me touched my heart. You are so special, not for what you can do, but for who you are. Remember that…You are an idol to so many. I'm excited to watch you flourish. You are beyond special," the message read in part, as Entertainment Tonight reported. "Thank you for tonight. It meant just as much to me as it meant to you."
During a 2020 interview with Apple Music 1's Zane Lowe, Bieber teared up while speaking about how protective he felt of Eilish.
"I just wanted to be a good example. It was hard for me being that young and being in the industry and not knowing where to turn and everyone telling me they loved me and … you know … just turn their back on you in a second," he said. "So if she ever needs me, I'm gonna be here for her. But, yeah, just protecting those moments because people take for granted encounters, and I just want to protect her. And I don't want her to go through anything I went through."
Billie Eilish says she and the 'Peaches' singer are 'good' friends
According to Eilish, she and Bieber have remained close as she navigates fame. During a July 2021 appearance on SiriusXM Hits 1's Morning Mash Up, Eilish said Bieber often reaches out to support her.
"He's a good friend of mine. He, you know, has been so helpful for me, in terms of just, like, dealing with fame," Eilish revealed. "And he'll call me sometimes and just say stuff that makes me just feel heard, and like there's somebody else that goes through the same stuff. So it's really nice to have him."