Billie Eilish's 'Our House Is On Fire' PSA Is Trending on YouTube — Here's How You Can Join the Fight Against Climate Change
She's not a Bad Guy after all. This artist recently posted a video entitled 'Our House Is On Fire." Here's how Billie Eilish fans can get involved in the fight against climate change.
As Greta Thunberg says during The 1975's title song, "it is now time for civil disobedience. It is time to rebel." Billie Eilish first used her platform to share a message about climate change with her "All The Good Girls Go to Hell" music video. Now, she's back with a new video, entitled "Our House Is On Fire." Here's how you can join Billie Eilish, Greta Thunberg, and other activists in the fight against climate change.
Billie Eilish posted a video on YouTube entitled  'Our House Is On Fire'
Hot off the heels of her Saturday Night Live performance, Billie Eilish posted a video to her YouTube account with Woody Harrelson. Within 24 hours, Billie Eilish's announcement earned the top trending spot of YouTube, currently holding almost 2 million views. In the clip, entitled "Our House Is On Fire," the artist discussed a topic frequently addressed during her music videos even at her concerts.
"Our Earth is warming up and our oceans are rising. Extreme weather is wrecking millions of lives," Billie said during the YouTube video. "We cannot let this happen on our watch. Up to one million species are becoming extinct because of mankind's actions. And time is running out. Millions of people around the world are taking to the streets on climate strike demanding our leaders listen to the science and act."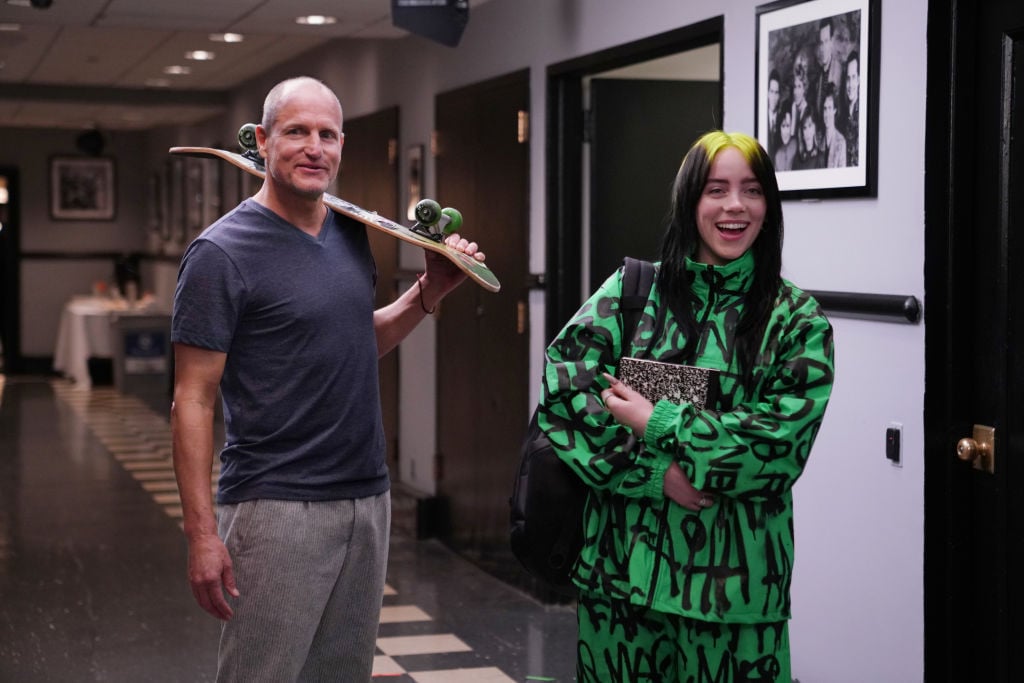 Two nonprofit organizations mentioned in Billie Eilish's video include Greenpeace and Greta Thunberg's Fridays for Future
During Billie Eilish's video, the artist mentioned ways to help save the environment. One way she suggested was consuming less meat, dairy, and fish. Another way, Woody Harrelson chimed in, is to get involved with one of the multiple nonprofit organizations dedicated to stopping climate change.
One organization mentioned was Greenpeace. According to its website, Greenpeace is "the world's leading independent, environmental campaigning organization." Fridays for Future is a movement of young people inspired by activist Greta Thunberg.
This is not the first time Billie Eilish advocated for the environment
Billie Eilish first sparked awareness of climate change with her video "All The Good Girls Go To Hell." There, she appeared as a dying, oil-drenched bird, sharing a message in the caption about the environment. During an interview on The Tonight Show With Jimmy Fallon, the artist spoke on how her tour would promote conservation and recycling.
"Basically, we're trying to be as green as possible on the entire tour. We're actually bringing someone from Reverb, this company that specializes in the best and most healthy and green ways to do everything," Billie Eilish said. "There's no plastic straws allowed. The fans are going to bring their own water bottles. There's going to be recycle cans everywhere — because if something is recyclable, it doesn't matter unless there's a recycle bin, you know?"
Music by Billie Eilish, including her recently released album, When We All Fall Asleep, Where Do We Go?, is available on Spotify, Apple Music, and most major streaming platforms. To learn more about Fridays for Future and Greenpeace and to donate, visit their websites.