Billie Eilish Reveals She Relies on Justin Bieber, Ariana Grande, and Katy Perry To Help Her Work Through the Challenges of Fame — 'We Just Talk About the Craziness of Our Lives'
Bille Eilish has spent the last several years of her life in the spotlight, but that hasn't necessarily made things easier. The 18-year-old superstar still has moments in which her fame can become overwhelming. 
Thankfully, she's got a support team full of A-listers, including Justin Bieber, Ariana Grande, and Katy Perry. She talks to them any time she's having trouble handling her immense fame. 
Billie Eilish is having a bit of an identity dilemma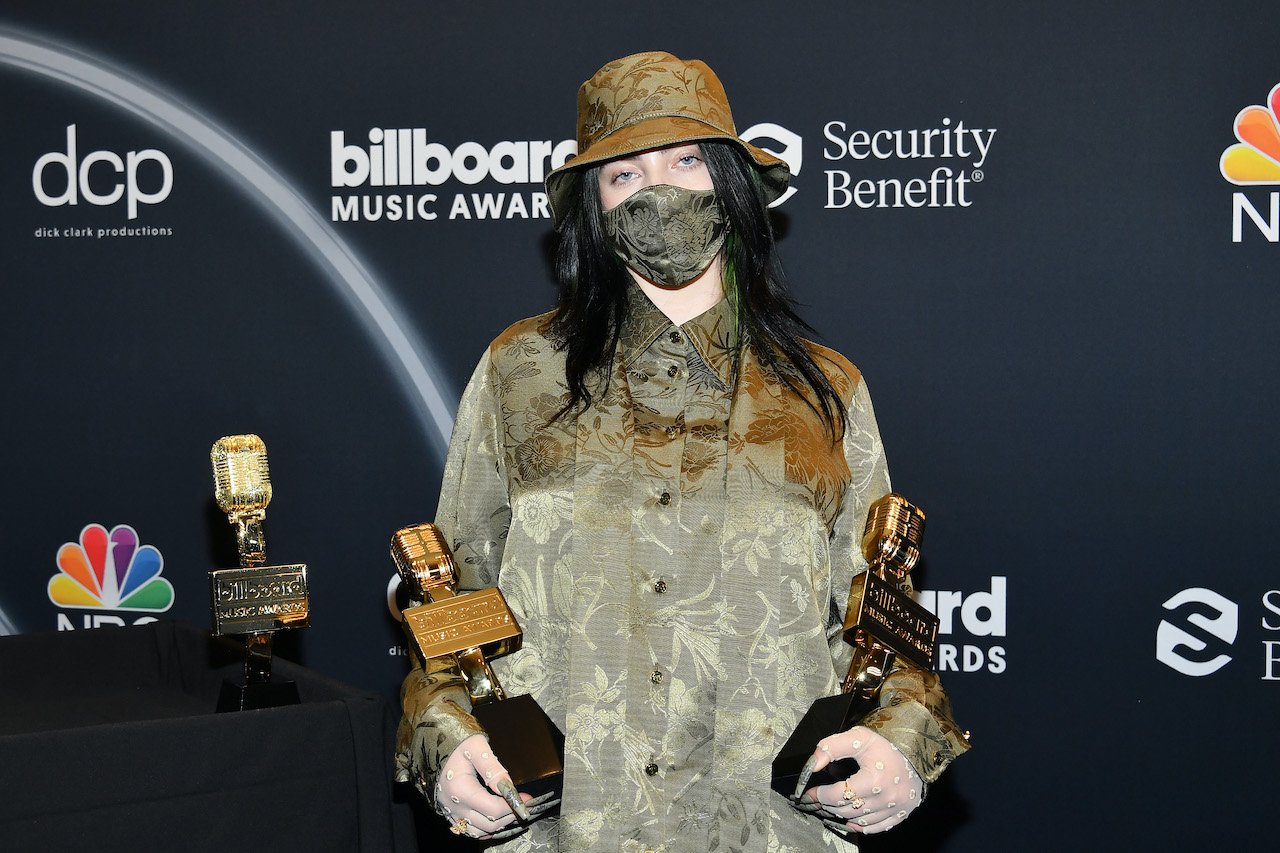 Eilish has lived in the public eye for several years now, but still has difficulty accepting her identity as a superstar. She recently admitted in an interview with Vanity Fair that she sometimes feels like she's pretending to be herself.
"For a while now, I've been really having an identity crisis, a little," Eilish said. "I did some radio show performance, and the entire show, I felt like I was pretending to be Billie Eilish. I felt like I completely wasn't looking at myself, as myself. I was just totally seeing it from not my own perspective, and it was so weird. Happened multiple times at award shows and whatever. I just felt like a parody of myself. 
Billie Eilish has made recent progress with accepting her identity
Although it's been an ongoing issue for her, she's made progress with accepting things as of late. Remaining conscious of the fact that she's just an 18-year-old girl who's still growing up makes it easier for her to be kind to herself. 
"I've felt a little better about it lately," Eilish said. "Just, you forget I'm literally 18. It's funny that I'm expected to have found myself and stick with it, you know? It's like, you know, I'm having—I'm trying different things out. I'm trying different ways of living and styles and personalities, and you know, hairstyles and clothing and shoes. And like, I'm just trying it all out because I'm like a growing f—ing girl." 
Billie Eilish relies on Justin Bieber, Ariana Grande, and Katy Perry for guidance with fame
Even at the pinnacle of fame and fortune, life can be hard. Living in the public eye is often said to be very challenging for celebrities, and Eilish is no stranger to the difficulties. Thankfully, she has a few famous friends she reaches out to who provide a bit of support when she needs it. 
"I've definitely had moments of like, reaching out to a couple of people," Eilish said. "But every time I do it, I kind of stop myself because I'm like, 'This is so weird.' I've had some conversations with [Justin] Bieber about this, where we just talk about the craziness of our lives, and whatever. Ariana [Grande]'s been really cool about stuff. Those are some people that I feel have really shown me support. And like, even like, Katy Perry told me that I could reach out to her whenever and talk about it because it's crazy."
Billie Eilish values being able to talk to other celebrities going through similar experiences 
Eilish is extremely grateful to have a Rolodex of superstars to reach out to when she's struggling to deal with fame. As is the case with most people, having someone to talk to about things makes her life much more bearable. 
"That's really important and I think it's good," Eilish added. "God has said it to me before. It's nice to hear from people that have gone through this and know what it's like, and went through the s— of it and went through the amazing parts of it. And it's nice to hear people with me. But at the same time, no matter how many people are there for you and have gone through similar things, it's like nothing ever happens twice."