Does Billie Eilish Like Spiders? Meet the 'Bad Guy' Singer's Unusual Pet
Sure, there were plenty of spiders in the "You Should See Me In the Crown" music video. However, Billie Eilish, reportedly, had one tarantula of her own as a pet. Yes, this was the same tarantula that James Corden ran from during The Late Night Starring James Corden. Here's what we know about this beloved arachnid.
Billie Eilish has spiders in a number of her projects
Whether it be a post on Instagram or her "You Should See Me In the Crown" music video, Billie Eilish isn't afraid to share her love of spiders with the world. In fact, the spiders in the vertical video were real. Billie Eilish does a number of her own stunts and that includes having these arachnids crawl on her face.
"The first day we did six takes maybe and then the second day we did three, I think," the artist said during a video with Apple's Beats 1 radio, according to Buzzfeed. "We did all those scenes with the spiders all over my face, crawling up my neck, and at one point they went in my ear."
"I sort of love making stuff that people get freaked out by," she continued. "I put a spider in my mouth. It had a name. Its name was like, Tom or Brad or something."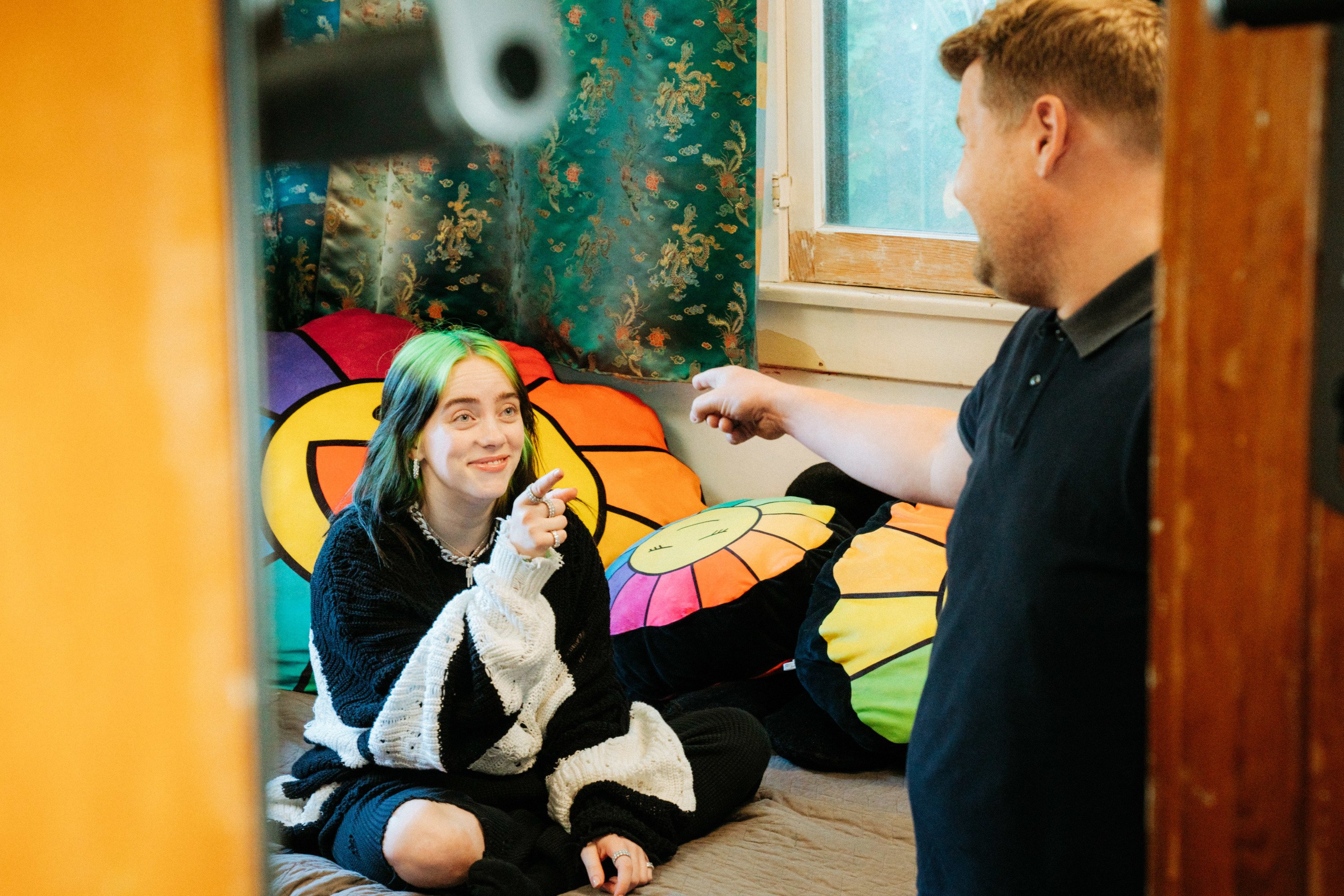 Billie Eilish actually had a pet spider
Outside of her music videos, Billie Eilish has a "spider" of her own. It's actually a tarantula that oftentimes made appearances on her social media platforms.
The Billie Eilish Fandom has since identified the pet as a Green Bottle Blue (Chromatopelma cyaneopubescens) tarantula. Not much else is known about her little friend, including its name.
However, the same website reports that this tarantula died during November 2019. She posted an Instagram story with a picture of it, saying she'll miss the animal.
Fans met Billie Eilish's spider during 'The Late Show Starring James Corden'
Although this unnamed animal hasn't made many public appearances, fans caught a glimpse of him on The Late Show Starring James Corden. Billie Eilish introduced the host to her pet at her own house. 
Needless to say, James Corden wasn't too thrilled to meet a tarantula. This actually wouldn't be the first time this artist gave a shout out to her pet tarantula. She often makes mention of it to fans. 
"I have a pet tarantula," she said, during an interview with Variety, before inviting a fan to hang out with it. "You should come over and see him. He's blue, and he's very cute. They're fun. They're not gonna hurt you. They're cool. They have personalities."
Fans can learn more about this performer from her social media platforms. Music by Billie Eilish, including her album When We All Fall Asleep, Where Do We Go, is available on music platforms like Spotify, Apple Music, and Tidal.