Billie Eilish Stops 'Happier Than Ever' Show to Help Fan Who Couldn't Breathe: 'We're Taking Care of Our People'
Billie Eilish recently stopped a show to help a fan who was struggling to breathe. Here's what happened, and why entertainers and fans are more sensitive to audience safety after Travis Scott's Astroworld tragedy.
Musician Billie Eilish is fiercely protective of her fans, which she proved during a recent incident at one of her Happier Than Ever tour shows. Here's what happened and how Eilish helped an audience member in distress during her concert. 
Billie Eilish recently stopped a 'Happier Than Ever' tour show to help a fan in the audience who couldn't breathe
On Feb. 5, Billie Eilish performed in Atlanta, Georgia, as one of the first stops on her Happier Than Ever tour. The singer halted the show to help a fan who was struggling to breathe. 
The music stopped, and Eilish came to the front of the stage to ask the fan (per People), "You need an inhaler?" The singer then turned to her crew to ask, "Do we have an inhaler? Can we just grab one?"
The 20-year-old kept the audience calm as the venue staff assisted the fan. "It's OK, we got one," Eilish said from the stage. "Give her some time. Don't crowd. Relax, relax, it's OK. We're taking care of our people, hold on."
She checked on the fan to make sure it was safe to continue the show. "You need to come out, or are you OK? Are you sure?" Eilish asked before resuming her performance.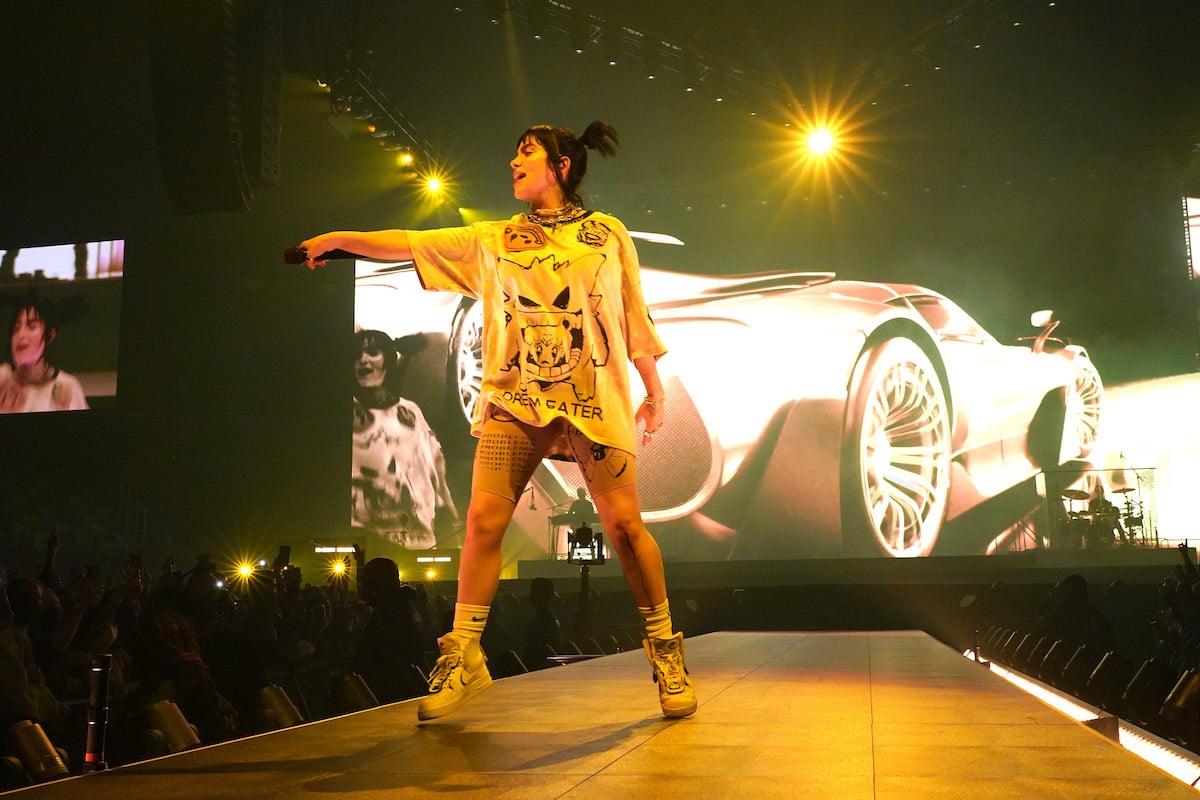 Billie Eilish has stopped shows to help fans in distress before
This wasn't the first time that Billie Eilish has paused a show to help take care of her fans. On Sept. 24, 2021, she halted her headliner show at the Governor's Ball music festival in New York City. 
The "Ocean Eyes" stopped performing in the middle of a song to call out a security issue in the crowd below her. 
"Security, why aren't you paying attention?" Eilish yelled, sounding frustrated and distressed. Although it's unclear what caused her concern, the singer pointed down to a specific area in the crowd. 
"Like, for real," she said, seeming angry. "One job, please."
Eilish resumed the song but then stopped again to check on the crowd. "Everybody good? Are you OK?" she asked, to which the crowd responded by screaming loudly. 
Fans and entertainers are more sensitive to crowd safety than ever after the tragic deaths at Travis Scott's Astroworld 
Entertainers and fans are more sensitive to concert safety than ever after the tragic death of 10 audience members at Travis Scott's Astroworld show on Nov. 5, 2021. 
The audience members who died ranged from ages 9 to 27, and hundreds more were injured at Scott's show in Houston, Texas. As the crowd rushed the stage, attendees were packed so tightly together that they couldn't breathe, and many were trampled. 
There has been a great deal of public speculation over whether the tragedy could have been prevented and if Travis Scott, the venue, and LiveNation should be held accountable for the audience deaths and injuries.
On Dec. 9, 2021, the rapper broke his silence about the tragedy in a YouTube interview with Charlamagne Tha God. Scott said he didn't know fans had died until the day after the show.
"I didn't know the exact details until minutes before the press conference. And even at that moment, you're kinda like, what?"
He added that until the press conference, he had no idea of the severity of the tragedy. "The thing is, people pass out," Scott said. "Things happen at concerts, but something like that …"
The rapper said he couldn't hear the crowd begging for him to stop the show, which was attended by his pregnant girlfriend Kylie Jenner and their daughter Stormi. "You have a venue filled with 50,000 people," he explained. "But it's like a sea; you have lights, you have sound, you got pyros, you got your in-ears, you got sound, you got your mics, got the music, got bands. All types of stuff going on … you can only help what you can see and then whatever you're told."
But Eilish's incident at the Governor's Ball occurred the month prior to the Astroworld tragedy, so the singer has shown the same level of care to her audience before and after Scott's show.